Dalhousie is a beautiful hill station situated at Himachal Pradesh in India. The hill-station is named Dalhousie as the British viceroy Lord Dalhousie founded it. The popular hill station was founded in the year 1854. The colonial rulers purely developed the hill station. The way some of the architectural churches were designed and constructed depict the perfect English culture. A Tibetan touch is also added to some of the marvelous buildings out here. This makes the locale even more exotic.
Let us move on, to learn more about this wonderful hill station named Dalhousie.
REGIONS OF DALHOUSIE
Dalhousie is a hill-station spread over five hills, named Kathlog, Potreyn, Terah, Bakrota, and Bhangora, respectively. These five hills belong to the Dhauladhar mountain range in the Northern State of India. Region wise, the hill station belongs to the Chamba district of Himachal Pradesh. The hill-top destination is situated at a distance of 2000 meters above the sea-level. Hence you find cool and salubrious weather all through the year. Dalhousie is a hill station that enjoys a sub-tropical humid climate. The climate is further characterized by an earlier arrival of springs and later arrival of summers. Torrential rains are also received due to the monsoonal influence. The city sees around 45 frosty days per year. You have snowfall for one or two days.
Summers are felt during April, May, and June. The temperatures range between 22 degree Celsius and can go up to 27 degree Celsius. July, August, and September are typical monsoon months. The average monthly precipitation ranges between 255mm and 545 mm. Maximum rainfall is received during July and August. October is a cool and dry month. Day time temperatures are 16 to 18 degree Celsius. Night temperatures plummet to 10/11 degree Celsius. November, December, January, and February are the coldest months of the year at Dalhousie. Day temperatures range between 10 and 15 degree Celsius. Night time, temperatures fall to 2 or 1.5 degree Celsius.
CULTURE OF DALHOUSIE
The town of Dalhousie enjoys a vibrant culture with customs and traditions of people kept intact. Several festivals are celebrated throughout the hill-town with pomp and splendor. Some of the notable festive occasions include Baisakhi, Haryali, Chait Festival, Diwali, Christmas and the summer festival of Dalhousie.
A typical summer festival is celebrated in all its splendor. The entire town of Dalhousie participate and rejoice during the occasion. Various types of cultural programs get organized at this point of time. Local residents participate in each of these regional programs. And therefore showcase their cultural heritage and rich traditional background. Tourists also gather in large numbers to get a glimpse of the artistic flair and cultural traditions of the Chamba Valley. There is a unique form of painting done by artists of the hill-town. It is named 'Pahari painting.' The rich form of painting has evolved in Dalhousie. Some of the folk dances prevalent to Dalhousie include Burah, Naati, and Gee. Folk tunes revolve around themes like chivalry and changing seasons. Traditional musical instruments are played as accompaniments to folk music. These are a flute, Ghunguroo, Manjara, Ektara, etc. Food cuisines follow a blend of Tibetan culture and North Indian.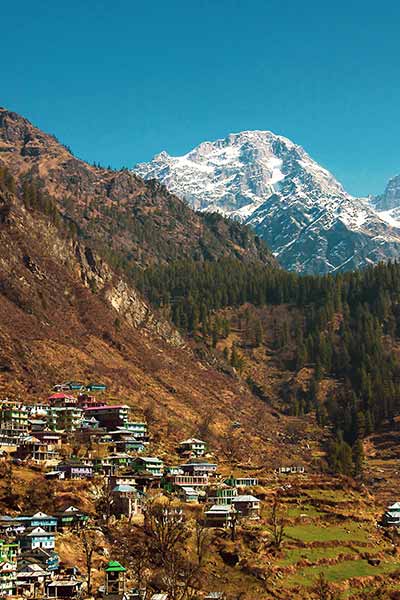 Dalhousie Valley
HISTORY OF DALHOUSIE
Here comes the historical significance behind the hill-town named Dalhousie. Lord Dalhousie developed this hill station during the year 1854. The fresh and peaceful atmosphere surrounding the place simply fascinated him. Hence he wanted to throw more light into developing the place as a hill-station resort. The British acquired five hills from the ruler of the Chamba Valley. These were Kathalagh, Potreyn, Terah, Bakrota, and Bhangora. In return for the hills, the ruler's taxes were considerably reduced. A sanitarium and a Convalescent Depot too were developed by the British rulers.
A modern town was therefore developed amid the five hills. Pristine mountains, snow-capped peaks, and lush greenery of five hills surrounding the Pir Panjal range make the vicinity, hill-station resort. Thick variants of pine and deodar trees cover the forest range. The British often visited this place for their summer vacations. Hence most of the buildings, mansion houses, and cottages prevalent here follow the typical English style.
TOURIST SIGHTSEEING IN DALHOUSIE
These are some of the must-visit tourist hubs across the city named Dalhousie.
Ahla water tank and Chamba Valley
Ahla Water is one of the most famous water tanks that lends water to the city. Plus neighboring towns and villages. Surprisingly, this particular water tank can hold about 100,000 gallons of water. Chamba district is a quaint place where you discover the old-world charm. You find a museum, restaurants and a seat dedicated to the ruler of Chamba. Chamba is a district town little away from the city center.
Church, Dainkund Walk, and Ganji Pahadi Walk
There is an intersecting road where you find a big GPO (General Post Office) and a police station. This is across the Subash Chowk Road in Dalhousie. You find a very big church with palatial walkway doors. Here you can witness the splendid architecture of the British. The Church is, therefore, a must-visit tourist hub while you are here at Dalhousie.
You find a gentle and slopy walk area across the Air Force Base in Dalhousie. This is named Dainkund Walk. Nature lovers can have a long walk during mornings or early evenings.
Ganji Pahadi Walk
How did this tourist hub get its name? Any guesses? Ganji in Himachali means bald. Pahadi means hill. There are absolutely no trees on the summit of this particular hill. You feel as if it has got a bald patch of land. Hence it has been named 'Ganji Pahadi Hill' or Bald patch hill. You can walk here for at least an hour, and the weather is quite pleasant.
Kalatop wild-life reserve
Kalatop Sanctuary has initially recognized a gaming zone. The vast areas of land were allocated for horse-racing, skiing, parachuting, etc. The entire stretch lies between Dalhousie road leading up to the Chamba valley. You get numerous vantage points; nature has to offer. You have terrains drained out by several tributaries of River Ravi which just lies to its north. The high altitude peaks range between 3910 and 9310 feet elevation above the sea level. Hence you can witness a panoramic view of mountain ranges and snow-capped peaks from the vicinity. The Temperatures turn snowy during winters. Khajjiar, Kalatop, Dainkund, Lakarmandi and Bara Pathar, are other scenic spots, you can go to from here.
Khajjiar
Khajjiar is regarded as the 'Switzerland of India.' It is a stunning valley in the middle of a water-spring. The lawns, meadows, and mountains of the Pir Panjal range are breath-taking. July is the typical monsoon month, which adds a volume of water to the lakes, distributaries, and Tributaries of Ravi, Beas, and Chenab. The cool weather and lush greenery are what bring tourists in large numbers.
Subash Chowk
This is one of the bustling street-lined areas of Dalhousie. You have a bus-stand, GPO, intersecting roads and shops at the vicinity. You can call this place as the commercial hub of Dalhousie. Glass artifacts, shawls, woolen sweaters, and carpets can be bought from the shops out here. Local dhabas and restaurants too, serve sumptuously delicious food.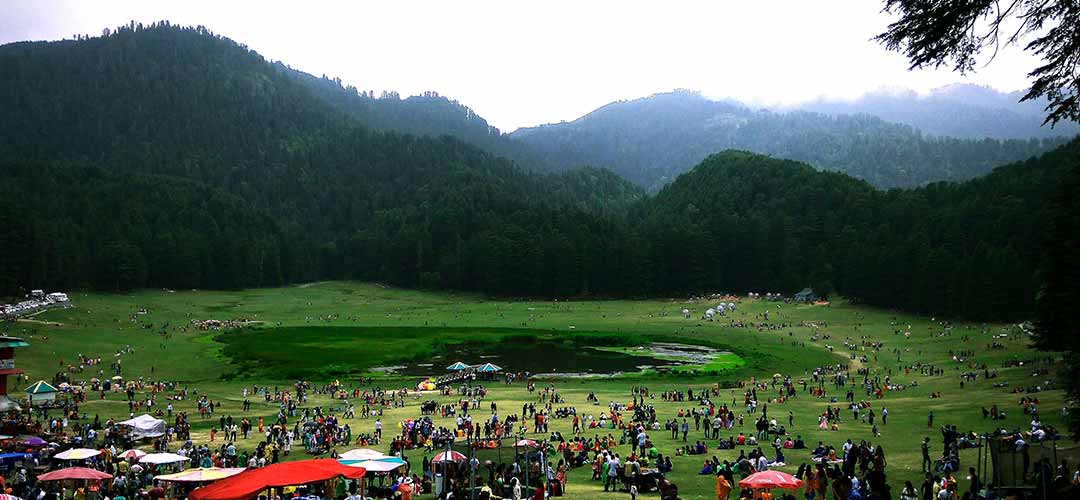 Khajjiar Lake Himachal Pradesh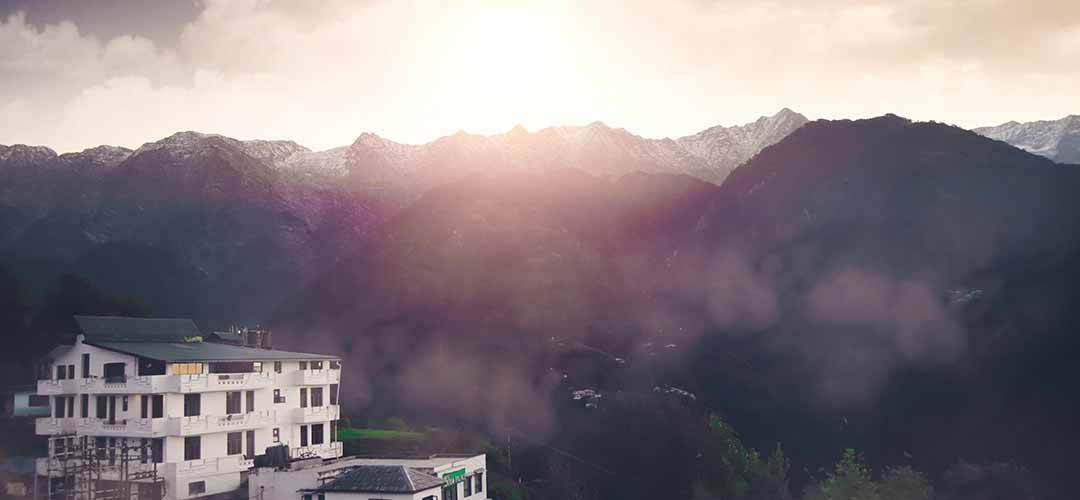 Himalayas from Dalhousie
FOOD IN DALHOUSIE
As Dalhousie is a hill-station, this place has a variety of platter to satiate your taste-buds. You get a mix of Kashmiri, Mughlai, Tibetan, and Chinese confluences when it comes to gourmet delicacies. SubashChowk and Gandhi Chowk have plenty of upscale restaurants and breweries serving awesome food and drinks. Moti Mahal, Kwality, and Preet Palace are some of the best brands in hotels. You also have Punjabi Dhabas serving rich and spicy Punjabi food. Like Chole, paranthas, Bathure, and so on. Chinese momos are available at every street outlet. These are deep-fried or cooked and served to you with spicy chutneys or mayonnaise. For pizzas, café, latte, burgers, and sizzlers hop on to Café Dalhousie.
TOURIST ACTIVITIES IN DALHOUSIE
To relish the old-world charm of Nature, heading to Dalhousie is the obvious choice. You get a quiet escape from the hustle/bustle of city life. Those long never ending walks across roads can soothe your nerves. You get breath-taking views from Dalhousie summit point peaks like Khajjiar or Kalatop. Waterfalls and tributaries of Rivers spring up. You have green scaped meadows where you can sit and relax. For a relaxing and a great get-away, Dalhousie is a fascinating one indeed.