REGIONS OF PUNJAB
Punjab is located on the sub-tropical latitudinal zone of India. It is bound by Jammu and Kashmir, Himachal Pradesh, Haryana, Chandigarh, and Delhi. Most part of the region lies on a fertile-alluvial zone. Therefore, most of the lands are irrigated using a highly sophisticated canal irrigation system. The rivers and the rich soil contribute to the cultivation of food crops. Wheat, rice, maize, barn, and cereals are grown across the nook and corner of Punjab in a wide-spread manner. In fact, agriculture is the mainstay occupation of 70 percent of its population.
Punjab again experiences sub-tropical weather. It is characterized by hot to very hot summers, mid-scale monsoons, and cold winters. May and June are the hottest months of the year. The temperatures can soar up to 43 degree Celsius in places like Patiala, Amritsar, and Ludhiana. Annual rainfall stands at 400 mm per year. It is the Shivalik range that receives the maximum amount of rainfall. It receives an annual rainfall of 1200 mm per year. June, July, and August are the typical monsoon months experienced by Punjab. South-western monsoons bring a major portion of rainfall to this particular region. You have cold or very cold winters. The maximum temperatures touch 17 degree Celsius while minimum temperatures drops to 7 degree Celsius. December and January are extremely cold months.
CULTURE OF PUNJAB
As the enormous state of Punjab connects quite a lot of cities and rural towns across India, you find a rich cultural heritage that thrives in the region. These are Jharkhand, Chhattisgarh, Chandigarh, Delhi, Haryana, etc. You thus find a confluence of varied cultures, custom, and traditions. Bhangra dance is the most popular form of dance across Punjab. Jhumar and Sammi are the other popular dancing styles.
As far as music is concerned, you have varied forms of classical, semi-classical, and Ghazal forms. Baisakhi, Diwali, Dussehra and Ram Navami are popular festivals that are celebrated across the state. Two-thirds of Punjab comprises of Hindus and Sikhs. Jains, Christians, and Muslims constitute the remaining 1/3rd of the population. Most of the literature epics of Punjab were inspired by 13th Century Sufi saints. The Sikh saint Guru Nanak has also contributed to the flourishing literature of Punjab. The Golden Temple at Amritsar is a style inspired by the monumental architecture of Hindus and Muslims. The silver and golden accented filigree add to the glow of the monument. It is one of the ravishing pilgrim centers that attracts lakhs of visitors across the globe.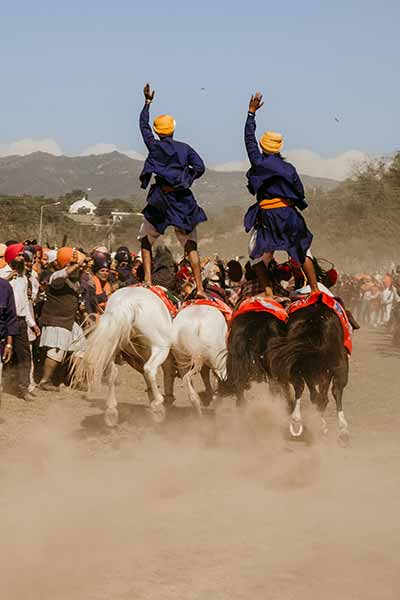 Anandpur Sahib, Punjab
HISTORY OF PUNJAB
It was during the period 800-400 BCE, the greatest epic of all time, Mahabharata was written. During this period, Punjab was known as Trigarta. And the region was ruled by Katoch kings. Punjab's lifestyle is mostly dominated by the Indus valley civilization. Vedic civilization too was introduced to Punjab along the coast of the Sarasvati River. This way, entire Punjab was ruled by many forms of civilizations. These included Gandhara, Nandas, Mauryas, Shungas, Kushans, Guptas, Palas, Gurjara-Pratiharas and Hindu Shahis.
The entire Punjab is divided into East Punjab (In India) and West Punjab now in Pakistan. The Indian states, namely Punjab, Haryana, Chandigarh, Himachal Pradesh, and Jammu and Kashmir cover the same. Undivided Punjab comprised of seven major rivers, namely Sarasvati, Ravi, Beas, Jhelum, Sutlej, Chenab, and Sindhu.
After the Independence as on 15th August 1947, we gave away a portion of Punjab to our neighboring country Pakistan. Today, the Indian Punjab comprises five fertile rivers namely Ravi, Jhelum, Beas, Chenab, and Sutlej. As the plains comprised of fertile land and rivers, the region was constantly attacked and came under influential threats of the West and East. Punjab was invaded by westerners like Achaemenids, Greeks, Scythians, Turks, and Afghans along with the British.
TOURIST PLACES IN PUNJAB
Once you head towards Punjab, you will love visiting its famous cities. These are Amritsar, Ludhiana, Patiala, Jalandhar, Pathankot, Bhatinda, and so on.
Amritsar
You can visit the Golden Temple at Amritsar. You can also visit hub spots like Jallianwala Bagh, Wagah Border, Maharaja Ranjit Singh Museum, Harike wetland, and birdlife sanctuary, Khalsa College and Bhatinda fort.
Chandigarh
You can visit the Rock Garden, Leisure Valley, Shanti Kunj, Morni hills, Rose Garden, Butterfly Garden, Govt. Art Museum and Gallery, Timber trail and lot more.
Jalandhar
You have Wonderland theme park, Devi Talab Mandir, Shiv Mandir, Tulsi Mandir, St. Mary's Cathedral Church, Pushpa Gujral Science City, Niku park and Sheetla Mandir.
Ludhiana
You discover the Lodhi Fort, Tiger Zoo, Punjab Agricultural University and Museum, Nehru Rose Garden, Deer Park, Gurudwara Charan Kamal, and Phillaur Fort.
Patiala
You have amazing attractions like Qila Mubarak Complex, Moti Bagh Palace, Sheesh Mahal, Darbar Mahal, Lachman Jhoola, Kali temple and so on.
Bhatinda
You have Bhatinda fort, Rose Garden, Bhatinda Lake, Lakhi Jungle, Bir Talab Zoo, Chetak Park and Dhobhi Bazaar.
Pathankot
The city is the meeting point of Punjab, Himachal Pradesh, and Jammu and Kashmir. The city, therefore, is of strategic importance. You find tourist spots like Mukteshwar temple, Ashapurni temple, Nurpur Fort, Hydraulic research station, Kali Mata ki Mandir, and so on.
Other cities in Punjab
You have Mohali, Rupnagar, and Kapurthala. These are cities with monuments, lakes, rivers, wildlife sanctuaries, etc. The famous Punjab Cricket Association is located in Mohali. You have a spectacular stadium where national and international cricket matches are constantly being held.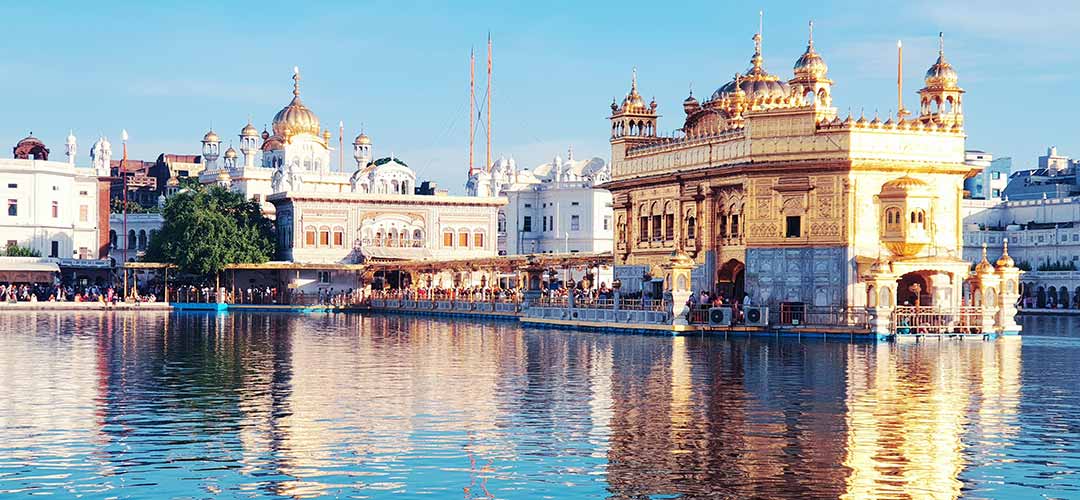 Golden Temple Amritsar, Punjab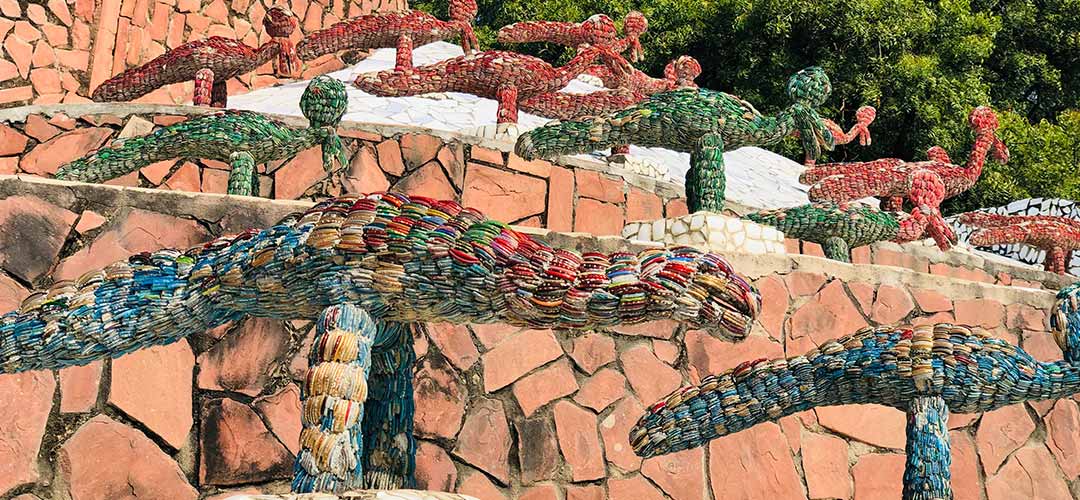 The Rock Garden Chandigarh, Punjab
FOOD IN PUNJAB
Punjab is one of the most prosperous states of India. Every foodie will find authentic Punjabi meal to be a drooling one indeed. Chole Bature with spicy gravy is a must-have delicacy in Punjab. This is a rich food served to you in most of the Punjabi dhabas set up across the nook and corner of the country. As Punjab constitutes a Sikh-dense population, langar meals are freely available in Gurudwaras spread across cities and towns of Punjab. Gurudwara is a religious institution of the Sikh community.
Shakkar Para is a sweet dish that is a famous accompaniment along with tea. Butter Chicken is also a famous delicacy worth drooling while you tour the state of Punjab. Other popular cuisines include those of lassi, chole, paranthas, Amritsar fish, dal makhni, paneer tikka, Rajma chawal, Punjabi kadi, saarso ki saag, makirotti, pinni, ghajjar ki achaar, and karma prashad. Karma prashad is a sweet delicacy offered at Gurudwaras set up across the state of Punjab.
TOURIST ACTIVITIES IN PUNJAB
There are so many activities a vacationer can do with all the vigor and fervor. This is especially true while you tour the fascinating state of Punjab. Known for its myriad confluence of cultures, great food, and tipping dance numbers, your holidaying moments can be cherished ones lasting a lifetime. To revive the patriotism in you, join the rally while you witness the Jallianwala Bagh fort or the Wagah Border.
Religious crowds can flock to the world-famous Golden temple situated at Amritsar. A dip at the lake surrounding the Golden temple can be an enchanting feel lasting an entire lifetime. For the foodie crowd, you can visit a local dhaba to have a taste of local cuisines. These include mouth-watering plates of Chole Bature, butter chicken and thanda lassi. You can view sunsets at Chandigarh, go shopping for Patiala pants and salwar suits. You can watch a live cricket match at the Mohali Stadium. And do much, much more.