Himachal Pradesh, meaning snow-laden province, is one of the most picturesque states across the Northern part of India. It is strategically situated on the Western Himalayas. Sharing borders with Jammu and Kashmir, Punjab on the West, Haryana on the south-west, Uttarakhand on the south-east and Tibet on the East. Himachal Pradesh is predominantly mountainous. Most parts of the state are covered with snow during the winter months of December, January, and February. You have hill-stations like Shimla, Kulu-Manali and Dalhousie to enjoy your vacation to the hilt. You also have numerous temples and deity halls where you can meditate to your heart's content.
Let us have a detailed overview of the region, culture, and other intricate aspects of this colorful state in India.
REGIONS OF HIMACHAL PRADESH
As Himachal Pradesh covers the mighty Western Himalayas, you can call the place a mountainous state of India. You have rivers and glaciers providing water to the entire state. You can find most of the Himalayan rivers crisscrossing the region. Some of the notable ones include Ravi, Beas, Sutlej, Chenab, and Yamuna. The drainage system is also constructed around the same vicinity. Agriculture, horticulture, terrace-farming, tourism, and hydro-power are main-stay activities in and around Himachal Pradesh.
The climate of Himachal Pradesh is divided into three broad categories. Summers, winters, and rainfall. Summers can get very hot. Starts from mid-April and lasts until June. Temperatures range between 28 degree Celsius and 32 degree Celsius. July, August, and September constitute the typical monsoon months.
Dharamsala is the state's winter capital, and it receives the highest amount of rainfall. While in regions like Lahaul and Spiti, the areas are cold and almost rainless. Mid-November until February marks the peak winter months here. As you go higher up the alpine terrain, you find, most of the peaks, completely covered in snow. Medicinal herbs, flora, and fauna, thrive at Himachal Pradesh on account of its pleasant climate and ample rainfall.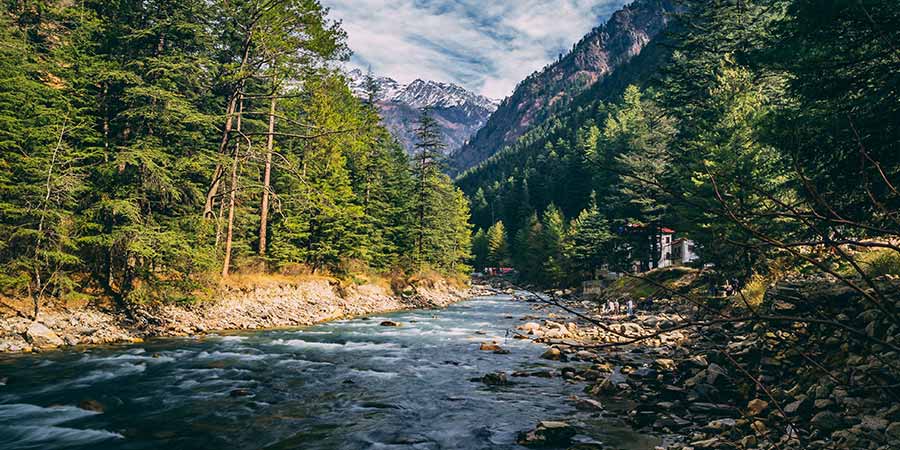 Himachal Pradesh Valley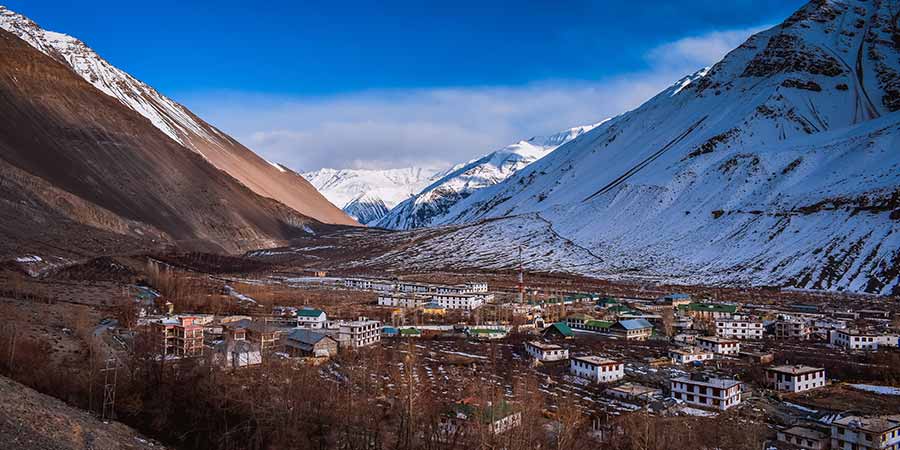 Tabo Himachal Pradesh
CULTURE OF HIMACHAL PRADESH
The pristine beauty of Himachal Pradesh, snow-clad peaks and lush greenery make the state the hub-throb of tourism. People of this state have a unique culture to boast off. While local population or tribes retain their age-old traditions or customs, they are also warm and friendly. Especially to the tourists who visit this picturesque state.
Commonly spoken languages include Hindi, Punjabi, Pahari, Dogri, Kangri, and Kinnauri. You find that this state is majorly inhabited by Hindus. You also find a large volume of Buddhist population. Hindu communities are Brahmins, Rajputs, Kennets, Rathis, and Kolis. Tribal communities of the state are Gaddis, Kinnars, Gujjars, Pangawals, and Lahaulis. The tribal population mainly involve themselves with cattle, cow, or sheep rearing. The localites thrive on agriculture for their survival.
Fairs and festivals are celebrated grandly. Shivrathri, Diwali, Dussera, and Navrathri are festivals that are grandly celebrated out here. Music and dance forms reveal the multi-faceted aspects of Himachal. Popular dancing styles include Rakshasa dance, Kayang dance, the Bakayang dance, Rasa dance, and the Jhoor dance. Culinary delicacies flood street outlets and fairs during the festive season.
HISTORY OF HIMACHAL PRADESH
It was the tribal population that had conquered Himachal Pradesh during the pre-historic era. Notable ones included Koli, Hali, Dhaugri, Kanaura, Khasa, Kirat, Dagi and Dasa. The modern Himachal Pradesh as we know today flourished during the Indus valley civilization. This era was between 2,250 and 1,750 BC. It was King Harshavardhana who had reigned during this period.
Then the state was ruled by several Rajput rulers. Some of the Mughal emperors have also seen the rise and fall of the state Empire. These are Timur and Sikh Ander Lodi. The Kingdom of Gorkha in Nepal invaded Himachal Pradesh during the year 1768. The British rule slowly established control over the region. Post-Independence, several small cities, and tribal towns were unified as Himachal Pradesh. It was given statehood status and became the 18th State of India. This was during the year 1971.
TOURIST PLACES IN HIMACHAL PRADESH
Himachal Pradesh is a land of snow and mountains. You have quite a lot of hub spots surrounding the vicinity. As it is home to several hill stations and temples, here we go with the list. Take a trip down to Manali. Nestled at one end of Kullu Valley, the hill station is a must-visit locale indeed. Rohtang pass, apple orchards, quaint temples, Solang Valley and paragliding havens are some of the most popular tourist attractions out here.
Shimla, the capital, is a fairy-tale location situated in the lovely state of Himachal Pradesh. Situated at the height of 2,200 meters above the sea-level, this hill station is a lovely one. Amid mystical woods and beautiful hills, the vacation spot is a favorite one, among newly-weds and tourists alike. Ridge, Mall Road, and beautiful churches are must-see locations within Shimla.
Dalhousie is fondly known as the mini-Switzerland of India. You can explore the scenic ambiance, Victorian styled mansion houses, and majestic old-world charm. The natural landscapes, pine-clad valleys, flower-rich meadows, fast flowing rivers, and misty mountains make the haven a nature lover's paradise indeed. Head over to attractive spots like Panchpulla, Satdhara falls and Daikund peak while you are here at Dalhousie. Apart from the hill stations, the state of Himachal Pradesh is also known for its unique range of Hindu temples. Naina Devi temple, Bajrajeshwari temple, Jwalaji ki temple, Chintpurni, Chamunda Devi Temple and Jakhoo temple are famous shrines in HP.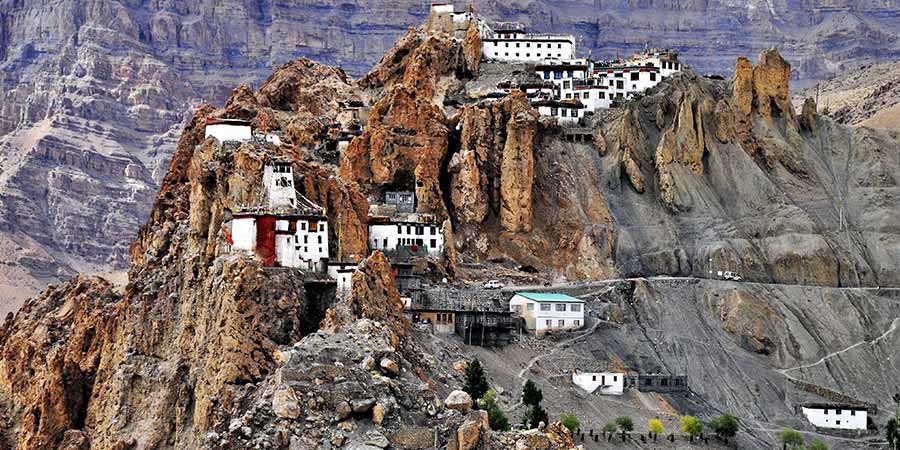 Dhangkar Himachal Pradesh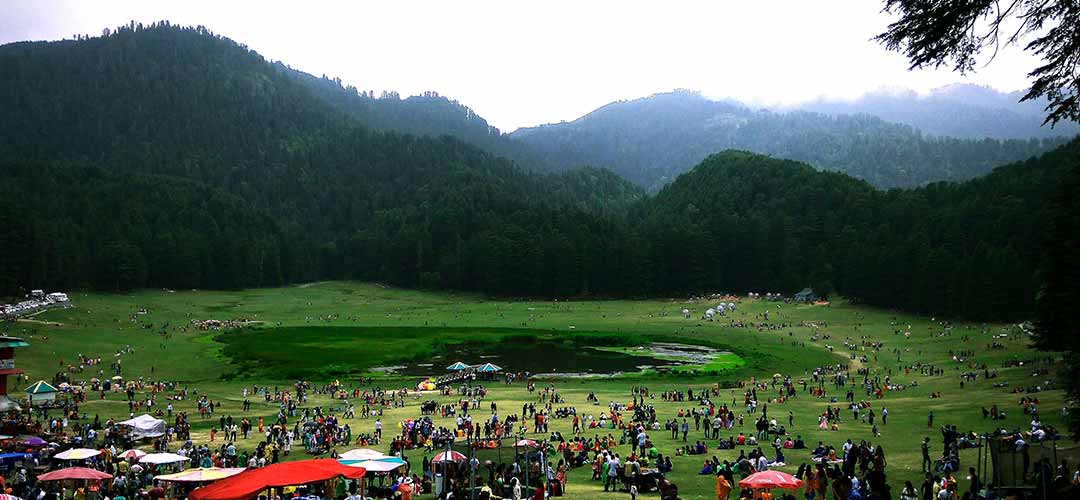 Khajjiar Lake Himachal Pradesh
FOOD IN HIMACHAL PRADESH
You have an attractive range of culinary delicacies once you land up in Himachal Pradesh. The land of mountains will definitely offer you promising food to your heart's content. Himachal food is a perfect confluence of Punjabi and Tibetan styled cooking. Dham is a gravy made from moong dal, rajma, and rice. Coupled with thick curds, mashed dal, boor ki kari and sweet and sour sauce, this can be eaten with rotis or pooris.
Mittha is a sweetened form of rice with a generous helping of dry fruits. Sidu is a type of locally prepared bread using wheat flour. Another culinary delicacy to satiate your taste-buds. You have Babru, the Himachal version of kachoris. Chana Mudra is kabulichanna or chickpeas gravy made from an assortment of condiments like ginger, garlic, onion, and spices. Kadoo ka khatta, buckwheat cakes, Himachal styled pulav namely Tudkiya Bhaat and Patande resembling pancakes are the other delicacies, specific to HP.
TOURIST ACTIVITIES IN HIMACHAL PRADESH
The picturesque state of Himachal Pradesh is filled with mountains, snow-clad peaks, natural flora, and fauna. You can do snow-skiing or paragliding at Kulu-Manali. Mountain hiking and zorbing can also be adventurous activities that can be tried at hill-stations in Himachal.
Plucking fresh apples from Shimla's hand-picked orchards can again be an experience of a lifetime. You can go shopping on the Ridge road in Shimla. Pashmina shawls, artifacts, jewelry, and ear studs can be availed at throw-away prices. You can hit out on local café bars at Dalhousie for relaxing moments between you and your darling wife. Listening to the chirruping sounds of birds, nature-trail walks and visiting pilgrim spots are other must-do activities at HP. You can visit local restaurants and take a taste of the locally available delicacies. These are ones you need to try out for sure.
A trip to Himachal Pradesh will, therefore, be a treasure cove of memories lasting a lifetime.