Manali is a resort based hill station located in Himachal Pradesh, India. As the blissful hill station is strategically located on the northern ridge of Kullu valley, it is also named Kulu-Manali. Kullu district is situated at a distance of 270 km from Shimla. You can reach via road or rail. Honey-mooners, adventure seekers and nature lovers throng to the valley in order to have the most blissful vacation. The lush greenery, panoramic view of mountain ranges, naturally growing apple orchards and gurgling streams! These elements at Manali make you feel one with nature.
Let us move on to have a more detailed insight into what Manali is all about:
REGIONS OF KULU MANALI
Manali is a recently developed hill-station. The mountain ranges and snow-capped peaks of Kullu Valley and Himachal Pradesh surround your eyes. Most of the hills and mountains are covered with snow during the peak winter months. The temperature of the region at Kulu-Manali ranges between 30 degree Celsius and minus 7 degree Celsius.
During April, May and June, the hottest temperatures, have even crossed 30 degree Celsius during the day-time. The night temperature drops to 18 degree Celsius. Winter months are November, December, January, and February. The temperatures are 15 degree Celsius during the day-time and drops to minus seven degree Celsius during the nights. Snowfall occurs between December and March. Rainfall months are July, August, and September. The area receives 250-300 mm of rain during each of these months.
CULTURE OF KULU MANALI
The people of the Kullu Valley follow customs, traditions and celebrate fairs or festivals to commemorate their hard-earned living, and this is done gracefully. Simple living and perseverance are ethos, the people, of the local area, imbibe by. The local tribes and residents of Kulu-Manali grandly celebrate religious fairs or festivals. They worship snake gods, sages, and other powerful epics as detailed in Indian literature. 70% of the local population is engaged in either farming or hand loom weaving.
The entire city of Kulu-Manali is highly literate as well. Tourism, handlooms, and technology applications are occupations people persuade full-time out here. Beautiful temples, monuments, forts and sculptures built in and around Kulu-Manali depict the architectural splendor of artisans and designers out here. As Manali is purely a tourist town, tourism and hospitality industry is also thriving like never before. Himachali, Hindi, English, and Punjabi are languages spoken out here. Hinduism, Christianity, Islam, and Jainism are religions followed by people out here.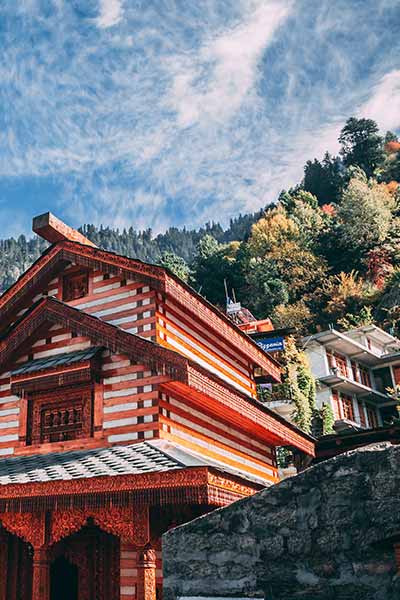 Kulu Manali Tourism
HISTORY OF KULU MANALI
Do you know how the hill-station situated at Kullu Valley was given the name 'Manali?' It is named after the Sanatan Hindu law-giver named Manu. Manu-Alaya meaning the 'Abode of Manu' brought the name of the hill-station as Manali. As per the historical mythology, sage Manu went off in his ark from Manali to save human beings from floods, and to re-create new life after the great flood had deluged the world. Hence the Valley is also called the 'Valley of Gods'. The Old Manali village also has a temple dedicated to the worship of sage Manu.
The British encouraged the growth of apple trees in and around Manali. The first orchard was developed way back in 1860. It was in Patlikhul. Today, apple, plum, and pear are fruits that give most of livelihood income to the inhabitants of the economy. The Rainbow and Brown Trout were also introduced to the Valley of Manali by the colonizers. Now it has become a bustling touring hill-town with home-stays, resort cottages and upsurge of posh boutique hotels.
TOURIST SIGHTSEEING IN KULU MANALI
These are some must-visit tourist hubs while you tour at Kulu-Manali. Here they are for your reference:
Rohtang Pass
You need to visit the high-altitude mountain pass, none other than Rohtang Pass. The palatial mountain pass at Rohtang is situated at a spectacular elevation of 3,978 meters or roughly at 8500 feet above the sea-level. Hence, you can witness a fantastic view of mountain ranges and peaks from this point.
The Rohtang pass is covered with complete snow during December and stays closed until March. As the spot is located amid the eastern hills of Pirpanjal range, you get a resplendent view of nature. Plus the picturesque location is surrounded with Beas and Chenab Rivers to it's south and Rohtang pass at the north. Apart from a glorious view of the valley, you also can discover hidden waterfalls within the spot. Rohtang pass is, therefore, a must-visit hub on your first-time visit to Manali. You can take to nature photography, wildlife trekking and a lot more.
Solang Valley
The Solang Valley is famously known as the Snow Point. The Solang Valley is located at an approximate elevation of 2,560 meters above the sea-level. The locale also hosts varied kinds of winter sports. Some of these include skiing, parachuting, paragliding, and so on. You can also have fantastic views of snow-capped peaks and glaciers from here.
Hadimba Devi temple
This is an architectural masterpiece dedicated to the worship of Goddess Hadimba Devi. She is the wife of Pandava Bhima. The temple also imbibes the Buddhist monastery kind of a structure. The temple is purely built with the help of wood. This was originally built during 1553. You also find another temple dedicated to Ghatotkacha. He happens to be the son of Pandava Bhima and Hadimba Devi. The temple has beautifully been constructed on top of a hillock. You have tall deodar and oak trees covering the vicinity.
Beas River
Beas River is at the Kullu Valley. You definitely cannot miss out on this one. It is one of the most picturesque and attractive spots of Nature. The sparkling oyster-green waters of the river is against a lush green backdrop. Filled with deodar and oak trees. You have water rafting and camping spots around the vicinity. Large families can also have picnics organized. Nature lovers will fall in love with this place.
Great Himalayan National Park
You find a unique variety of flora and fauna at the Great Himalayan National Park. The park is a palatial home to more than 375 species that are on the endangered list. The Govt. looks after the eco-diversity of the place. As the Himalayan forests are dense and covered with thick forests, animals have vast spaces to roam about or hunt for their prey. One also gets a beautiful overview of the nearby valley and mountain passes. Surrounding the vicinity!
You have other picnic spots like Gulaba, Kothi, Manikaran, etc. around Kulu- Manali.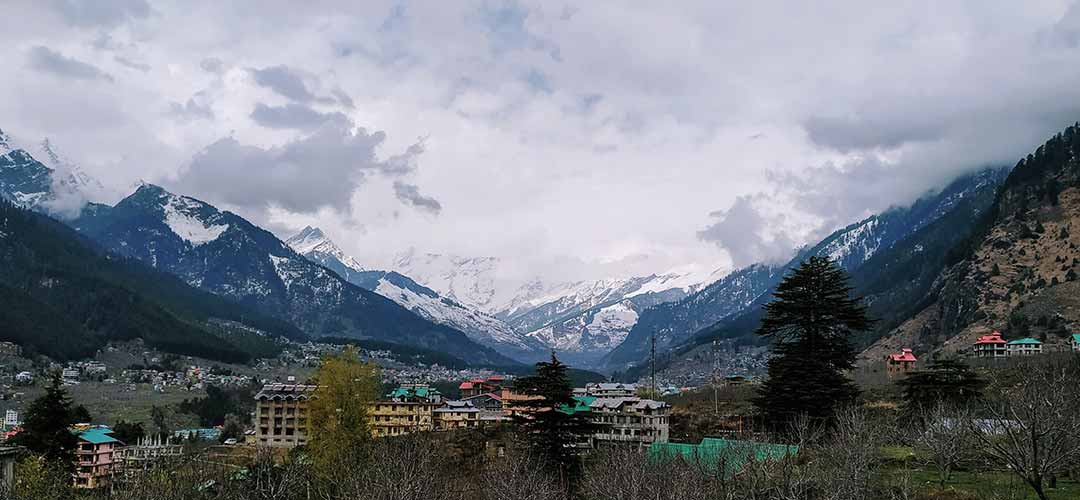 Kulu Manali Valley in Winters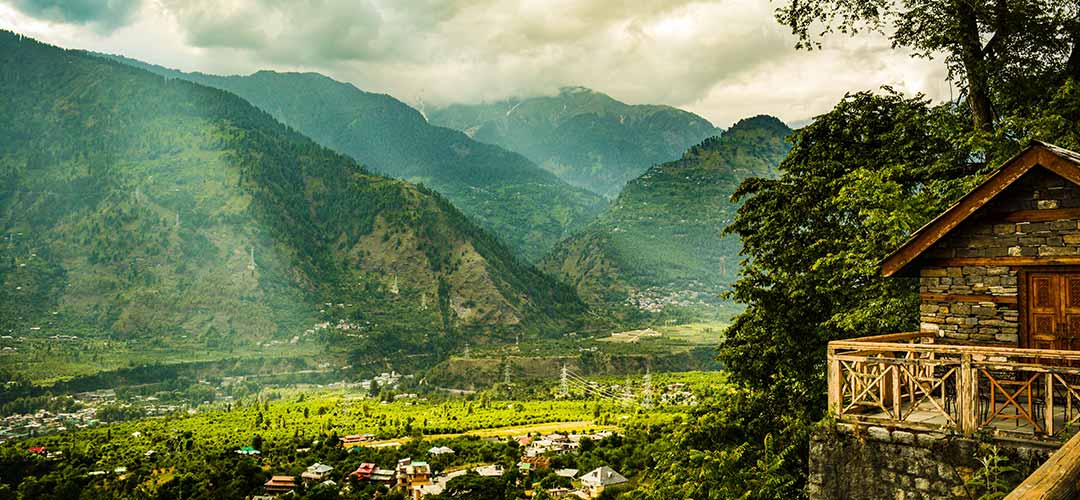 Kulu Manali Valley in Summers
FOOD IN KULU MANALI
Red Rice
Red Rice is a uniquely grown rice cultivated at Manali. Restaurants and dhabas in and around Manali are pleased to serve you with red rice. The rice also lends you with a nutty taste. Accompanied by rice, you have a dal made out of kidney beans. And you have a sabji made from green leafy vegetables. These foods can make up for a sumptuous meal, indeed.
Masala omelet
Masala omelet is egg batter where spicy chilies and onions are added on. A crispy toast accompanied by bread and a cup of hot chai can help keep you warm during biting winters.
Kadhi-chawal
Kadhi-chawal is another great dish served to you via local hotels in Manali.
TOURIST ACTIVITIES IN KULU MANALI
Nature lovers can organize camping spots near Beas or Chenab rivers. These specifically flow via the Kullu Valley. You can organize picnics or excursion trips as well. A trekking trip uphill can be done by adventure-seekers. Across the Rohtang Pass or Solang Valley. Mountain biking, trekking, hill climbing, parachuting, and paragliding can also be done. Avid lovers of photography can take to the Great Himalayan National Park, to take those exotic pictures of animals or birds at their best. Honey-moon lovers can visit waterfalls or cuddle themselves over a hot cup of coffee. You have temples too. In short, Manali gives something to each one of you.