Kashmir is more than a popular tourist destination. The snow-clad mountains, the pristine valleys and the floating flower markets on the Dal Lake showcase the beauty of this place, which is also known as the "Heaven on Earth."
The scenic valleys of Kashmir have something for everyone. Be it the Tulip Festival or white water rafting, and it offers the best for everyone in your family. But, to make the most of this stunning destination, it is important to plan your holiday during the best season.
Table of content
Spring in Kashmir
Summers in Kashmir
Monsoons in Kashmir
Winters in Kashmir

From March till Mid-May(15°C to 30°C)
During December till March(-2°C to - 12°C)

The Ideal Time to Visit Kashmir
How to Reach Kashmir
Kashmir is a destination that can be visited anytime during the year. Be it summer or during the winters, you can for sure have an alluring holiday when you visit this mesmerizing destination. So, never think about when to visit Kashmir; instead, pack your bags and just get going. But, if you like to be prepared, you might know what's in store for you when you visit Kashmir during summer and winter.
Spring in Kashmir
The valley of Kashmir is a mountainous region, and this is the reason where it has four seasons – "spring, summer, autumn and winter." Spring is the season when the valley filled with Alpine meadows looks stunning and has wildflowers everywhere. Tourists can witness the orchards that are laden with various fruits, and Sonamarg and Srinagar are some of the best places to visit in both Jammu and Kashmir during this season.
Summers in Kashmir
Summer in Kashmir lasts from June till August, and this is known as a season of joy. This is the time when the town attracts tourists from all around the world. Kashmir Valley as it is called is known for the Shikara ride, where tourists get to stay in a houseboat. If you are planning to visit this place during summer, a night stay in a Shikara is a must.
Summer is the ideal time to visit if you wish to indulge in the local festivities and weddings. If you are visiting the valley as a part of your honeymoon trip, you can spend some time near Dal Lake. If you love adventure, you can try trekking near the Pir Panjal range. Summer is also the time when many pilgrims visit the Vaishno Devi or Amarnath Yatra.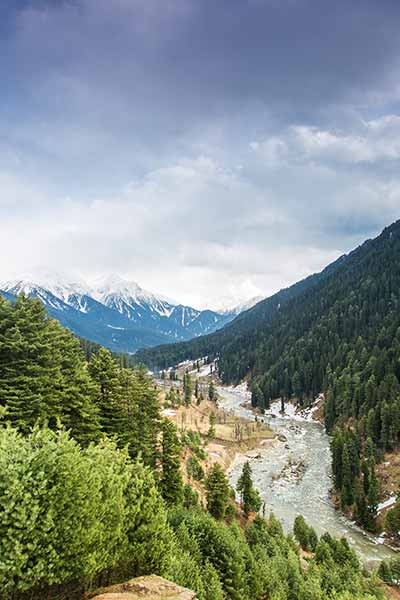 Kashmir Valley in Summer
Monsoons in Kashmir
The monsoons usually arrive early September and last till November. This is considered to be a perfect time to explore the Kashmir Valley as you do not find many tourists during these months. You can also get some great deals and discounts on the hotel and travel packages during monsoon season.
Monsoon is often known to be an off-season, but do not let this hamper your plans. If you are planning to visit Kashmir during September and November, you can be a part of the fun and exciting Apple picking festival.
Winters in Kashmir
If you wish to view the enchanted valley of Kashmir, you certainly need to visit the town during the months December, January, and February – during winter. Several places in the Kashmir Valley witness good snowfall in winter and is mild in Jammu.
You can witness the scenic beauty of the snow-capped Pir Panjal range, and this is what makes winter the best time to visit Kashmir, especially when you are on a honeymoon. Tourists from across the world and India visit this town to witness snowfall in destinations like Srinagar, Gulmarg, and Sonamarg. You can also visit the hill station of Patnitop located in Jammu, which is a famous retreat for families and couples.
When you are in Kashmir during winters, do not forget to the famous Mughal Gardens located in Srinagar.
Now that we have learned about climate in Kashmir let us now learn about the temperatures here.
From March till Mid-May(15°C to 30°C)
This is known to be the best time to visit Kashmir as the weather is very pleasant and you get to explore the magical beauty of the valley. The temperature during March till May ranges between 15 to 30 degrees and many tourists love to try adventure sports which include hiking, trekking or river rafting. If you love trekking, you can visit the trails of Pahalgam or Srinagar. This is the best time to visit Kashmir with your family or friends for a summer vacation.
Tourists also get to visit the world popular Tulip Gardens during April, when the tulips are in full bloom. You get to witness the beauty of vibrant, colorful and various species of Tulips here.
During December till March(-2°C to - 12°C)
If you wish to visit Kashmir Valley when there is good snowfall, you certainly need to plan your trip during January till March, as this is the time when the snow fills the entire town like a blanket.
The valley looks beautiful, and you can as well try adventure activities like snowboarding or skiing. The temperatures between the months of December and March can range between -2°C - 12°C.
The Ideal Time to Visit Kashmir
The best time to visit Kashmir depends on the kind of activities you wish to participate in. If you have plans to visit Gulmarg and are into snowfall or snowboarding, you must visit the place during the months of October till February. If you wish to explore the scenic beauty of this place, you can visit between March and June as this is the time, the valley is filled with colorful blooms and greenery.
You can also be a part of the fun-filled festival called the Hemis festival which takes place during the month of May. The two-day festival is celebrated with pomp, and the locals dress up with traditional attires. The other popular festivals you can be a part of are, the Gurex Festival, Urs and the Shikara Festival.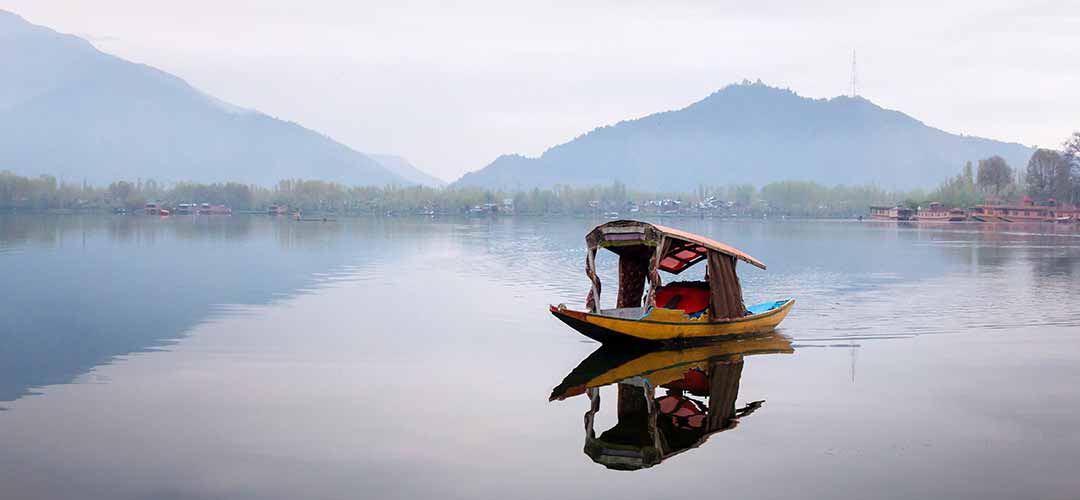 Boating in Dal Lake Srinagar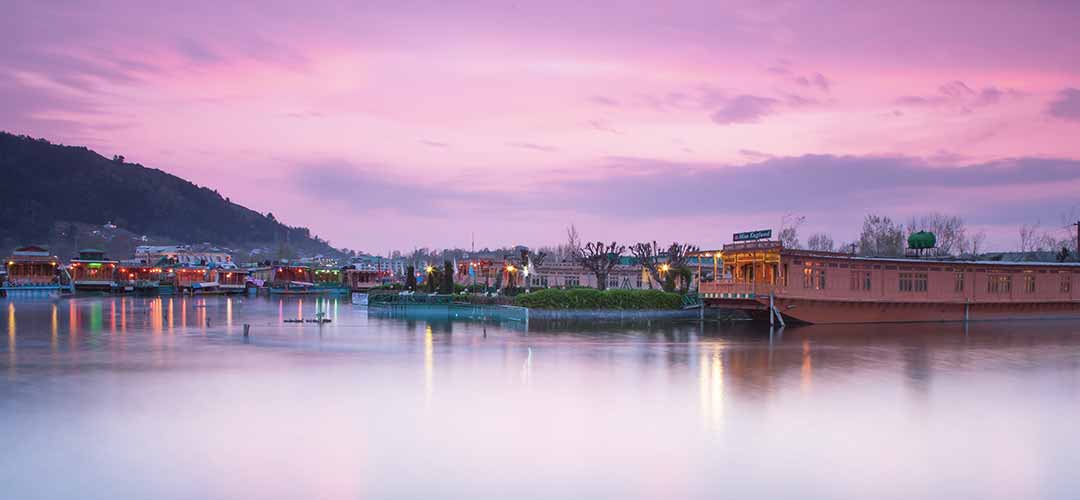 Dal Lake Srinagar
How to Reach Kashmir
Tourists can reach Kashmir by air, train, and bus. The town is well-connected to all the major airports. While there are no railway stations located in Srinagar, tourists can travel to Jammu and take a bus or a coach to explore various destinations nearby. All the major tourists' destinations in Kashmir can be reached by bus. Tourists can use the state transport deluxe buses to travel within the city.
Kashmir is a perfect tourist destination you can visit with your family or your friends during any time of the year. The blossomed gardens and refreshing air welcomes every tourist, and they are treated to the sights of the alpine meadows and colorful blooms. All you need to do is to figure out the kind of traveler you are! So, pack your bags and get ready to soak your soul in the enchanting and ever scenic Kashmir Valley.
"
Feel free to use images in our website by simply providing a source link to the page they are taken from.
-- India Enigma
"
Comments on
Best Time to Visit Kashmir
Please keep your views respectful and not include any anchors, promotional content or obscene words in them. Such comments will be definitely removed and your IP be blocked for future purpose.