Rishikesh is one of the most popular places to visit in north India with different attractions like temples, rivers, and mountains. People visit this place from all around the globe to see the beauty and uniqueness of this famous place. There are lots of places which are famous for holy baths, trekking, river rafting, yoga, etc. This place is famous for its dedication to yoga and meditation. If you are also looking for a visit to Rishikesh then you must select a good place to stay here. If you are in the search of best hotels in Rishikesh then below are some best hotels situated in Rishikesh providing world-class staying facilities on affordable prices.
Table of Content
Palm Bliss Hotel
EllBee Ganga View
Ganga Kinare
Hotel Ishan
60's Green Hills
Divine Ganga Cottage
Divine Resort and Spa
Hotel Kailash Ganga
Hundreds of hotels are there in Rishikesh but finding the best one is a difficult task. We are providing you with a list of highly-rated and best hotels to have a peaceful stay in Rishikesh.
Palm Bliss Hotel
This hotel is located on Tapovan Badrinath bypass road just opposite to VithalAsharam. The hotel provides quality rooms along with various other facilities like self-care programs, meditation, etc. It serves as a complete wellness hotel with various wellness programs and activities like spa, massages, yoga, trekking etc. Other specifications of the hotel are listed below.
Conference Hall
Gym
Nature Walks and Trekking
Jyotish Astrology
LED flat screen Televisions
Free Parking
Money Exchange Service
Doctor on Call
This hotel is the most affordable and premium in the whole city of Rishikesh. If you really want a good hotel to stay here then Palm Bliss Hotel will not be a regretful choice.
EllBee Ganga View
It is a family-friendly hotel in Rishikesh situated on Haridwar road. This hotel is nearby from famous places like Bharat Mandir, Triveni ghat and Parmarth Niketan. This hotel provides different types of room packages including deluxe room, executive suite, premium rooms, and the royal suite.
Features of the hotel
Free Parking
Free Internet
Smoke-Free hotel
Free buffet breakfast
This hotel provides world-class facilities with highly professional room service and catering services. You can enjoy staying here with full comfort with their wonderful furniture and washrooms.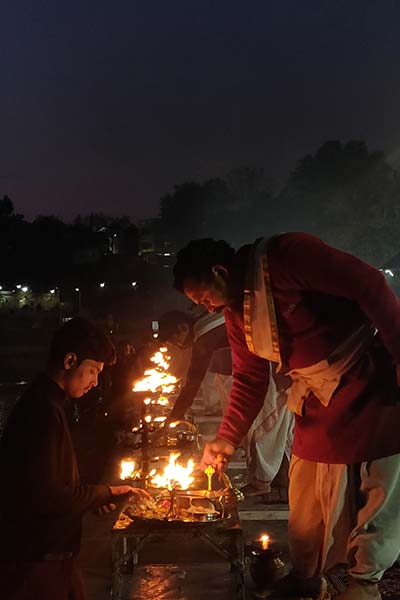 Ganga Aarti Rishikesh
Ganga Kinare
It is one of the most famous hotel located in Rishikesh on Virbhadra Road. This hotel is famous because it is situated on the side of the Ganga river providing an amazing view to the tourists. This hotel provided different room sets such as Standard Room, Semi-deluxe, Lotus Suite and deluxe rooms. Different features of Ganga Kinare hotel are listed below
Free Wifi
Free Parking
Breakfast Included
24 hours business centre
Laundry service
24 hours room service
This hotel is superfine if you are looking for a premium but affordable hotel in Rishikesh.
Hotel Ishan
This is the closest hotel to Laxman Jhula giving a perfect view of Ganga River. This hotel is highly affordable with different room choices like Premium double rooms, Executive rooms, and suite. It is nearby from other attractions like Parmarth Niketan and Tera manzil temple. It also has a rooftop terrace and other features are listed below.
Free WiFi
Business Centre
24-hour available front desk
Laundry Service
The hotel provides TV and free newspaper services too. With its lots of services, it is preferred as one of the most suitable hotels to stay in Rishikesh.
60's Green Hills
It is the most under budget hotel offering premium room services. The hotel is situated on Badrinath road, Sarai. You will get here different room facilities like deluxe rooms, suite, and semi-deluxe rooms. You will get here both smoking and non-smoking rooms. The hotel is known for its cleanliness and room service quality. Other features of the hotel are listed below.
Restaurant
Laundry service
Free WiFi
Free Parking
Dry Cleaning and Laundry service
AC and NON AC Rooms
The hotel has a charming and relaxing environment which attract lots of customers to come here again when they visit Rishikesh.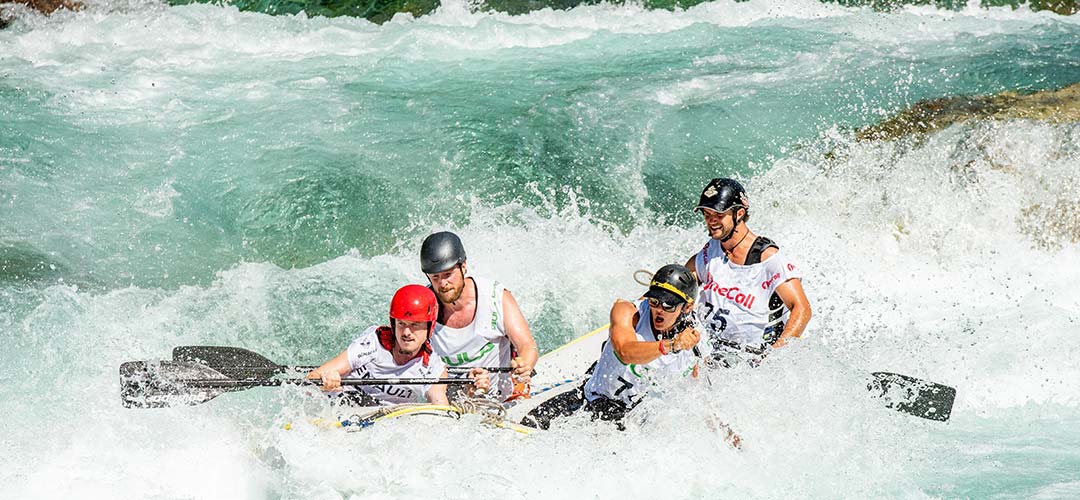 Water Rafting Rishikesh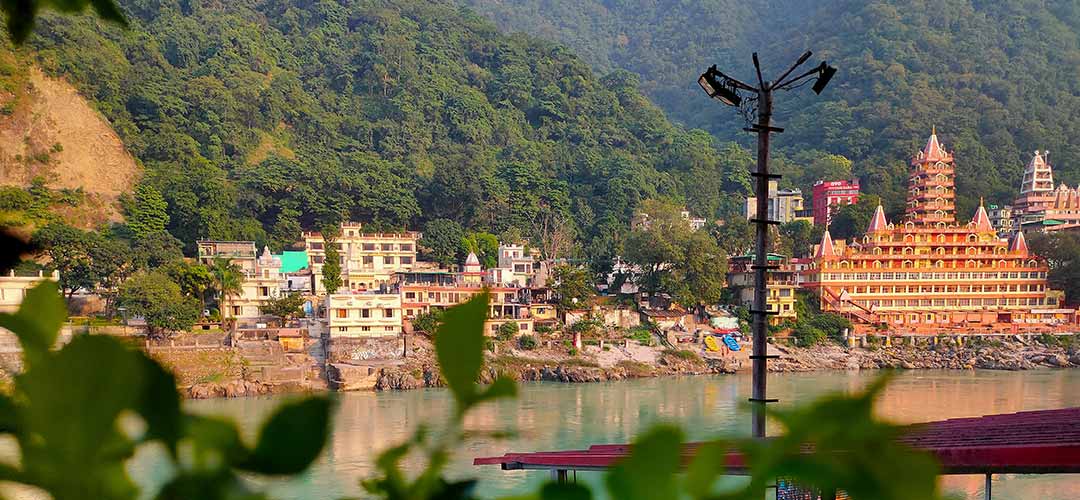 Tapovan Rishikesh Uttarakhand
Divine Ganga Cottage
Divine Ganga hotel is located on Tapovan Hills near Laxman Jhula. It provides an amazing view of Ganga and large hills around it. It is preferable for family stays and provides AC and Non AC both types of rooms. The hotel is located in a wonderful place and has a good room facility and cleanliness. Some other features are listed below.
Free Parking
Laundry Service
Multilingual Staff Support
Room Service
Free WiFi
This hotel will give you a wide view of Ganga and large mountain because of its location. You can go there to enjoy comfortable rooms and world-class catering services on the most affordable prices.
Divine Resort and Spa
This is one of the most popular hotels in Rishikesh located in Tapovan. The hotel is situated in a wonderful location giving always a fresh air originating from the Ganga river. The hotel is suitable for doing Yoga and Meditation in free time because it has several calm places to maintain our focus. Other features of the hotel are listed below.
Breakfast Included
Babysitting Service
Spa
Free Wifi
Room Service
Refrigerators in Rooms
The hotel provides different categories of the room with AC and without AC. Only non-smoking rooms are available in the hotel.
Hotel Kailash Ganga
This hotel is situated on Virbhadra Road in Barrage Colony Rishikesh. The hotel is providing high-end rooms with premium facilities. The hotel is providing various room types such as Deluxe, Semi-deluxe rooms, Suites etc. The hotel is good to stay with family too. Other features of the hotel are listed below.
Free WiFI
King Size Bed
Power Backup
Conference Room
CCTV cameras
The hotel has an in-house restaurant to give you the best catering services. You can go here and enjoy your holiday with a world-class hotel stay whether you are with your family or friends.
All the hotels given above are highly recommended and rated by their customers. You can go to anyone according to your needs and approached visiting locations in Rishikesh. All the hotels are also available on most of the online hotel booking websites. So, book your hotel and enjoy your trip.
"
Feel free to use images in our website by simply providing a source link to the page they are taken from.
-- India Enigma
"
Comments on
List of hotels in Rishikesh
Please keep your views respectful and not include any anchors, promotional content or obscene words in them. Such comments will be definitely removed and your IP be blocked for future purpose.