Goa is divided into North Goa and South Goa. Characterized by its pristine beaches, tropical weather, and lush greenery, the place is a haven for tourists. Some beaches are exclusively used by foreigners visiting the country. These beaches are also known as hippie beaches. Some fun-filled adventure activities can spike up the adrenaline rush in your spine. We have a count-down list on some fabulous activities out here in Goa.
Table of Content
Scuba diving and Snorkeling
Parasailing
Windsurfing
Water scooters
White-water rafting and boat cruising
Kayaking
Water skiing
Banana boat rides
In this holidaying guide, you will be learning about some adventure activities in Goa. Goa is a land of beaches. You have somewhere close to 60 beaches in Goa. Each one of these has a charm of its own. Come; let us discover what kind of adrenaline rush activities line up your store.
Scuba diving and Snorkeling
Well, you don't have to spend a fortune holidaying at the Maldives or Thailand. The beaches in Goa are known for their exclusivity when it comes to entertaining tourists. Foreign tourists get enamored looking at the lovely beaches of Goa.
Scuba diving and snorkeling are mind-boggling adventure sports you can indulge in. You explore the coral reefs and the under-water world while you indulge in scuba diving or snorkeling. You find the best of instructors who are equipped with the right kind of safety equipment. You can take an hour of training or too. You can then set yourself to dive 12 meters beneath the sea. Some of the best Goa beaches that offer you with exotic diving sites are Grand Island, Pigeon Island, and Agatti Island. Angria bank is yet another spectacular site for world-class diving.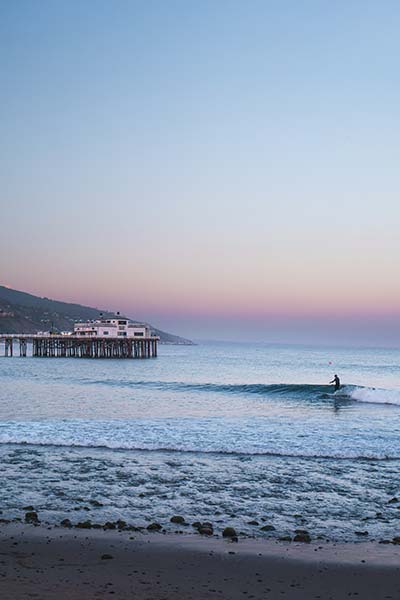 Water Sports in Goa
Parasailing
Would you love getting a lovely glimpse of the Arabian Sea while flying high up in the sky? Parasailing is one of the most mind-blowing adventure activities, indeed. You have a parachute that takes you through the skies. The other end of the parachute is safely attached to the wind-boats. This way, once your exciting session of flying high gets over, you land safely. On to your boat!
Baga, Dona Paula, and Arambol are beaches that offer you with exciting parasailing opportunities.
Windsurfing
This is an adventure activity that can surely spike up the adrenaline rush in each of you. Windsurfing conveniently combines the art of sailing and surfing. You will have a surfing board where the rider will have to stand on. The sail is firmly attached to the surf. You will then have to maneuver according to the wind and water pressure. While you surf through the oceanic waters, you will have to balance the surf and the sail. Dona Paula, Candolim beach, Calangute and Baga provide exotic options on windsurfing.
Water scooters
Water scooters are meant for those of you who would love safety. But still would want to attach elements of thrill or excitement. You ride the bike on the smooth surface of water. Water scooters are extremely popular across Goa and are readily available at most of the beaches out there.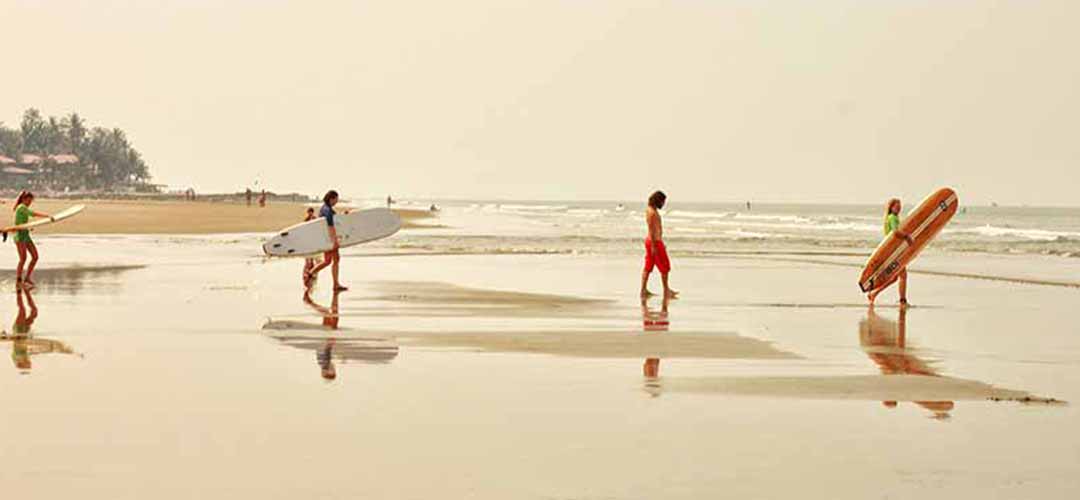 Water Surfing in Goa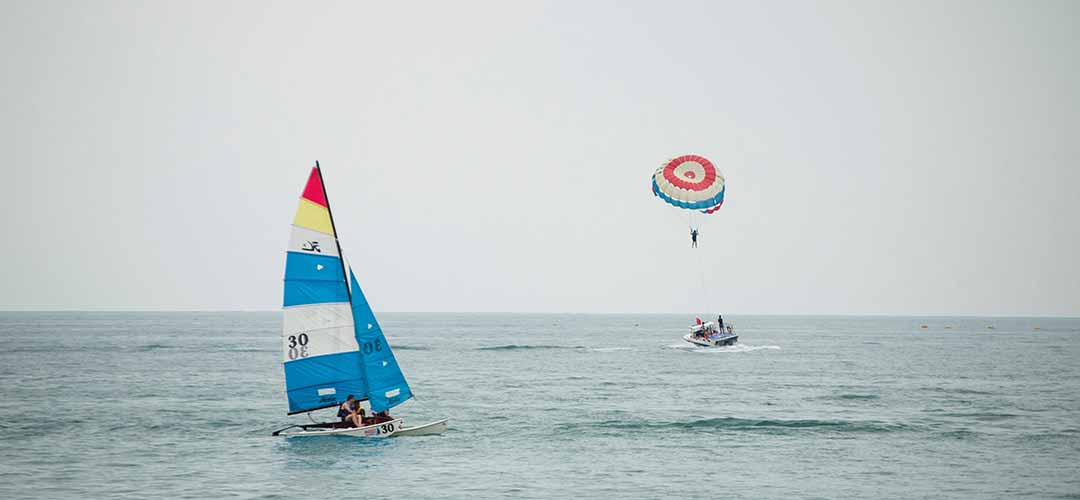 Parasailing in Goa
White-water rafting and boat cruising
Here you are exposed to white water river rafting and boat cruising. The riverbank is located lining the borders of Mhadei wildlife sanctuary. The Mandovi River is one of the most picturesque in India. You explore exciting rolling waves that appear on the River. The action creates white froth that carries your boat amongst the rapids. White water rafting is one such adventure sport that draws a number of tourists, both desi and international. You will have to undertake a training session to help them understand the nuances of the sport. You can then gear yourself over a 10-kilometer adventure drive out there.
For those of you who would love boating or cruise through the waters on a relaxed pace, you have quite a lot of speed boats or pedal boats, where you can waddle through. The serene waters and the greenery surrounding the Mandovi River can be one of the best retreats nature offers you on a platter. Santa Monica and Shantadurga are the most famous cruising operators. They offer you ships with live entertainment. You can get a glimpse of the Portuguese culture and the best Goa beaches fanfare.
Kayaking
Kayaking is an adventure activity that is more relaxing for most of the travelers out there. You have paddle boats that take you through shrubs, bushes, thickets, back-waters and other rivulets in Goa. You can kayak to explore the daily life of Goa or to get a glimpse of the scenic beauty out there. Kayaking sessions are offered by quite a lot of operators in South Goa. Palolem beach, Dona Paula Jetty and Mandovi offer exotic opportunities for kayaking.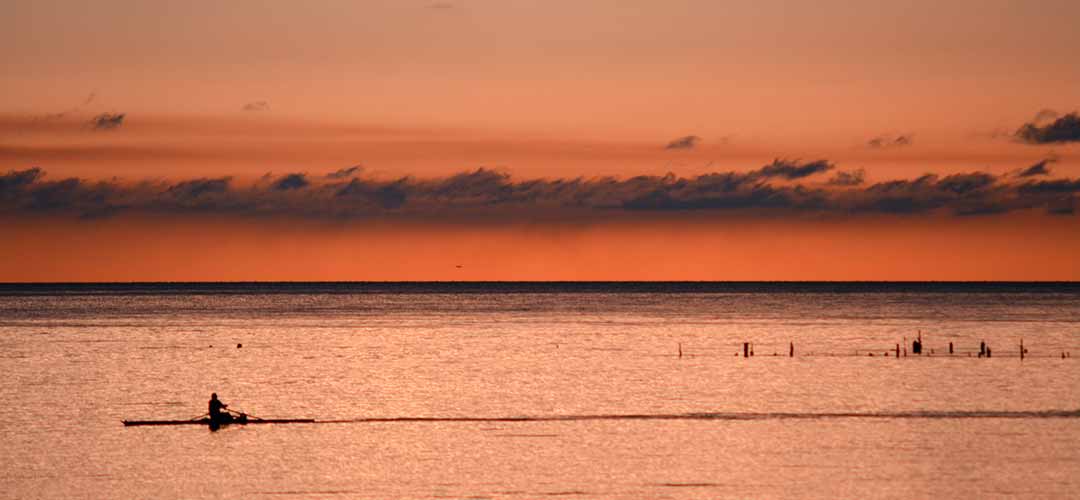 Kayaking in Goa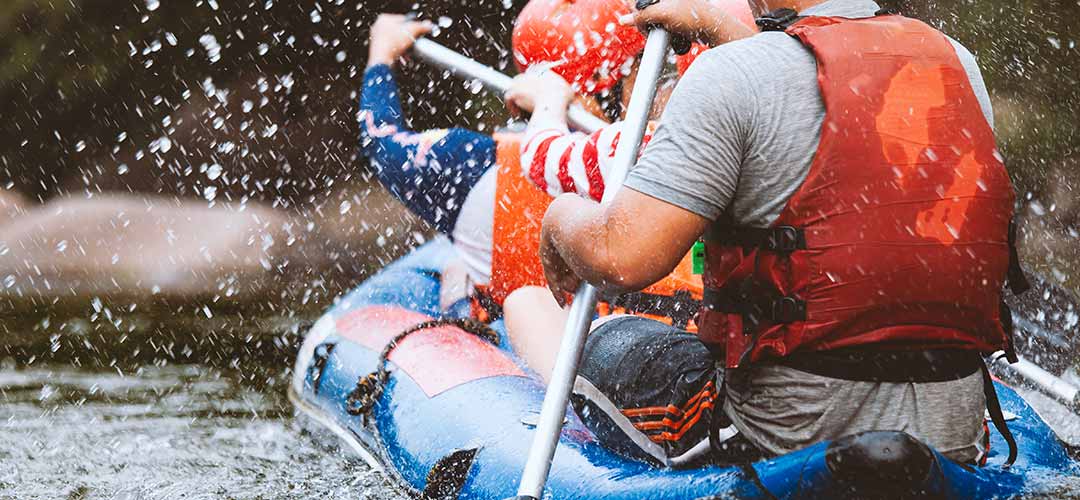 Water Rafting in Goa
Water skiing
Well, all of you might have heard of ice-skiing. Water skiing is something of a different kind altogether. You are given a pair of skies. Just that the skiing rope is tied to a speed boat. You will have to adjust skiing against the pressure or speed of the boat. This is while you feel being pulled by your racing boat. This adventure sport can be quite tough or challenging for beginners. You need to practice little harder to get the right kind of adrenaline-pumping for your nerves. And then, you are all set to go.
Calangute, Baga, and Arossim are beaches that offer you water skiing on a neat platter.
Banana boat rides
Boating on banana-shaped floaters has always been popular amongst Thailand inmates. We at India can enjoy this very own sport at Goa. You are placed upon banana-shaped floaties further attached to steamboats. The steamboats run at exciting speed while sprinting off the passengers into the sea. You can haul on to your floatie once again as the process continues.
You need to have immense balancing power to hold on to the banana-shaped floaties. You get pleasure and enjoyment although this sport can be quite exhausting at times. You can club the activity with jet skiing too to add an extra element of the thrill to the entire sport.
These are some of the most exciting adventure activities in Goa. As Goa is a land of beaches, most of the water sports activities have been discussed at length. You can take ferry rides in double-decker buses too to have a glimpse of the lush greenery and natural surroundings the place has to offer. A resort-based ambiance can also help you soak in the natural surroundings of the best Goa beaches.
"
Feel free to use images in our website by simply providing a source link to the page they are taken from.
-- India Enigma
"
Comments on
Adventure activities in Goa
Please keep your views respectful and not include any anchors, promotional content or obscene words in them. Such comments will be definitely removed and your IP be blocked for future purpose.