India is a land of rich cultural heritage. The Westerners have always intrigued over what is special about this place. The food, the palaces of the yesteryear kings, the hospitable population, technology. Somehow, we fit in the groove in every sphere of life. So, explore the prosperous land in all it's earnestly.
Table of Content
Taste local cuisine
Must-visit places in India

Taj Mahal
Mumbai
New Delhi
Goa
Varanasi
Haridwar and Rishikesh
Tranquil hill-stations
Explore North-East
Andaman and Lakshadweep
Durga Puja in the East
Ganesh Puja in the West
Holi in the North
Pongal of the South
Christmas and New Year Celebrations
Exploring pilgrimage sites and temples on your visit to India
The Golden temple
Ajanta and Ellora
Ranakpur Jain temple
Akshardham
Temples of pilgrim interest

Unique experiences while visiting India

Spend a night in the deserts of Rajasthan
Immerse Yourself in the Breath-Taking Snow-Capped Zones
Spend a night at the slum
Taxi touring cities
Visit the City of Orchha
Take a Ride on the Rails
Experience nostalgia while watching movies
Palace on Wheels
India is a land of striking differences and like-minded similarities. You have diverse cultures followed in different parts of the States and their respective capital cities. You have almost 480 dialects or languages spoken across parts of the country. Hindi is the official language of India. You also have other languages like Telugu, Malayalam, Tamil, Oriya, Haryanvi, Kashmiri, Kannada, Assamese, Urdu, and Bengali spoken in different dialects across the nook and corner of the country.
You have humid or tropical weather in some places. While you find mountainous terrain and snow-capped mountains on the Himalayas covering the upper portion of the country as such. You have wonderful beaches in Goa and Kerala. Cosmopolitan city-culture is followed in cities like Mumbai and Bangalore. You find traditions, not missing an inch, via the revered temples of Kancheevaram and Chennai. Shopping for garments like clothes, trinkets or jewelry find the hub at Jaipur and Gujarat, while sweets can be savored at West Bengal. You, therefore, find the world-favorite aspects, distributed across the nook and corner of the country. These aspects make our country unique. The varied aspects and multitude of climate patterns also make India, a subcontinent indeed.
Map of India
Come on; let us go on, to unveil more unique aspects of the beautiful country named India:
Taste local cuisine
India is known for its mind-boggling array of dishes. Rich and spicy masalas are ground by many households. These powdered masalas are sprinkled across gravies, curries, and rice delicacies. Haryana and Himachal Pradesh are known to use fresh vegetables and herbs in having their gravies prepared. Delhi is known for its mouth-watering butter naans or paranthas.
You savor dabeli, Vada pav, Bhelpuri, and poori-Shrikhand at the bustling and power-packed Mumbai. Masala dosas, crispy vadas, and puranbolis can be savored at Bangalore and Chennai. This is done in the traditional style. You taste plantain leaf food and jack-fruit chips at Kerala. Each place has its unique and distinct flavor to offer. As a foreign tourist who would love covering parts of India, get to taste the local food at dhabas, hotels, or homes.
Be it the Gali wali paranthas sold to you piping hot at the narrow streets of Old Delhi or Chandini Chowk, or the world-famous Hyderabadi biriyani, or spicy chaat items and momos sold in street outlets through the nook and corner of the country; you have them all. You can taste mouth-watering food once you enter paradise as a foreign tourist. Food in the West is usually quite bland, while you find the masala chaats to be a striking contrast to treat your culinary buds. You have sweets and beverages to savor too.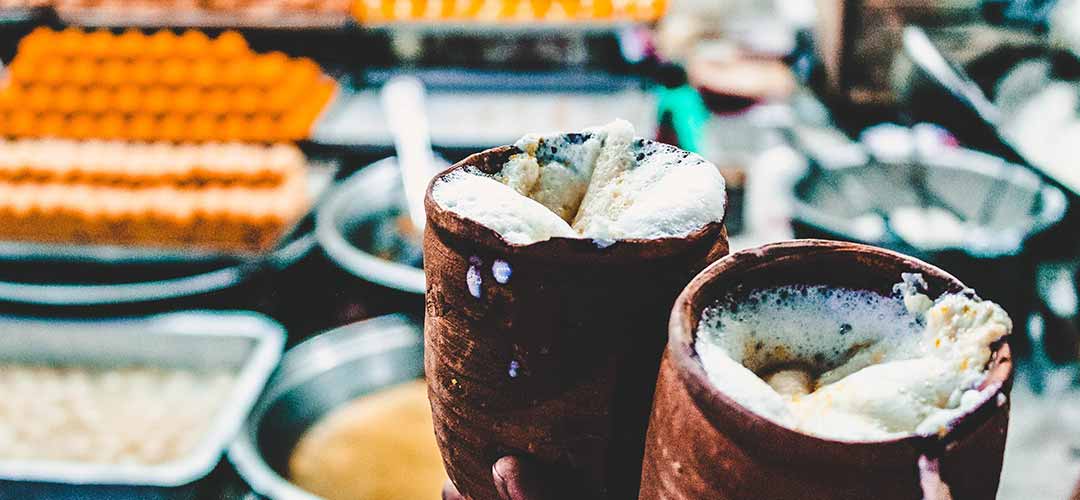 Lassi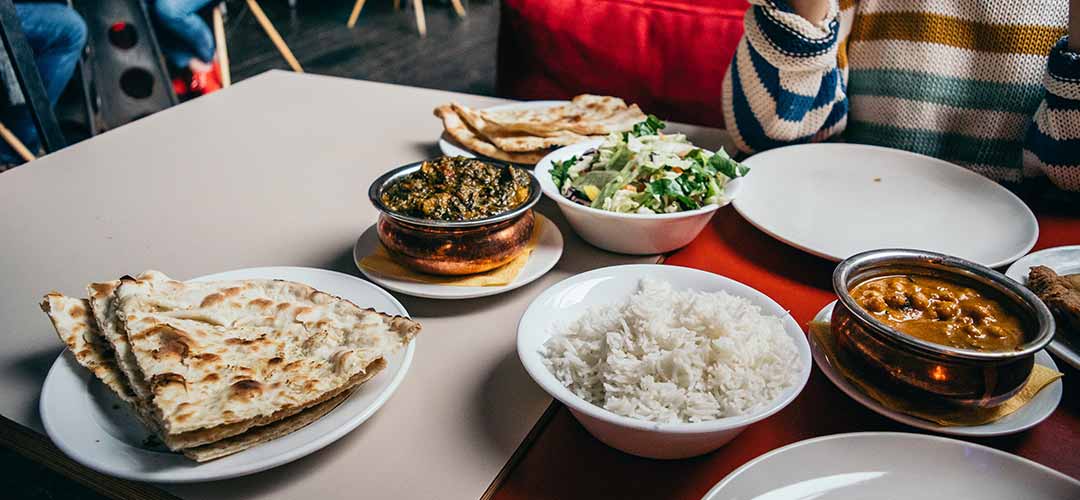 Try local cuisine
Must-visit places in India
There are so many unique attractions and mythological spots covering this lovely country. You may have a travel plan of two to three weeks. Here, you want to explore the most beautiful spots the country has to offer. Picking ten lovely locales, you cannot afford to miss while, you are here at India
Taj Mahal
The beautiful Taj symbolizes the eternity of love. This is a pretty looking mausoleum built by Emperor Shah Jahan in memory of his wife, Mumtaz Begum. The Taj Mahal is built at aaa location that offers you with a lovely glimpse of River Yamuna surrounding both its sides. The Taj Mahal is also regarded as one of the Seven Wonders of the World. The mausoleum is built out of the purest form of marble, and the interiors look breathtakingly beautiful. A must-visit spot while you are out here in India. The Taj Mahal is situated in Agra.
Mumbai
Get a glimpse of the City that never Sleeps. Did you think it is New York? In India, it is the ever-bustling financial capital named Mumbai. Yes, Mumbai is also referred to as the city that never sleeps. Life starts here at 4 am, and you find life even at midnight. Known for its feisty kind of life, a tourist traveler can never leave the country without touching upon Mumbai. You have its famous eat-outs.
You are served with hot pooris and wonderful bowls of Shrikhand or aamras to top it all up. You get spicy Vada pavs and dabelis served at street outlets. Not to forget drooling butter or paneer Frankies you get at city-based restaurants. You have posh offices and the palatial slum area of the city. It is called Dharavi. Dharavi is Asia's largest slum-dwelling area, with narrow, crooked streets lined with mud cottages. You will understand how rich meets the poor while you are here.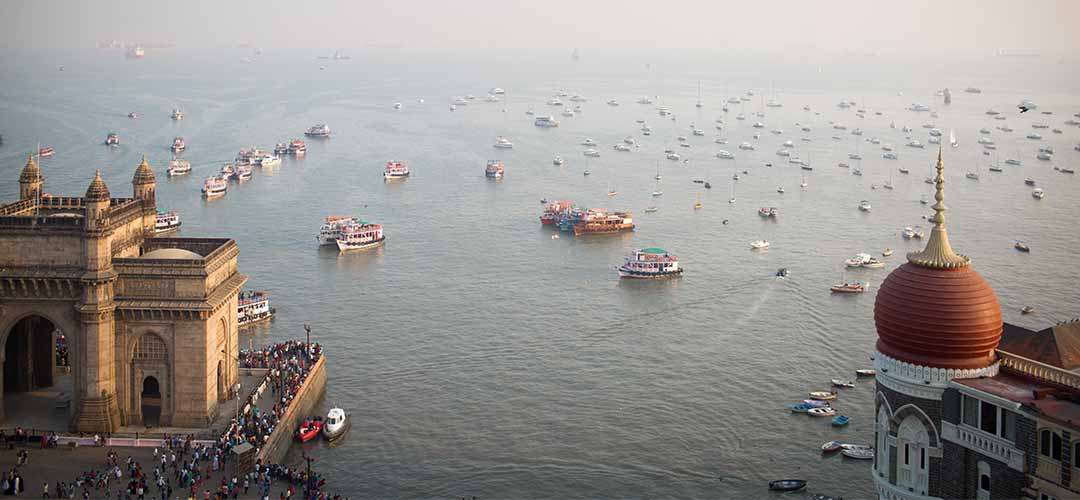 Gateway of India Mumbai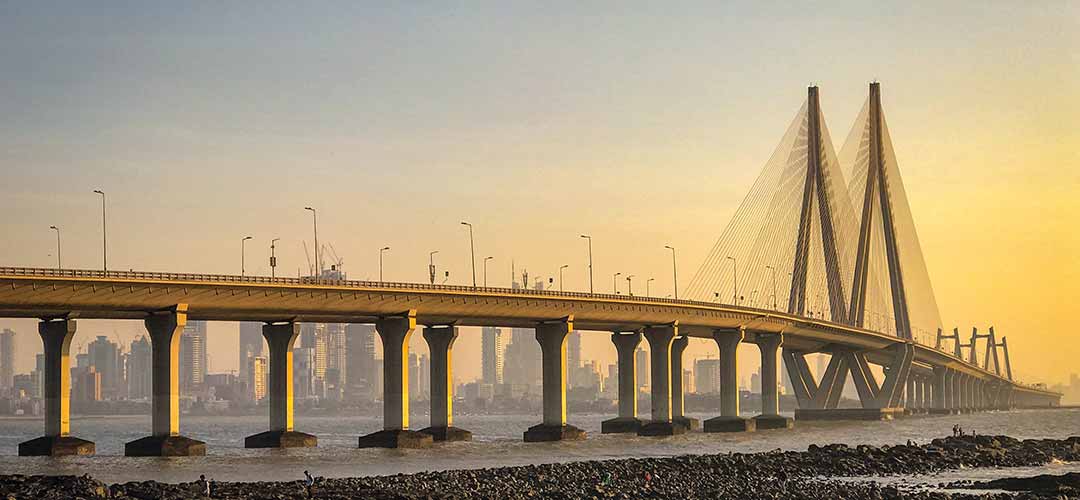 Bandra Worli Sea Link Mumbai
New Delhi
New Delhi is the capital of India. The Government runs its operations via offices out here in New Delhi. Clean and broad roads add delight to the city-dwellers and tourists. Parliamentary House, Red Fort, Qutub Minar, National Gallery of Modern Art, and Nehru Planetarium are some of the iconic tourist attractions the city offers to you.
You can shop for shawls, jewelry, and sweets to your fullest. You find lavish parks around the city center. You have the cosmopolitan culture vibrant with its share of multiplexes, malls, and night clubs. From New Delhi, you have hill-stations like Nainital, Shimla, and Kulu-Manali within easier reach. These are revered hill stations that add pride to the travel and tourism segment of the country. In totality, New Delhi is a hub you cannot afford to miss out on.
Goa
Goa is a Union territory that is situated in the State of Maharashtra. The holidaying destination is a preferred one for foreign tourists on account of its stunning set of beaches. Goa is broadly divided into North Goa and South Goa. Panaji is the capital city of Goa.
Calangute, Vagator, Candolim, Baga, Miramar, Dona Paula, Grand Island, Arambol and Anjuna are some of the exclusive beaches the holidaying destination offers to you. Deep-sea diving, snorkeling, banana rides, boating, and cruising are fun-filled water activities you can enthrall yourself in. Great food, partying, and limitless oodles of fun have made the destination, a preferred one, for holding bachelor and bachelorette parties.
Varanasi
Varanasi or Banaras is one of the oldest cities in India. You find numerous temples and holy spots that occupy the much-coveted UNESCO world heritage sites. You find temples and bathing Ghats, surrounding the place. Numerous yagnas, holy cremations, and sacred baths are carried forward by elders who revere themselves with the age-old tradition and customs. The ones followed by ancestors through yesteryears!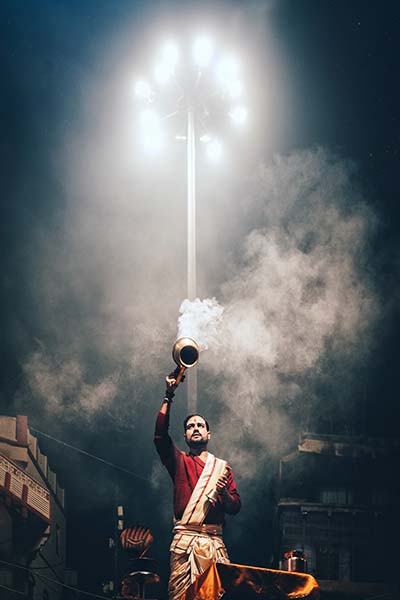 Ganga Aarti Varanasi Uttar Pradesh
Haridwar and Rishikesh
You find the mighty Ganges flowing through Haridwar and Rishikesh. These are cities that typically dwell under the banks of the Ganges. Lakshman Jhula is a prominent and iconic spot in Rishikesh. Meditation halls and yoga centers mushroom across the nook and corner of Rishikesh. The place is also known as the Yoga capital of the world. You also find wellness centers where you are taken through nature trail walks. Also, coupled with energizing sessions on yoga and meditation. Ganga Artis are performed during the evenings. You must visit Haridwar and Rishikesh, to take in, the essence of spirituality, at its ultimate best. The Chardham or the four-corner pilgrim yatra is done Enroute Haridwar and Rishikesh.
Tranquil hill-stations
Rustic cottages, mountainside breeze, snow-capped peaks, natural flowers in their full-bloom, and lavish tea-estates are what hill stations are typically known for. Kodaikanal, Shimla, Nainital, Darjeeling, Kashmir, Kulu-Manali, Nainital, Ladakh, Ooty, and Binsar are some of the iconic hill-stations, the country offers to tourists. Cool mountain breeze, shopping artifacts, and fantastic nature can make one delve in Switzerland kind of a holiday.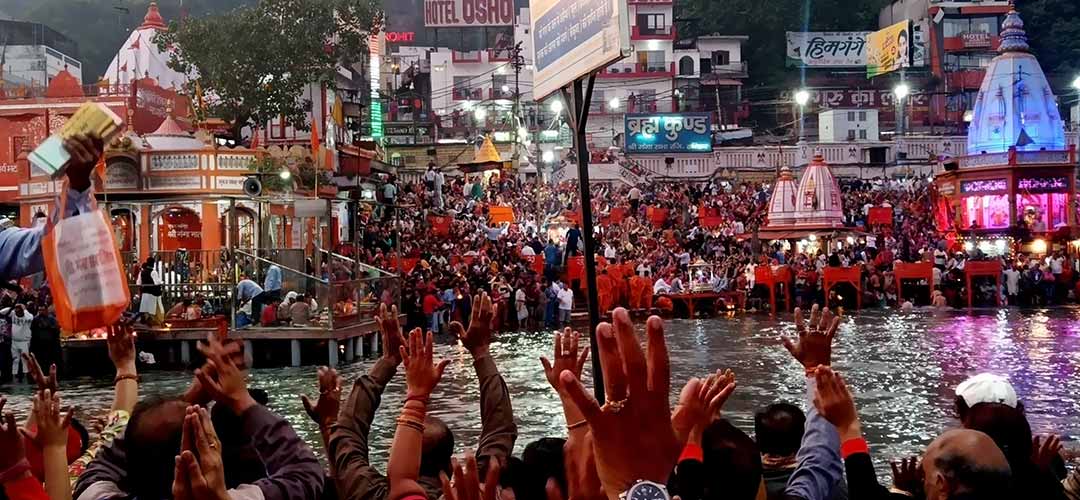 Har ki Paudi, Haridwar, Uttarakhand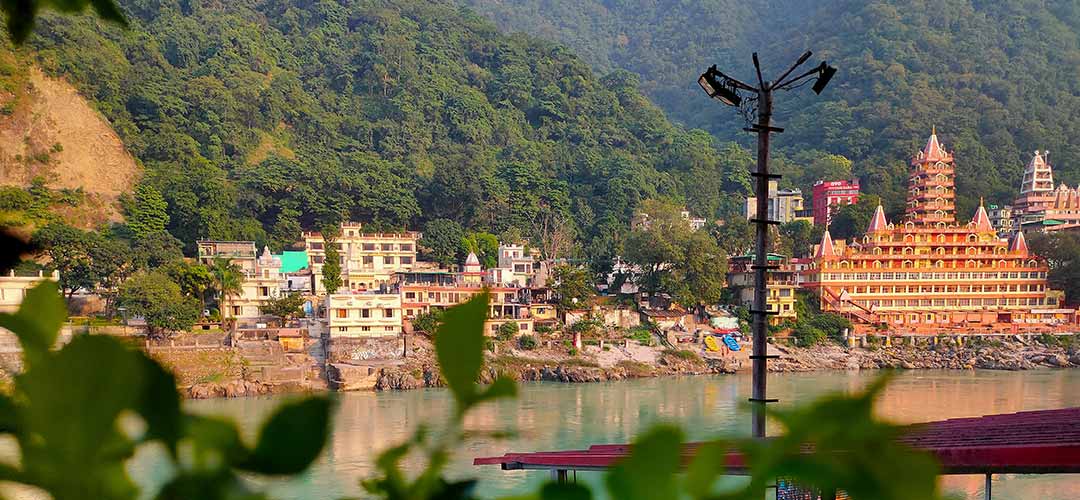 Tapovan, Rishikesh, Uttarakhand
Explore North-East
Assam, Meghalaya, Manipur, Mizoram, Arunachal Pradesh, Sikkim, Nagaland, and Tripura cover the entire North-Eastern belt. These are cities that are known to receive torrential rains most of the year. Lush greenery, natural habitat for growing forests with rest havens for the wild, shopping arcades, and friendly people are aspects that make North-East one of its kind.
Back-waters of Kerala
Pristine waters and lakes filled with lush greenery make Kerala a great place to visit. Also known as "God's own country," the place is a haven for tourists who visit the place. Poovar is an iconic destination that provides houseboats for guests or travelers to stay in. You have the boats floating in the lakes. Kovalam beach is a sprawling beach with turquoise shaded waters. Boating is famous out here. While you indulge in a fun-filled session with boating, you come across beautiful backwaters of Kerala. This is something you cannot miss out on.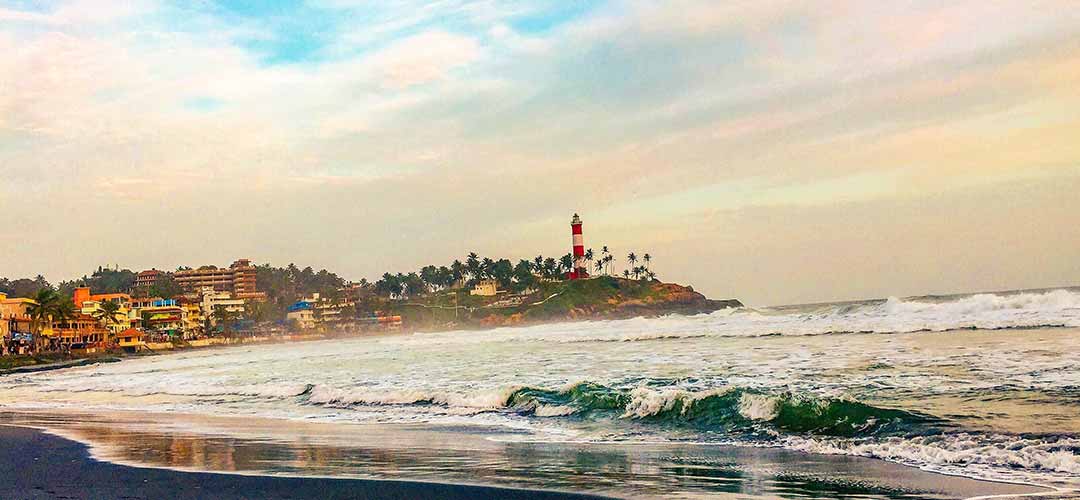 Kovalam Kerala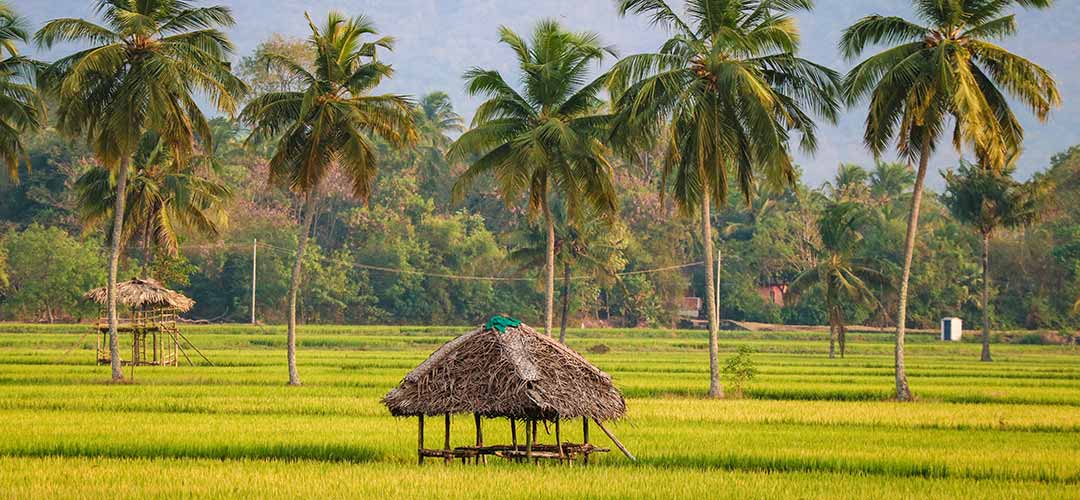 Kerala Tourism
Andaman and Lakshadweep
You have Andaman and Lakshadweep islands touching on the tip of the Indian map. These islands have coral reefs and marine life that can fascinate the eye. Known for its pristine seawater, beaches, and islands, water enthusiasts can have the time of their life. Snorkeling, water volleyball, scuba diving, and taking ship-line cruises are activities that keep tourists on their toes.
Festivals you can indulge in on your visit to India
We already spoke about the religions and the Gods of India, owing to which there are many festivals celebrated here. It can be said that each region of the country that is very own way of celebrating festivals. For example, Kerala celebrates its harvest with the ten-day festival of Onam. You can find camel festivals or kite flying festivals and more, giving you ample opportunities to immerse in the colorful traditions of this country.
You have varied forms of festivals and functions that are celebrated in a wide-spread manner across India. Navratri, Ganesh Chathurthi, Durga Puja, Sankranti, and Holi festivals take place in a lavish and glorious manner. A glimpse into how the fanfare takes place during the onset of some of the major festivals of the country:
Durga Puja in the East
Durga puja revers Goddess Durga. Fanfare, exquisitely hand-crafted decorations, colorful lanterns, and artistic garlanding of Goddess Durga make the festival a fondly celebrated one. Durga Puja is celebrated in Kolkata of West Bengal. Throughout Navratri, the nine-day festival, the Goddess is decorated artistically.
Even the visually impaired can view the festivity in all its aura. On the 10th day, the Durga Maa demolishes the demon Ravana. The Durga Puja of the East makes pilgrim tourists across the globe flock to the city. Durga puja is also celebrated fondly in Odisha, Bihar, Tripura, Assam, and Bangladesh.
Ganesh Puja in the West
Ganesh Puja is grandly celebrated for ten days at a stretch. With fabulous grandeur and fanfare, Ganesh idols are painted. You can find Ganesh puja celebrated with festive lights across the states of Maharashtra and Gujarat. Mumbai celebrates the festival lavishly with loud buntings of Ganapati Bappa Moriya. On the 10th day, post-Ganesh Chathurthi, the idols take their visarjan. In other words, the Ganesh idols are immersed in the sea.
Women make crispy vadas, deep-fried modak, and rice-kheer on the day of Ganesh Chathurthi. During evenings, friends and relatives invite one another to take thambool in favor of invoking the blessings of Lord Ganesh. In the streets, huge pandals are made with Ganesh idols decorated. You witness special lighting effects too. Prashad is offered to onlookers and passers-by without discrimination of caste, creed or community.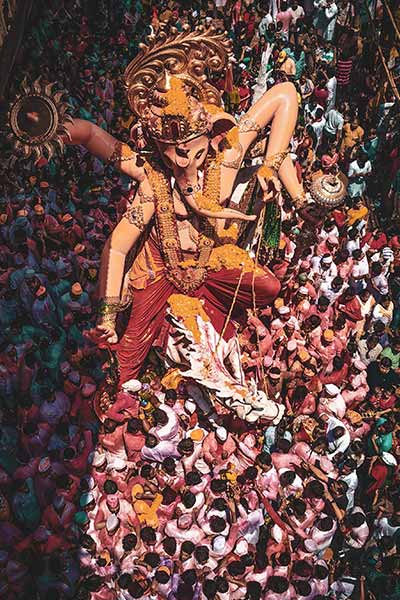 Ganesh Puja Lalbagh Mumbai
Holi in the North
North Indians and Jains celebrate Holi as a grand four-day festival. Holi represents a dash of colors. Lavish food and desserts are prepared by households inviting people to each other's homes. This is a festival that is mainly celebrated to welcome the onset of the spring season. You can find neighborhoods throwing or splashing colors at one another. Little kids use pellet guns to spray watercolors at one another. Holi is celebrated in a grand manner across New Delhi, Haryana, Uttar Pradesh, Rajasthan, and Mumbai.
Pongal of the South
Pongal is fondly known as Sankranti. It is also known as Makara Sankranti, as it falls under the Capricorn star Makara. Pongal refers to welcoming the onset of the harvest season. Pongal or Sankranti usually falls on the 14th of January every year. You have Thai Pongal celebrated in Chennai and Hyderabad. Big and colorful Rangoli kolams are put across households. Women make sweet and sour Pongal, crispy vadas and kheer to celebrate the occasion. Fanfares and pandals with sugarcanes flood the cities. You have Thai Pongal on the 14th of January. The next day, i.e. 15th January is celebrated as Mattu Pongal. Cows are decorated with their horns painted.
Bullock carts are decorated, and the cows ride on them. In the countryside in down south, it is an absolute fantasy to watch. You have the third-day post Pongal, i.e. 16thof January celebrated as Uzhavar Thirunaal. Families of farmers plan day trips and share food during the excursions. The 4th day, i.e. 17th January marks the end of the Pongal festivity. The last day is fondly celebrated at Thiruvalluvar Day. The day marks the birth anniversary of the revered Tamil poet Thiruvalluvar.
Others include Diwali-the festival of lights, Janmashtami (Birthday of Lord Krishna) Buddha Purnima (birthday of Lord Buddha), Mahaveer Jayanti (birthday of Lord Mahaveera), Gandhi Jayanti (birthday of Mahatma Gandhi), Independence Day (15th August when the country received Independence from British rule), Republic day (State formation day as on 26th January) and other state-oriented festivals.
Christmas and New Year Celebrations
Christmas and New Year are celebrated in a similar fashion as is celebrated at the West. Shopping malls emit glitz and glam with festive lanterns and huge stars. Gifts and bouquets are placed near huge Christmas trees. Attractive discounts are offered on shopping products, home décor, and electrical appliances.
Exploring pilgrimage sites and temples on your visit to India
If you are a spiritual person, the multitude of deities as well as religions you find in India will, for sure, surprise you. Known as the "Land of Temples," India is a canvas for arts, architecture, and sculpture. You can find various landscapes that are carved marvelously into idols of deities. The cultural aspects of India are so unique and diverse. Yet we stand tall, as one great nation. The unity in diversity factor is what intrigues the West, to know more about this country. You will know about some of the unique pilgrimage sites and temples covering the nation. Every temple located in India reveals a lot about the soul of the country.
The Golden temple
The Golden temple is situated at Amritsar. The latest survey figures reveal that the Golden Temple at Amritsar is the most visiting holy spot across the world. The pure luster of the golden temple takes a beautiful shape while the rays of the sun hit upon the temple, especially during the wee hours of the day.
Clad in twenty-four-carat pure gold, interspersed with heavy lighting, just post the twilight, the golden temple is a splendor to watch. You have the palatial lake touching the banks of the Golden Temple. Food is served to pilgrims and guests 24/7. You will be amazed to see the Langar community hall. It is a dining hall that can serve authentic North Indian meals to 1,00,000 guests at once. The meals are served to Indians as well as foreign tourists visiting the Golden temple. You can talk to the local crowds too. This way, you get a glimpse of how rich our cultural heritage is. The pilgrim spot is a must-visit when you arrive as a tourist here for the very first time.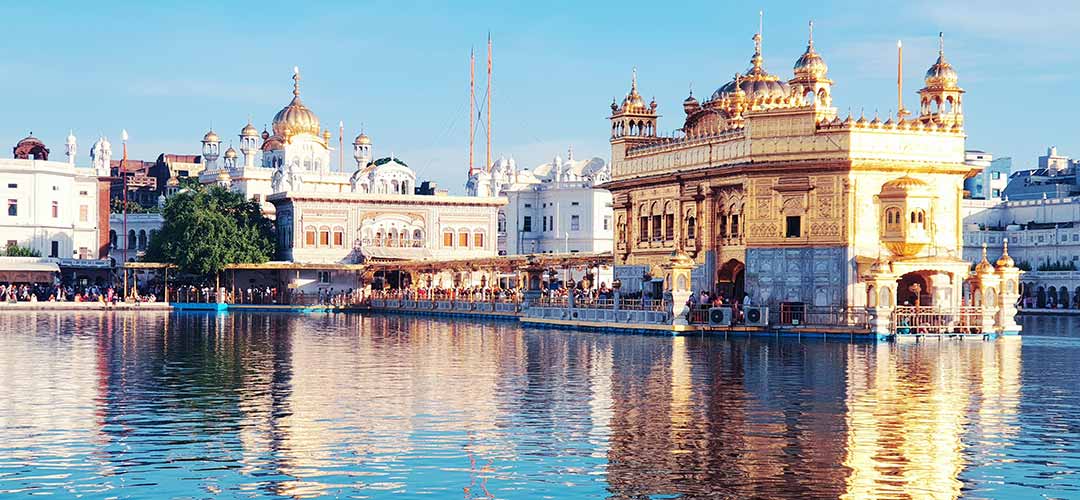 Golden Temple Amritsar, Punjab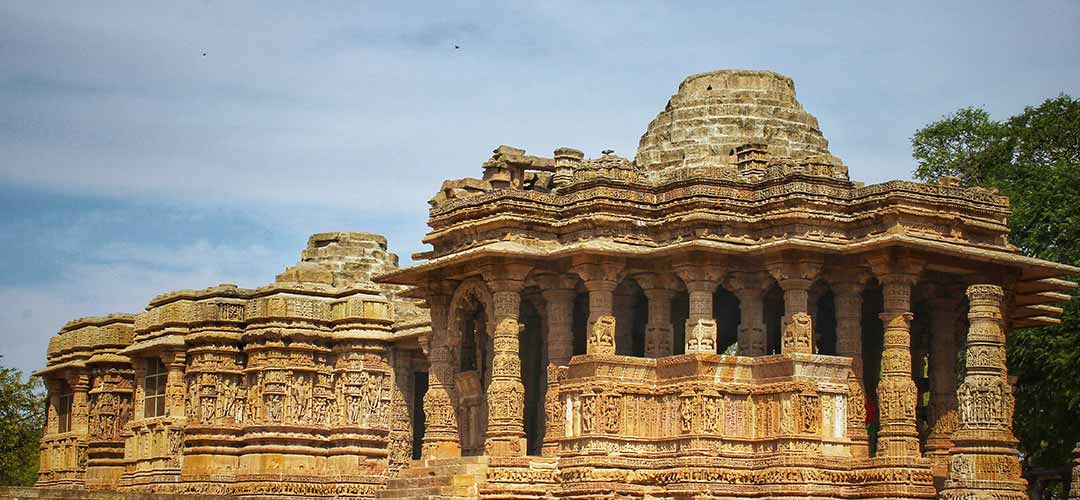 Sun Temple Modhera Gujarat
Ajanta and Ellora
Ajanta and Ellora caves house thousands of Buddhist monuments, paintings, and artifacts. The exquisitely hand-crafted paintings on rocks add to the traveler's delight. You have around 30 rock-cut Buddhist monuments that date from as early as 2nd Century BCE to 480 BCE. Found at the Aurangabad district of Maharashtra, a visit to the Ajanta and Ellora caves is a beautiful one. You have the Ellora caves approximately 30 kilometers from Ajanta caves. The Buddhist monuments and masterpieces deserve their right-royal identity as UNESCO world heritage icons.
Ranakpur Jain temple
This is a Jain temple in a remarkably quiet village named Ranakpur. The village stands in between Jodhpur and Udaipur. The Ranakpur Jain temple was almost built during the 15th Century. The special feature of this amazing temple is this. You discover 1400 intricately carved out pillars. The interiors are designed in such a way that no two pillars resemble the same. This way, you feel as if you are led into a never-ending maze. The architectural splendor of the Ranakpur Jain temple can, therefore, lend you a mind-boggling experience indeed.
Akshardham
Akshardham is situated in New Delhi. It is an architectural splendor worth exploring. It is situated on the banks of the Yamuna River and is a marvel-piece worth its mention. The massive temple contains the carvings of several Indian artisans. Its unique appearance is further characterized by dome-shaped ceilings, pillars, and walls.
These contain ancient paintings and manuscripts of Indian literature. It gives the audience a superlative essence of how Hinduism evolved through the ages. Post sunset, you will find the Akshardham beautifully lit up with lanterns, and this can be a visual treat to the mind, body, and soul.
Temples of pilgrim interest
These are some of the age-old temples and pilgrim spots you can have a look at:
The Lord Brihadeshwarar temple is an architectural splendor indeed. You find 1000 pillars that are uniquely designed. The temple is found at Tanjore district of Tamil Nadu. The temple was built under the Chola dynasty during the 11th Century AD. The tower of the temple is the tallest in the world.
You then have the Ranganatha Swami temple at Trichy. The temple houses Lord Vishnu in his eternal Ananthashayana pose. He lays down upon the seven-headed naga, Adi Shesha.
Madurai Meenakshi Amman temple is situated in Madurai. The temple is dedicated to the worship of Goddess Meenakshi.
You have the 52nd Shakti Peeth temple at Kanya Kumari.
You have Shani Singapur in Maharashtra. The Ashta Ganapathi temples are eight in number connecting pockets of Pune and Mumbai in Maharashtra. These are some of the temples of world-fame origin.
You have pretty-looking Churches at Goa and Kerala. Pilgrims come from far and wide to temples and churches the country has to offer.
Unique experiences while visiting India
As tourists, you want to carry home that treasure-trove of unforgettable memories. How does this happen? This happens when you add purpose to your vacation. Here are some of the most unique experiences you feel out here in India.
Spend a night at the deserts of Rajasthan
Who wouldn't like to reminisce thoughts sitting on sands and gazing at the star-lit sky? Heading out to the Thar Desert of Rajasthan gives you exactly that. Experience a larger than life experience when you hire a desert styled safari tent. You can listen to some soulful music and dance performed by local artists. Plus, at the Jaisalmer, you have a quiet holiday setting as against crowded beaches or museums. Jaisalmer offers you with Swiss styled desert safari camps. You can take palatial food gazing at the starlit sky. You can get hands on to parachuting, desert riding, and more.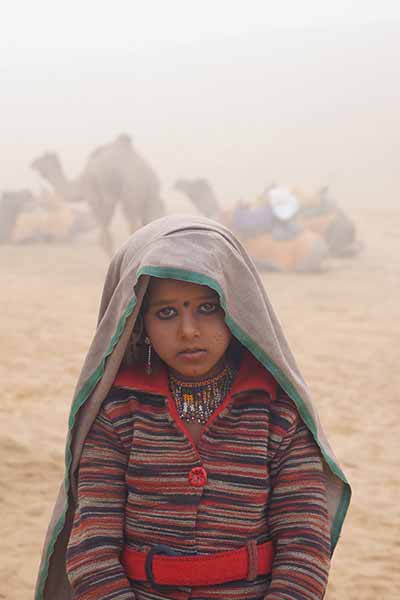 Camels and local in Jaisalmer
Immerse Yourself in the Breath-Taking Snow-Capped Zones
You can visualize the rich cover of Himalayas at Lahaul, Spiti, and Kinnaur of Himachal Pradesh. We call it the triangular loop. The snow-valleys start at Shimla and end at Manali. Spiti is the coldest of all. The temperatures can freeze up to minus 20 degrees during peak winter months. You find Tibetan temples, shopping arcades, and mouth-watering food too. A perfect mountain view resort can make your holidaying spree a fabulous one.
Spend a night in the slum
You must have seen people living in Bolivia, Africa, and Nigeria. The slum life opens your mind and soul to wider horizons. You see kids wading through a 14-kilometer stretch just to drink water. You see communities struggling with their bread or butter. Some of them stay at thatched-roof houses while few others have none. Poets and artists are always intrigued by how these people who have modest amenities are happy on their own.
You experience a typical lifestyle at the Dharavi in Mumbai. The Oscar award-winning movie named the Slum Dog Millionaire was shot at this place. Narrow lanes, dirty surroundings, meager food yet a happier lifestyle specializes in a visit to the place.
Taxi touring cities
You can take a cab driver to help you with a half-a-day picnic or sightseeing trip of Delhi. You get the private space and can travel in complete solitude. You can take pictures or videos of spots that intrigue you the most. You can get down to restaurants to have your favorite food. Mumbai and Goa also offer splendid cab-driven packages. At Kolkata, you experience drives in trams, just like the ones you find in London.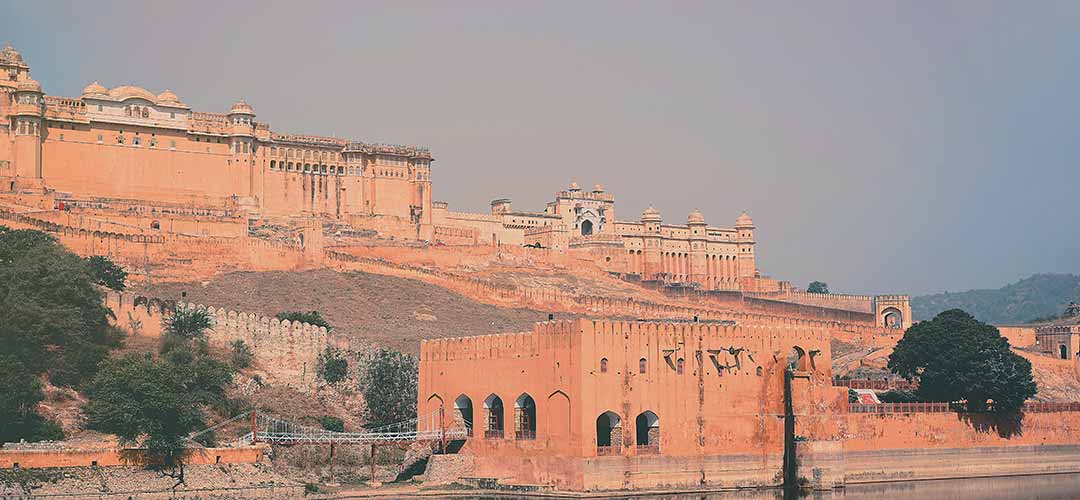 Amer Palace Jaipur Rajasthan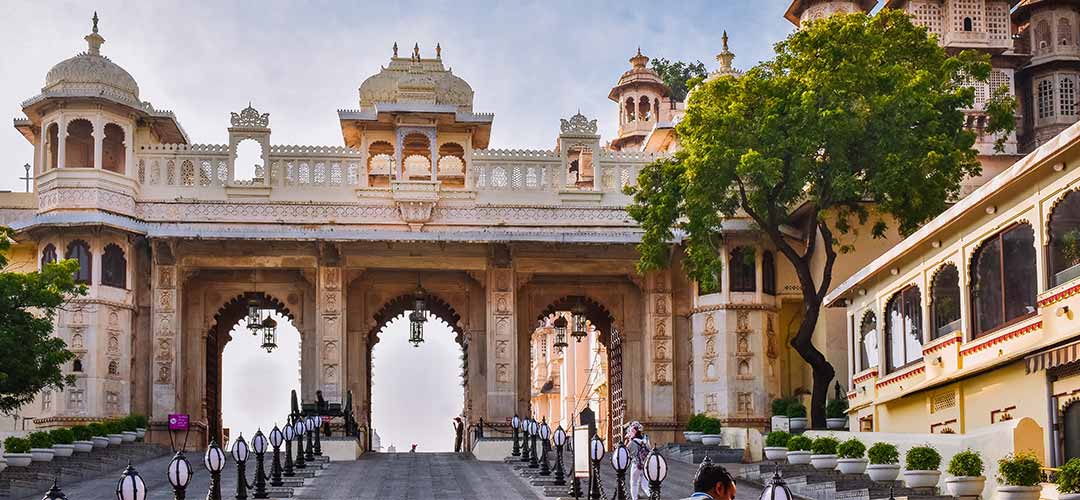 City Palace Udaipur Rajasthan
Visit the City of Orchha
When in India, a visit to Orchha, the medieval city, is a must. There are many bus groups that visit this place every day to see some temples and move on to the next destination. But, if you wish to see the beauty of this city, you certainly need to spend a few nights here. Magnificent temples and Havelis enthrall you with every turn. You can visit the Ram Raja Temple, or get on the rooftop to see the ceremonies that take place.
As the city is very small, finding accommodation can be tricky. But, there are a good number of homestays available, and tourists can contact the NGO Friends of Orchha for the same.
Take a Ride on the Rails
The rail system in the country offers a unique experience – it is chaotic, vibrant, warm and welcoming at the same time. If you wish to live a lifetime in just a day, you certainly need to book yourself a ride. If you have the budget, you can even travel at peace on a luxurious train. The Indian Railways has special luxurious tourist trains for visitors from across the world. Each of these train journeys is varied and takes you through the deserts of Jaisalmer to the southern foothills.
Experience nostalgia while watching movies
This is Raj Mandir Cinema for you. The nostalgic ambiance of this Jaipur based theater can take your senses to an all-elevated high. This is a cinema hall that was opened in the year 1976. You can catch up with the latest Bollywood flicks at the theater. The pastel shaded walls, spacious and comfortable seating, and exciting movie buffs add to the movie watching pleasure. Situated at the heart of Jaipur city, you also find the lane filled with lassi shops.
Palace on Wheels
Experience a larger than life experience while you travel the royal style on a train coach. It is aptly named the Palace on Wheels. This is a luxury tourist train developed in sync with the Rajasthan Tourism Development Corporation.
You have palatial rooms and dining halls inside the train. You have a fully stocked up bar. You get the choicest variety of hard drinks, cocktails, and mocktails. You have state of the art facilities on dining and living.
Some of the cabins have huge paintings of royal kings and queens. The Palace on Wheels covers sight-seeing spots in Jaipur, Udaipur, Rajasthan, Jaisalmer, Agra, Fatehpur Sikri, Jodhpur, and the Ranthambore Tiger Reserve. You are welcomed by Rajput styled princes and served with posh welcome drinks while you alight the train. This will provide a fascinating opportunity for foreign travelers to get a glimpse into the cultural tradition and heritage of the country.
These are just a few of the must-do things in India, while we have much-much more. The backwaters of Kerala, the pristine mountain ranges of Assam and hill-stations like Kulu-Manali can help you delve in a Switzerland kind of a holiday.
The meadows, wild-life flowers and lush greenery surrounding the Kashmir valley, add to what you would never experience elsewhere in the world. The land of India resonates culture, tradition, and warmth of people, and you can have those cherished memories for years to come.
"
Feel free to use images in our website by simply providing a source link to the page they are taken from.
-- India Enigma
"
Comments on
Things to do in India
Please keep your views respectful and not include any anchors, promotional content or obscene words in them. Such comments will be definitely removed and your IP be blocked for future purpose.