Kerala is fondly referred to as 'God's own country'. You discover idyllic weather all through the year. You find the land immersed with lush greenery all around. You discover pristine backwaters where houseboats sway back and forth. You have silver-line beaches with palm trees. You have a cradling array of hill stations too to help you lap on to Mother Nature. With the perfect mix of elements out here, your holidaying spree can be one of its kinds.
Explore Kerala
Do you want to see some of the best tourist attractions covering Kerala? Then, the best bet would be to take a holiday package for 4 days or above. This can work wonders indeed. Would you want to spend those lovely quality moments with friends or family? Well then, you can extend the stay over 8 nights and 7 days. For a comfortable holiday stay for you to have a look at sightseeing spots or help you relive your holiday moments, the ideal holiday span would be 5 nights and 4 days. You can stay at the resort, accommodate your must-do tourist activities, explore lovely vacation spots, have your food delicacies, and go on a fun-filled spree with respect to enjoying adventure activities out there.
What is the weather scene in Kerala?
As you find high land mountains and coastal belt, you find a tropical climate that is prevalent in most parts of Kerala. To explore the God's own country across its length and breadth, you must know how the weather conditions change across seasons. Hilly areas can remain cool while coastal belts have tropical weather, most of the year.
Summer- Summers start during the month of February and extends until May. The temperature ranges between 32 and 36 degrees Celsius.
Southwest Monsoons- The typical monsoons for Kerala start during the first week of June. It can go until September. The average temperature is 19-30 degrees Celsius.
Northeast Monsoons – During the months of October until November, the average temperature may rise from 29 degrees Celsius until 35 degrees Celsius.
Winter- The winter in Kerala is from December- January. Weather ranges between 18 and 28 degrees.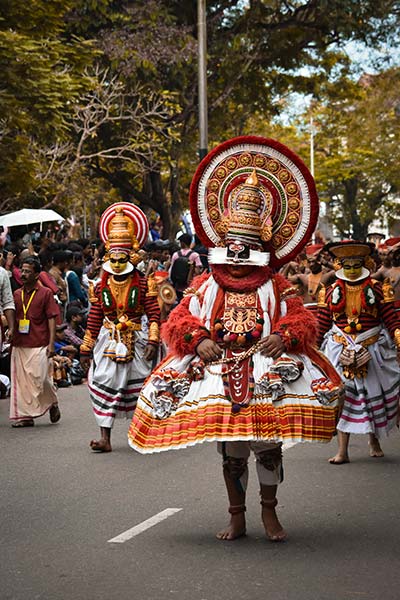 Kathakali dancer
The Best time to visit Kerala
You can visit Kerala between November and May. Summers and winters can help you explore most parts of Kerala. You would experience torrential rains during the monsoons. Most of the wildlife sanctuaries and boating spots may remain closed during this part of the year.
Best places of tourist interest in Kerala
We call Kerala as God's own country not without a reason for it. You can explore lovely touring spots out here. Helping you unveil some of the best places of tourist interest:
Kumarakom
A popular tourist destination in Kerala, Kumarakom is known for its scenic beauty, and backwater rides. You can hire a houseboat that floats across backwaters. Alternatively, you can stay at a decent motel to start with. Most of the houseboats provide you with accommodation and dining facilities too. You can enjoy lavish boating rides across pristine backwaters. You can spend those lovely moments with friends and family as you gleam through waters covered with lush greenery and trees.
Cochin
Cochin is a bustling city where you have ample three-star and four-star hotels to stay in. If you have come here on a business visit, you can arrive at the Cochin International airport. You can hire a cab or a taxi to take you to the hotel you have booked.
Munnar
This is a real paradise on Earth. Munnar is a favorite holidaying hill station in Kerala. You find misty clouds rolling into trees. You can enjoy toy train rides and resplendent boating rides too. You can taste some of the awesome delicacies of Kerala cuisine. You find lush scenic views and valleys. The greenery around can help you be one with nature. Tea estates can also be discovered while you travel through the hill station. Honey mooning couples find an ideal retreat upon a visit to Munnar. The main tourist attractions include the Pothamedu viewpoint, Tata Tea Museum, Mattupetty Dam, and Eravikulam National Park.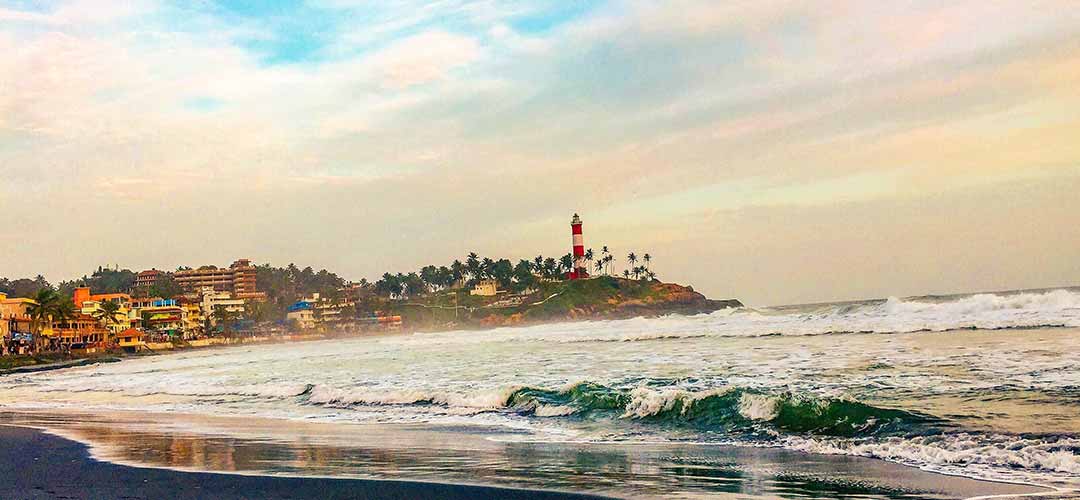 Kovalam Kerala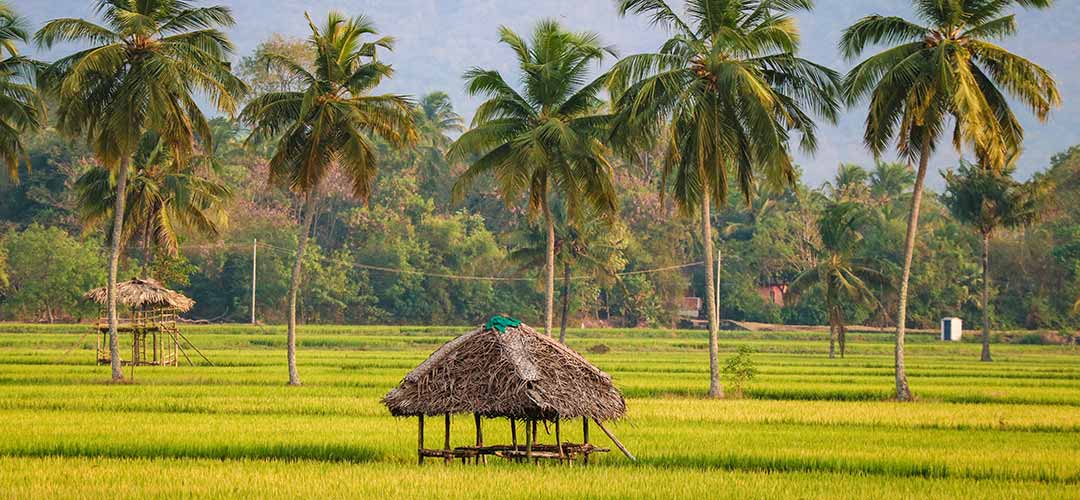 Kerala Tourism
Trivandrum
Trivandrum is the capital city of Kerala. You can arrive here via flight or train. Upon arrival, you can transport yourself to a resort or motel. Trivandrum is in closer proximity to Kanyakumari. You can go on a holiday visit to Kanyakumari to view temples and discover the conglomeration of oceans. The Indian Ocean, Arabian Sea, and the Bay of Bengal meet here in Kanyakumari. You can view beautiful sunrises and sunsets. You can also view colorful sands as the weather changes its course.
Alleppey
This is a tranquil locale you would fall in love with. You find bustling backwaters out here and hire a houseboat or a local boat to enjoy the beaiful water ways. You can visit the Alappuzha beach, Krishnakumar palace, and Kumarakom bird sanctuary.
Kovalam
You can visit some of the world's best beaches out here. The beaches, separated by rock formations, also house a canopy of lush greenery. You have trees surrounding the place. You can visit places like Lighthouse Beach, Akkulam Lake, Vellayani Lake, and Valiathura pier. Kovalam Surf club can interest water enthusiasts. You can opt for wind board surfing or snorkeling out here.
Thekkady
You can find Periyar National park a real haven for wildlife enthusiasts. The property houses some of the rare varieties of Bengal tigers. You have a rich array of flora and fauna surrounding Thekkady. You can arrange for camping or excursion trips while you are out here. Boating across Thekkady can also leave you with exotic holiday memories indeed.
Wayanad
You can discover exotic spice plantations while you are here. You can enjoy your holiday by opting to stay in a treehouse. This way, you get cuddled up closer to nature. This is one of the most serene places out here in Kerala. You can visit Eddakal caves and Muthanga wildlife sanctuary.
Must-do activities in Kerala
When you visit Kerala for a holiday, you must definitely make the best out of it. These are some exotic must-do activities while you are here. These are
Take a cruise on a houseboat
Taking a cruise on a houseboat marks the main agenda on your holidaying trip. You must witness the swaying effect of backwaters amid pleasant breeze while you stay on the boat. You have waters covered with exquisite varieties of palm and coconut trees. For experiences of backwater houseboats, you can visit Alleppey and Kumarakom.
Ayurveda massages
Ayurveda is one of the sought-after treatments in Kerala. People believe in nature's method of treating or healing health ailments. Getting yourself a robust Ayurveda body or face massages can make your day.
Shopping
You can purchase exotic varieties of souvenirs while you travel on a holiday to God's own country. Some splendid shopping products include sarees, ivory jewels, brassware, coir or jute products, spices, and traditional lamps.
A snake boat race
This is one of the events you must be a part of if you are in Kerala during the months of July to September. The snake boat race is famous all over the world, and the most famous of them all is the Nehru Boat Race, which happens in Alleppey.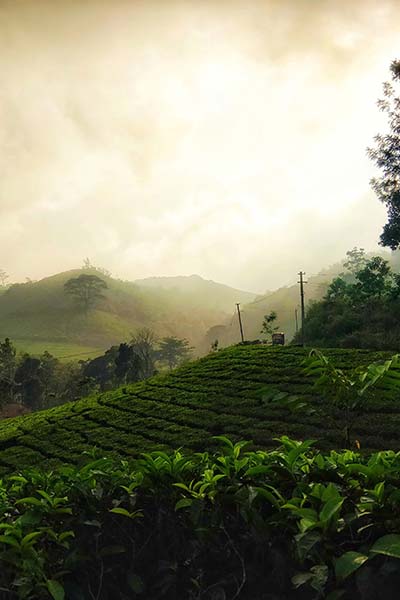 Kuttikkanam Kerala
If you are a foreign tourist coming here to India for the first time, make sure you convert dollars or euros into Indian currency or INR. Alcohol is banned in certain parts of the State. You can contact your hotel concierge desk for availability of breweries or drinks. You can speak in English or Hindi with most of the localities in Kerala. They would be more than happy to accommodate guests or tourists. A few temples in Kerala have a dress code too, so make sure to check before you pay a visit.
The beautiful land of Kerala has a lot more to offer than the backwaters or hill-stations. The enchanting state provides tourists with a lot to explore, and an opportunity to learn about the heritage and culture of the place. So, plan your holiday, and get ready to set your foot in the beautiful paradise called Kerala.