India is the country of Fairs and Festivals. Numerous festivals are celebrated in this beautiful country some of which are popular on international levels. These festivals are organized to show the culture and art of their respected states and areas. Rajasthan is a famous name if we talk about the celebrations of festivals. Lots of festivals are celebrated in this state of India, and we are going to know about the most famous festivals of Rajasthan, their purposes and time of celebrations.
Table of Content
International Folk Festival
Kite Festival
Mewar Festival Rajasthan
Brij Holi
Kota Adventure Festival
Teej Festival
Jaipur Literature Festival
Winter Festival
Nagaur Fair
Desert Festival Jaisalmer
We have put together lots of festivals which are celebrated with full zeal and excitement in Rajasthan.
International Folk Festival
Rajasthan International Folk Festival is celebrated in Mehrangarh Fort, Jodhpur every year. This festival showcase traditional music culture and various other art forms. This festival was first celebrated in 2007 as a partnership between Jaipur Virasat Foundation and Mehrangarh Museum Trust. The festival is organized to give an open platform to all fold artists from all over the world. This festival is also supported known as 'People's Platform for creativity and Sustainable Development' by UNESCO. More than 200 artists from different art categories come here every year to perform and show their talents to the audience.
Dates: Next international Folk Festival will be celebrated from 10 October 2019 to 14 October 2019.
Kite Festival
This festival is known as Uttarayan in the local language and is one of the biggest festivals in India. It takes place on Makar Sankranti every year which is the time of kite flying in India. This festival invites everyone without judging them by their religion, nationality, and color. This festival attracts kite flyers and other visitors from all over the country. The fair is celebrated in Jaipur district of Rajasthan. You can see various types of kites of different sizes, colors, and structures. Competitions are also held here every year to promote the art of kite flying.
Dates: The festival starts on 14th January and shall continue till 16th January.
Mewar Festival Rajasthan
This is one of the ancient festival of Mewar Rajasthan, now known as Udaipur. The festival is celebrated to welcome the season of spring. The houses, shops, and markets are decorated with colorful lights and other decorative material to highlight the importance of this festival. You will find different types of cultural events, exhibition and traditional stall everywhere in the city of Udaipur. Different celebration methods are used in different parts of the state for this festival. You can see different stalls selling handicrafts during this festival.
Dates: This festival is celebrated from 18th March to 20th March every year.
Brij Holi
You maybe heard about the Holi festival in India. But Rajasthan celebrates a pre-Holi festival every year known as Brij-Holi. You will see rituals and different dancing and singing events throughout the festival. You will also be able to see various dance competitions, fancy dress competitions, and many other things. Color powder is used to throw on everyone to celebrate this great day. That is why this festival is known as the festival of colors in Rajasthan.
Dates: This festival is celebrated on 21st March of every year.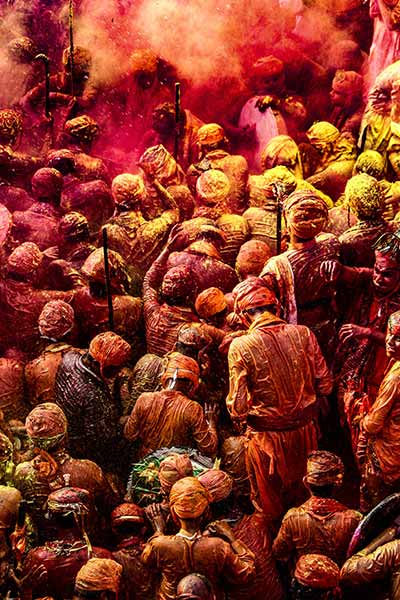 Brij Holi
Kota Adventure Festival
This festival is celebrated in Kota every year in the month of October on the bank of Chambal river. This festival is the main attraction for adventure lovers from all over the world. You will find here different type of adventurous activities including Rock climbing, parasailing, angling, climbing, rafting, etc. Only because of these type of activities, this festival is known as the festival of adventures. If you are looking for an exciting and pulsating festival then this is one of the best choices for you.
Dates: Next Kota Adventure Festival will be celebrated on 5th November 2019 in Kota, Rajasthan.
Teej Festival
This fair is held in Jaipur city every year. This is one of the ancient festival being celebrated in Rajasthan. It is also known as 'festival of swings'. It is known to hold for the celebration of the reunion of Lord Shiva and Goddess Parvati. Lots of religious activities and rituals could be seen during this festival. Women do nirjalavrat (Water Fasting) on this day. They do many other activities to pray for a healthy and long life of their husbands. Women pray Teej Mata to serve good health to their husbands. This festival has a major role in showing the devotion of women towards their husbands.
Dates:Teej Festival will be celebrated on 3rd August in 2019.
Jaipur Literature Festival
This festival is celebrated only to highlight the talents of professional and newbie writers. You can enjoy reading various prize-winning books, literature in this festival. This festival is celebrated to highlight the amateur writers and entertain the people with world-famous books. It is the best platform to observe and share literature knowledge. The main attractions of this festival are seminars, debates, Book releases, poetry session, etc. You will be able to see many books on the history of Rajasthan and India.
Dates: Next Jaipur Literature Festival will be celebrated from 23rd January to 27th January 2019.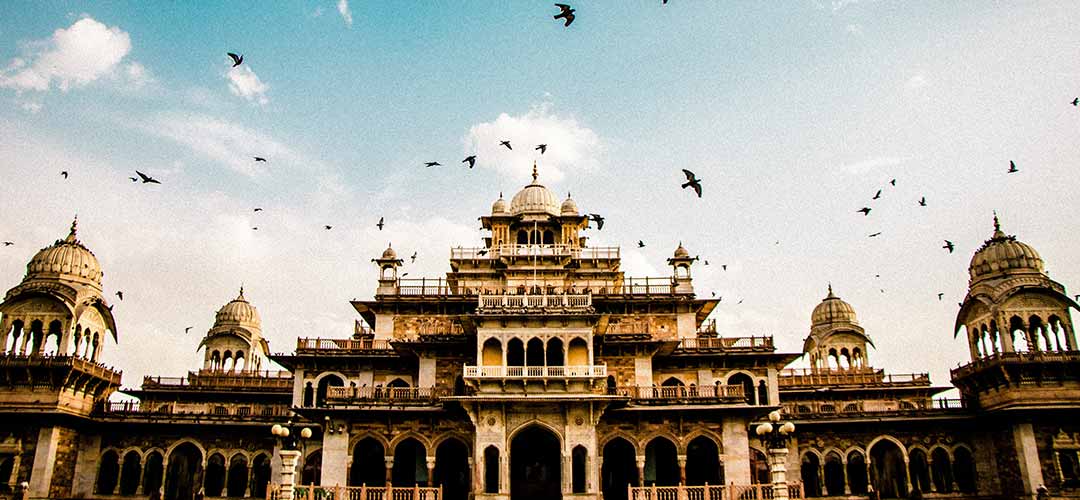 Albert Hall in Jaipur Rajasthan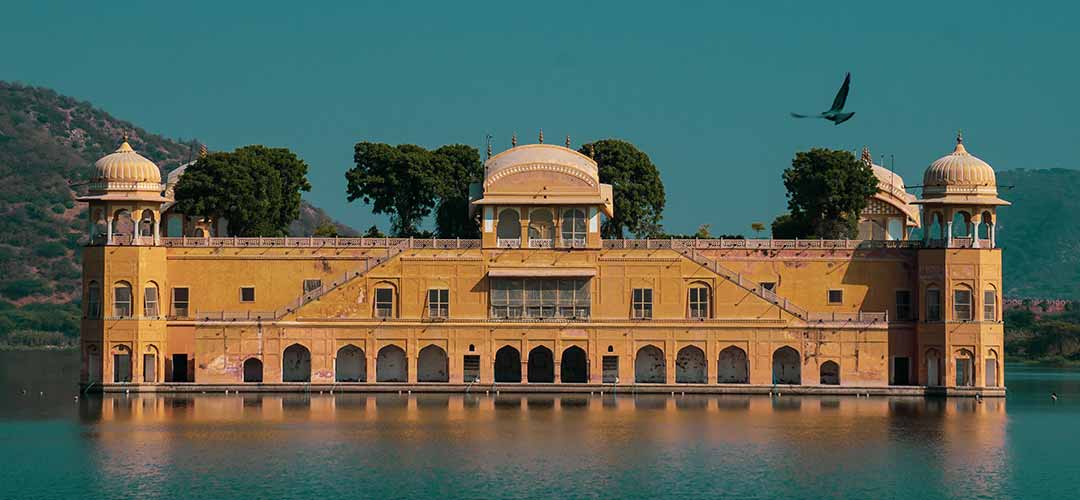 Jal Mahal in Jaipur Rajasthan
Winter Festival
This festival is celebrated in Mount Abut highlighting different art forms by various artists. It is a joint contribution of Municipal Board of Tamil Nadu and the Rajasthan tourism development corporation. The festival is full of colors and various art form which can work as an escape program of our daily busy lives. The festival work as a cultural highlighting occasion for the artists from all over India. This festival will help you to enjoy the rich culture of Rajasthan with various performances from the folk artists.
Dates: Next Winter Festival will be celebrated from 29th December 2019 to 30th December 2019.
Nagaur Fair
It is the second biggest fair in India. This fair has a total of eight days of celebration. It is also known as the Cattle Fair of Nagaur because the fair has the main purpose of the trading of animals. Thousands of animals including bulls, camels are traded here every year. You can see different types of decorated animals with colorful dresses. The fair has the main purpose of highlighting the value of animals. Some other types of attraction in the Nagaur Fair are Mirchi Bazar, Wooden Items, Camel Leather accessories, etc. Sports activities are also organized in this fair. You can see camel races, bullock races, and cockfights here. You can see different jugglers, storytellers, puppeteers, etc in this fair.
Date: Upcoming Nagaur Fair will be celebrated from 30 January 2020 to 2 February 2020.
Desert Festival Jaisalmer
This festival is celebrated to highlight the importance of deserts. This festival is one of the major festivals of Rajasthan. You can see various activities here like 4WD and camel races. Lots of cultural activities are also celebrated here like belly dancing, moustache competition, turban competitions, gymnastic stunts, etc. You can do night camping in the desert during this festival and you can enjoy camel desert safari if you want. You can see different stalls selling souvenirs and handicrafts. This festival highlights the culture of Rajasthan with its tribute to the camels too.
Dates: Desert Festival Jaisalmer will be celebrated from 4th November 2019 to 12th November 2019.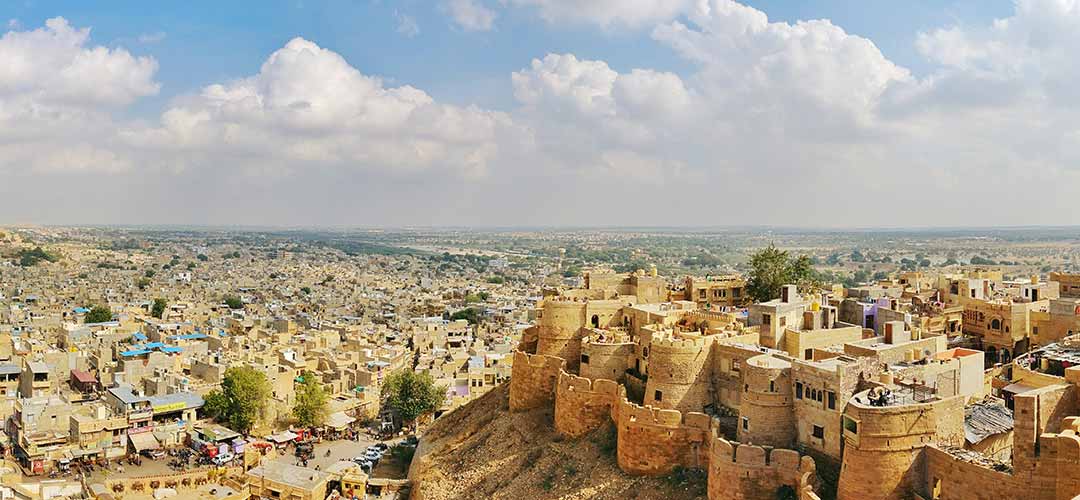 Jaisalmer Fort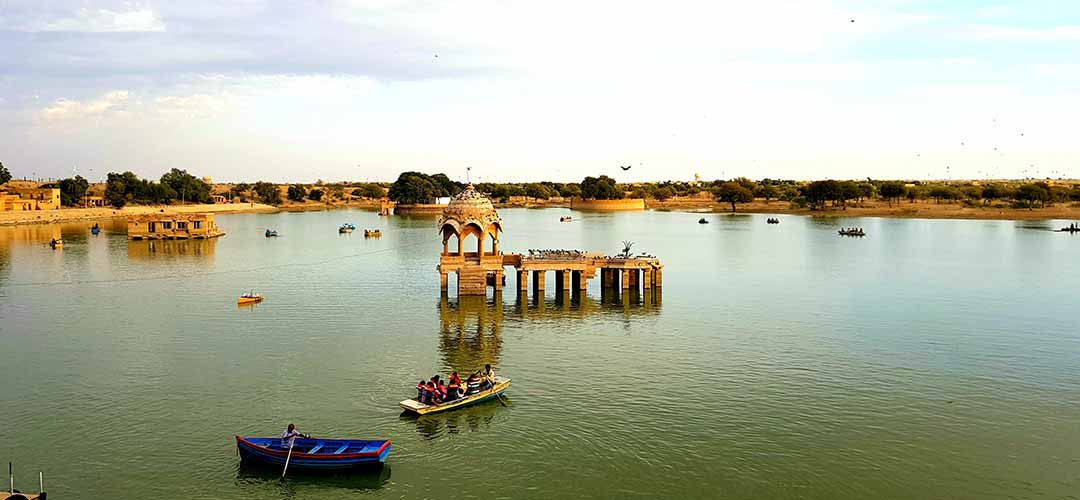 Gadisar Lake Jaisalmer
Above are the popular festivals of Rajasthan celebrated every year on the mentioned dates. If you are planning to visit Rajasthan at any time of year, you will be able to see any of the above festivals or you can plan your trip accordingly with the dates of the festival. These festivals are celebrated to enjoy some days of our busy lives. That is why You will see great enthusiasm and excitement in the people. Fairs and Festivals are good ways to enjoy the culture of any country and Rajasthan is known for its various cultural festivals from a long ago.
"
Feel free to use images in our website by simply providing a source link to the page they are taken from.
-- India Enigma
"
Comments on
Festivals of Rajasthan with names
Please keep your views respectful and not include any anchors, promotional content or obscene words in them. Such comments will be definitely removed and your IP be blocked for future purpose.