Jammu Kashmir is the northern-most state of India famous for its hilly geographical area. The state is powered with nature's best creativity which attracts tourist here from all over the world. Jammu Kashmir is divided into three sub-regions which are Jammu, Kashmir Valley, and Ladakh. Kashmir valley and Ladakh are known to be the most famous tourist location in J&K. People find Jammu and Kashmir best for honeymoon and family trips. Some people find here peace and some adventure, no matter what you are seeking here, we will provide you with the names and features of Top 10 Tourist Places in Jammu and Kashmir.
Table of Content
Vaishno Devi
Leh
Gulmarg
Udhampur
Kupwara
Kargil
Sonmarg
Pulwama
Pahalgam
Poonch
Vaishno Devi
Vaishno Devi is a sacred temple of Indian goddess Vaishno situated in a place named as Katra in Jammu division of J&K. The temple is nestled on the top of trikuta hills with a height of about 1700 m. The place is famous for its sacred cave shrine of the mother goddess. The cave is 30 meters long with a height of 1.5 meters. There is a long way off about 15 km from Katra which most of the pilgrim's covers with their feet. Lots of other ways are there to travel the whole distance but the holy way to reach the temple on feet.
Leh
Leh is the land of beauty and adventure which is quite popular for adventurers like bikers, trekkers, etc. Leh is known for its unique geographical features and different famous places. You will find here lots of monasteries including Spituk Monastery, Thiksey Monastery, Hemis Monastery, Matho Monastery, etc. In Leh, you will be able to get a perfect combination of adventure and spirituality with amazing hills and plain areas. Leh offers the travelers to see a panoramic view of Himalaya and various other hill stations. Leh is located at about 434 km from Srinagar at the elevation of about 3500 meters.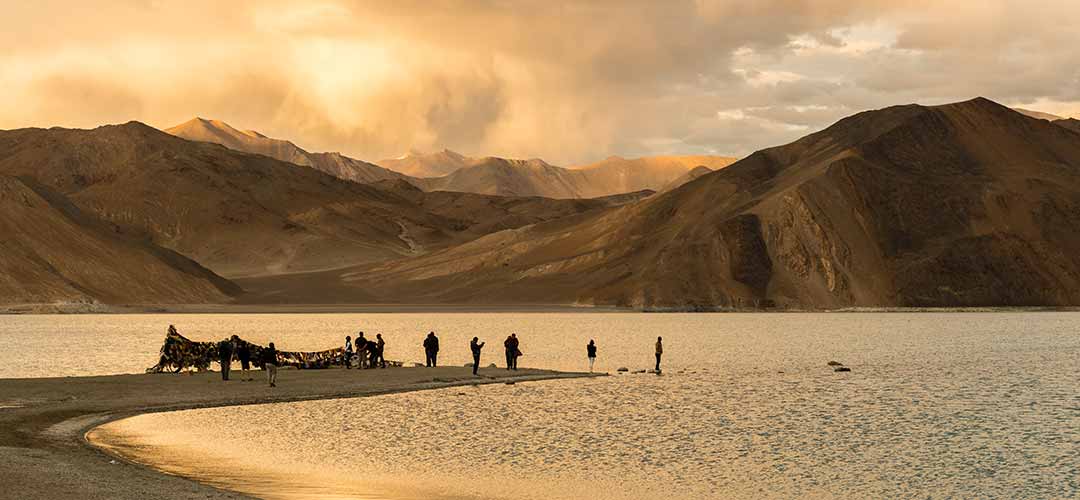 Ladakh Valley
Gulmarg
Gulmarg is a popular hill station and skiing location situated in the Baramulla district of J&K. Because of its environment, the weather of Gulmarg stays cold in the summers too. In the 19th century, this place was the popular summer destination for British Civil Servant for the prevention of summers in the plain areas of north India. Gulmarg is stated as the heartland of winter sports in India. The place is rated as the seventh best ski destination of Asia. Lots of winter sports like skiing, snowboarding, tobogganing, and heli-skiing are played on the hills of Mount Apharwat. Other attractions of Gulmarg are as follows.
Maharani Temple
St. Mary Church
Gulmarg Gondola etc.
Udhampur
Udhampur is the fourth largest city of Jammu and Kashmir. It is famous for its green forest of Eucalyptus and other various greeneries. The city was named after the name of Raja Udham Singh. You can go here by road, rail or by air too. There are lots of ancient places to visit which reveals the history of India specifically. It is one of the best tourist attraction of Jammu and Kashmir. The place is also very famous for its underground river Devika which is called the sister of Devi Ganga. With a soothing environment, there are lots of other places to visit in Udhampur, some of which are given below.
Krimchi Temple (Ancient temples revealing the history of Mahabharata)
Patnitop
Baba Dhansar
Kalika Temple
Manwal Temple
Mansar Lake etc.
Kupwara
The amazing beauty filled with green forests and mountains, Kupwara is one of the best tourist places of Jammu and Kashmir. Its evergreen stature could be easily observed by going here. It is a type of classical place to spend some great time with our loved ones. This district is called the most beautiful place of Kashmir with lots of mountains. The place gives a beautiful panoramic view of Kashmir valley from its top. Many historical places and villages are there showing the unique culture of Kashmir. This is the best place to visit in summer. It could be a great escape from the heat of the outer world if we spend some time in Kupwara. Various other places to see in Kupwara are as follows.
Badrakali
Bangus
Drangyari
Keran Valley
Lolab Valley etc.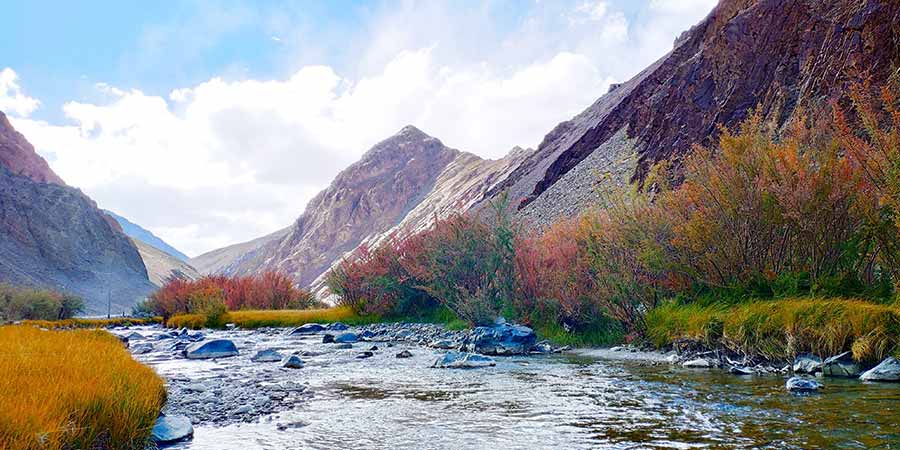 Kashmir Valley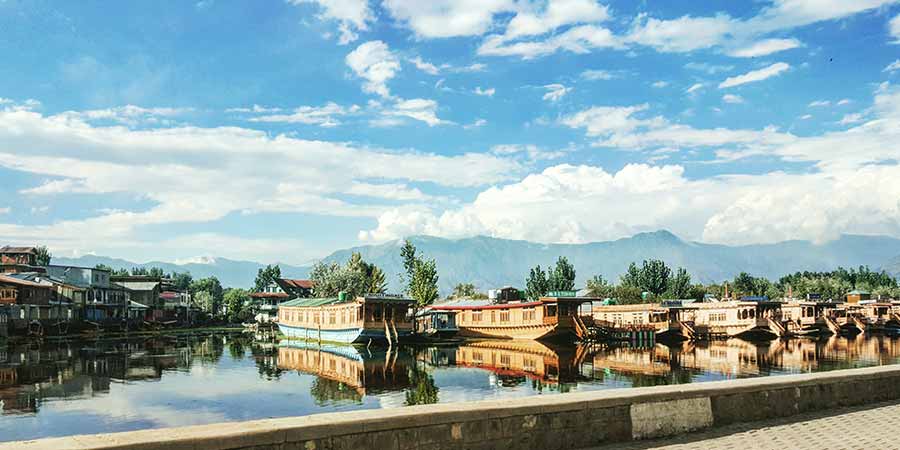 Shikara in Dal Lake
Kargil
Kargil is a town situated on the India-Pakistan border holding many good and bad memories of Indian history. With its existence in the Ladakh region, Kargil is a good place to visit in Jammu and Kashmir. If you love adventure then this place is good for you. You can enjoy various activities here like Rafting, Trekking, Biking, and Camping. If we talk about the geography, the summers are hot here with cold nights while winter can chill you with the temperature going below -48 degree Celsius. You can commute here by its famous all-weather road Kargil-Skardu road going by Kargil to Skardu which a city in Gilgit. Lots of other attractions of Kargil are as follows.
Pesi-La Lake
Suru Valley
Mulbek Gompa
WakhaRgyal etc.
Sonmarg
Sonmarg is a worth going place if you are on a visit to Jammu and Kashmir. The place has unmatched natural terra which will amaze you with its breath-taking views. Sonmarg actually means a 'Grassland of Gold' has lots of snowy mountains and green forests. Private vehicles are not allowed here. You have to taxi to go here. The rainfall is frequent here with a regular changing climate anytime. There are lots of trekking places in Sonmarg which attracts the adventurers from all the corners of the world. This valley has only a day's journey away from Amarnath. Jammu Kashmir tourism department organizes a river rafting tournament yearly where the teams from all over the world participate. Other famous places in Sonmarg are as follows.
Kishansar Lake
Gagabal Lake
Narang
Vishansar Lake
Haramukh Mountain etc.
Pulwama
Pulwama is a famous district of Jammu and Kashmir with more than 94% of the Muslim population. It is famous for its hilly structure and charming climate. If you are a wildlife lover then there is a place named Shikargarh famous for its wildlife properties. You will surely like this place if you are a nature lover. You will fall in love with its fragrant saffron fields and various other tourist places. The place is almost 25 km from the city of Srinagar. Pulwama is also called 'Anand of Kashmir' and 'Dudha Kul of Kashmir' because of its high milk production. Other places to visit in Pulwama are as follows.
Tarsar Lake
Marsar Lake
Aripal Nag
Tral Town
Awantishwar Temple etc
Pahalgam
Pahalgam is the biggest tourist place situated in Anantnag district of Jammu and Kashmir. It is known as a hill-station and famous tourist place. It is located on the bank of Lidder River and is about 45 KM from Anantnag. The climate remains cool on below 20 degree Celsius all over the year. The place is famous for its rich vegetation and big forests. Lidder River is the main focal point of the place. Various species available here are Leopards, Brown bear, musk deer, hangul, grey langur, etc. Other famous places to see in Pahalgam are as follows.
Kolhoi Glacier
Betaab Valley
Sheikhpora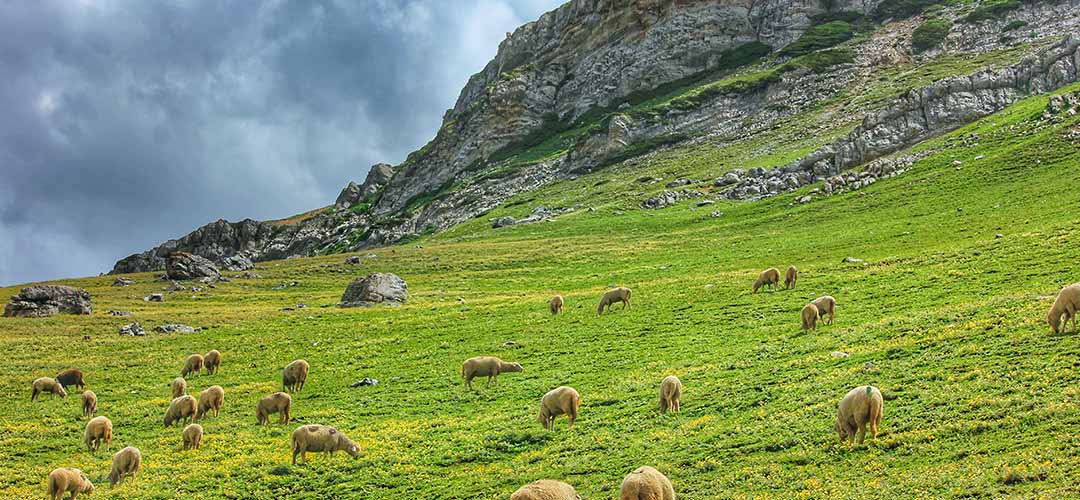 Pahalgam Valley Jammu and Kashmir
Poonch
If you love to travel and planning a trip of Jammu and Kashmir then Poonch is a must place to go. The place is situated on the India-Pakistan border. The place has great attractive places which draw the attention of many travel enthusiasts. The place has a range of big mountains and other attraction which make it a perfect destination to spend your holidays. Large meadows, lakes and big mountains make this place one of the most scenic places in the whole Jammu and Kashmir. Other famous places to visit in Poonch are as follows.
Noori Chhamb
Poonch Fort
Gurudware Deri Sahab and NangliSahab
Battalkotee
Buddha Amarnath in Mandi etc.
Jammu and Kashmir are one of the most historical and adventurous places to visit in north India. You can go to each place listed above in a single trip of some days or weeks. Make sure to plan your trip according to the supporting weather conditions to be free from the travel hassles.
"
Feel free to use images in our website by simply providing a source link to the page they are taken from.
-- India Enigma
"
Comments on
Top 10 tourist places in Jammu and Kashmir
Please keep your views respectful and not include any anchors, promotional content or obscene words in them. Such comments will be definitely removed and your IP be blocked for future purpose.