Jammu and Kashmir is one of the prettiest and most attractive princely states of India. Kashmir is fondly known as the 'Paradise on Earth.' From the likes of poets, authors and emperor rulers, the glimpse and beauty of the Kashmir Valley has vividly been expressed. Flowing rivers, colorful meadows, house-boating on Dal Lake and visiting temple deities have attracted vacationers, holidaying crowds and honey-mooners like none other. Srinagar is the capital city of J & K.
Let us dwell deeper insights into the culture, history, touring spots, delicacies, and other intricate aspects of J&K.
REGIONS OF JAMMU & KASHMIR
Jammu and Kashmir is located on the core region of the Himalayas. It shares borders with its Indian states, namely Himachal Pradesh and Punjab to the south. J&K is strategically divided into three sections:
Jammu
The Kashmir Valley and
The Ladakh
J&K is home to several beautiful valleys located on the mighty Himalayan range. Some of these are Kashmir Valley, Tawi Valley, Chenab Valley, Poonch Valley, Sind Valley, and Lidder Valley. Area-wise, Kashmir Valley occupies a geographical area, which is 100 km wide and 16,000 km in area. In other words, the Kashmir Valley is spread across an area width of 5,992.4 square mi. It is the mighty Himalayas that divide the Kashmir Valley from Ladakh. The PirPanjal range, enclosing the valley, from west to east, separates it from the Great Plains of Northern India.
You discover that there are many crisscrosses and wider elevations within J and K. you, therefore, find a vast variety of flora, fauna, and wide-spread greenery. North-western thorn scrub forests, Himalayan alpine shrubs, and coniferous forests cover the green cover of Kashmir Valley in a resplendent manner. Characterized by hot summers, erratic rainfall and biting cold winters, you find typical mountain weather in J and K. The summers kick start by mid-April and goes until June. The summers can go up to 40 degree Celsius in Jammu. You experience very heavy and severe hail storms during July and August. A single rainfall can out-beat 650 mm. September and October are extremely warm and dry. Maximum temperatures go up to 29 degree Celsius while minimum dips to 15 degree Celsius. Winters start by November. December and January are extremely cold and biting. Sub-zero temperatures of minus four up until minus 40 degree Celsius are easily achieved in places like Zanskar or Ladakh.
CULTURE OF JAMMU & KASHMIR
We follow a three-tier cultural influence across J&K. Ladakh follows a typical Indo-Tibetan culture. The Kashmir Valley has a mix of Kashmiri Pandits and Muslims. Hence you have literature derived from Hinduism's Rig Veda as well as Islamic sermons. At Jammu, a pure Hindu culture is followed. The population, therefore, comprises of Hindus, Muslims, Buddhists, and Tibetans. The State of J&K enjoys special status as per provisions of 370 and 35A. Outsiders are not permitted to purchase or own land. Houseboats are commonly used by those who want to stay at the Valley for a longer duration of time.
Dances, weaving, sheep rearing, rugs creation, and designing of ornaments are typically suited occupations across J&K. Dumhal is a famous dancing style performed by men alone. Women perform a vibrant form of folk-dance, namely Rouff. Handicrafts industry too thrives fabulously at the Kashmir Valley. Shawls, artifacts, candle holders, jewelry and clothes are a shopper's delight at the vicinity. As J&K is a land of the mountains, sight-seeing and tourism form the main-stay hub of the economy. A majority of Muslims occupy Kashmir Valley. Hence, Eid and Ramzan are festivals celebrated with great fervor. Hindu festivals include Baisakhi, tulip festival, Dussehra, Lohri, Diwali, and Shivrathri.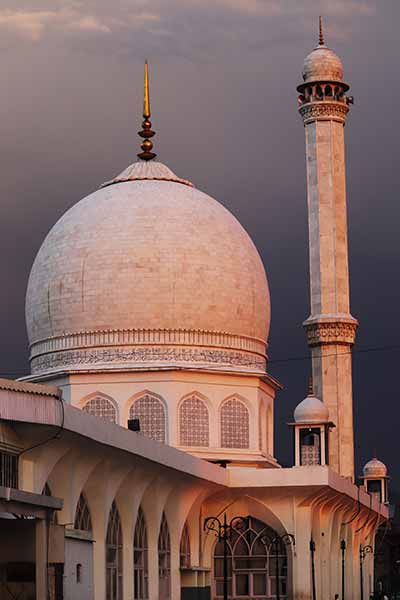 Hazratbal Mosque Srinagar
HISTORY OF JAMMU & KASHMIR
The History behind Kashmir mainly debates around whether the Valley belonged to India or our neighboring nation Pakistan. The then Maharaja of Kashmir was reigning over the princely states of J&K since 1925. Even the reigning Maharaja named Maharaja Hari Singh was in a confusion whether to hand over J&K to India or Pakistan.
This was mainly because 70% of the population residing at the Kashmir Valley were Islamic citizens. However, he decided to declare J&K as an independent monarchy post-Independence. But with special provisions namely Articles 370 and 35A, the princely state J&K was annexed to the Indian map. Which means, Kashmiris have their state legislature and they will abide by the overall rules of the country. And outsiders cannot buy, purchase or acquire land or property within Kashmir.
45% of J&K belong to India. This comprises of Jammu, Kashmir Valley, Ladakh, and Siachen Glacier. The western districts of the princely state belong to Pakistan. This includes the Azad Kashmir area and Gilgit-Baltistan belt. China occupies 20% of J&K since 1962. These are eastern districts of J&K namely Aksai Chin and Trans-Karakoram Tract.
The British Governor-General Louis Mountbatten readily signed the pact of annexure. But then, a series of fights have been fought between India and Pakistan over the ownership rights of Kashmir.
TOURIST PLACES IN JAMMU and KASHMIR
There are very popular and picturesque hilly terrains to explore while touring J&K. Once you head to Jammu, you will feel elated to visit the world-famous Vaishno Devi Temple. It is a 14 km trek through the ice. You can invoke the blessings of Vaishnav Devi Mata. Elders or senior citizens can hire dolis or ponies to help them trek uphill. You can then visit the capital city of J&K. It is named Sri Nagar. Sri Nagar lies on the banks of River Jhelum.
From stunning landscapes to flowing water of Pahalgam, everything is mesmerizing about this place. Visiting the Kashmir Valley makes you realize the true paradise on Earth. Also known as 'Paradise on Earth,' you get a feel, supporting the metaphor. You can take a beautiful boat ride on a Shikara. Shikaras are spacious wooden house-boats where tourists enjoy a blissful ride across the Dal Lake. Floating markets also happen at intricately designed houseboats in Kashmir. This way, you explore the Dal Lake. Again you can explore a misty and snow-laden province, namely Gulmarg. You view mountains, peaks, and lush greenery coupled with flowery meadows. You can sing your favorite tunes to glory.
Nubra Valley surrounding the Kashmir province is a must-visit haven for nature lovers. Again you find snow-laden mountains, pristine greenery, delightful streams or waterfalls or explore other vistas nature has to offer. You can visit age-old temples situated at Jammu. Amarnath is another holy spot dedicated to the worship of Lord Shiva. Sonamarg, Kargil, Anantnag, Pulwama, Kishtwar Deer Park, and Pangong Lake are other picturesque locations situated with the J&K belt. Take a 14-day vacation trip that covers most of the hot-spots, J& K has to offer.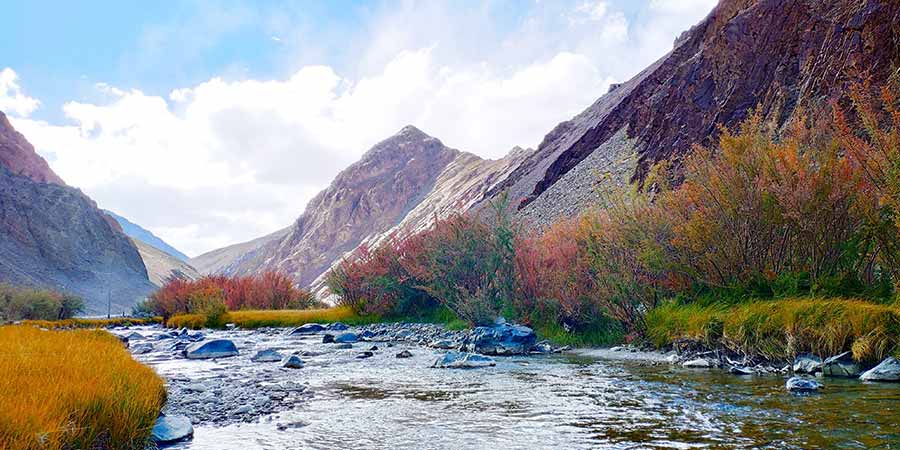 Kashmir Valley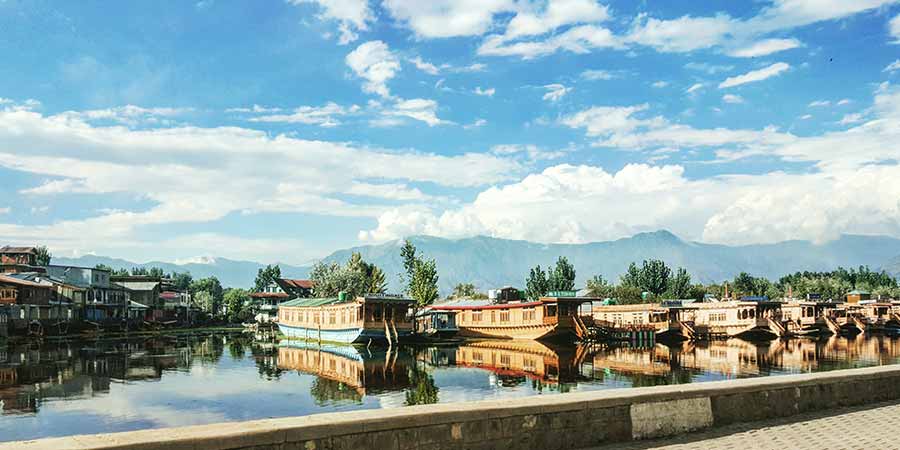 Shikara in Dal Lake
FOOD IN JAMMU & KASHMIR
The cuisines of J&K have the uniqueness of their own. The flavors, taste, and aroma are delectably awesome for your taste buds. Most delicious Kashmiri non-veg foods include Seekh Kebabs, Tabakmaz Roganjosh, Gushtaba, and Yakhini. Famous vegan dishes include Dum Aloo and Chaman. Kashmiri pulav is amazingly tasty. It is prepared using sweetened rice with a generous helping of dry fruits like cashews, raisins, almonds, etc. Indo-Tibetan food is famous at the Leh Ladakh region. Noodle soups, momos, thupka and tsampa which is roasted barley flour are delicacies commonly available at Leh-Ladakh region of J&K. The flavors resemble a Mughlai style as the Muslim majority dominates the state.
TOURIST ACTIVITIES IN JAMMU & KASHMIR
You can take a beautiful ride on a Shikara or a wooden houseboat. You can explore the Dal Lake, floating markets and lot many. Wake up the next morning on the very same house-boat. You can view a stunning sunrise that can rejuvenate your spirits. Pack your bags to Leh Ladakh and view the spots where the Bollywood blockbuster 'Dil Se' was taken from. You can wet your feet at the Pahalgam Lake. Take a 14km trek to Vaishno Devi temple without the use of a doli or pony. Have an enriched plate of Kashmiri pulav at a local restaurant. Paragliding, kayaking, snow-skiing, and bird watching are activities adventure seekers can take up en-route J&K.
The online guide, therefore, covers the vital segments about the 5th largest state in India, Jammu and Kashmir!