Tripura is a popular tourist destination situated across North-Eastern India. Crystalline waterfalls, awe inspiring dense forests, spectacular mountain peaks and a sprinkle of rich culture, history and tradition. You have them all! The State of Tripura is unique in its own sense of the word. The land-locked state sits at the foot of Himalayan Mountains with a rich legacy added to it. It was once home to the famous Manikya tribe. Even today, the state does exhibit the ancient tribal culture with a blend of modern Bengali culture! This way, Tripura creates a rich legacy that is distinguished!
Tripura is blessed with green and verdant hills that are picturesque to your eyes. You have bamboo products and artistic cane that can be carried home as wonderful souvenirs indeed. Moreover, you find multi-linguistic people, traditional costumes, food, and other extravaganzas that can add to your exotic holiday memories. Come on, let us unveil more intricate aspects about India's leading gem- Tripura indeed.
Best time to visit Tripura
On a general note, Tripura enjoys cool and pleasant weather all through the year. You sometimes find the place a little humid like any other North-Indian state. Winters are the best time to visit the place as it provides lovely weather to get into shopping or outdoor adventure activities. Let us glimpse the weather belt so that you have a clearer view of how the seasons change!
Summers- March-May: Temperature belt: 23 degree Celsius to 33 degree Celsius
Summers can be relatively hot and humid all through Tripura. As the temperature soars to 33 or 34 degrees Celsius, the humidity also raises to 50 %. Because of the undulating terrain, the temperature remains cooler at higher altitude locales even during summers.
Monsoons- June- September: Temperature belt: - 25-30 degree Celsius
Monsoons kick starts late May and lasts until September. The region receives moderate to very heavy downpours for the entire four months of the year. The humidity increases to 85% too. The rainfall is brought to Tripura via the Southwestern winds that are blocked by the hills of the state. Hence, the region receives maximum downpours at the windward areas indeed. You discover frequent flooding and rivers may overflow into the mainland areas too.
Winters- November- February: Temperature belt: 10 degree Celsius to 30 degree Celsius
The Winter season at Tripura starts in November and lasts until February. You find that the humidity is the lowest at this period. You may find intermittent rains in parts of Tripura too. Temperatures are pleasant for tourists to indulge in outdoor, holidaying, and other sightseeing activities. As you have winters post-monsoon, you find fresh vegetation in parts of Tripura. Green hub spots can visualize your senses to an all-time high!
Hence, winter months between November and February are the ideal time for holidayers or vacationers to venture into this lovely state of India.
Best places of tourist interest
We are now going to take you into a glimpse of what some of the notable or favorite holidaying or vacationing spots in Tripura are. Taking you into a look at each of them:
Agartala
Agartala is a place in Tripura where you can reminisce about the rich culture and traditional History of the past. This was also the home where several Manikya kings had ruled in the past. You find untouched valleys with unique varieties of flora and fauna. Hence, a visit to the capital city of Tripura namely Agartala can never leave you disappointed.
You, therefore, have a unique mix of culture, tradition, and diversity in this city in Tripura. You find metros and the city is developed on modern lines of infrastructure. Hence, you find the city that brings you to the vistas of both the worlds. Ujjayanta Palace, Sepahijala wildlife sanctuary, Ummaneshwar temple, and Tripura Sundari temple are top-notch attractions in and around Agartala, Tripura.
Kailashahar
This favorite tourist town is located near Agartala. Kailashahar was once the capital city of Tripura kingdom. Hence, the city has royal roots attached to it until the date. The city is famous for its share of temples. You have temples covering 14 deities of Hindu culture. You also have 16 tea estates that manufacture some of the most flavored teas across the country. Other attractions include trekking spots like Rangauti and more!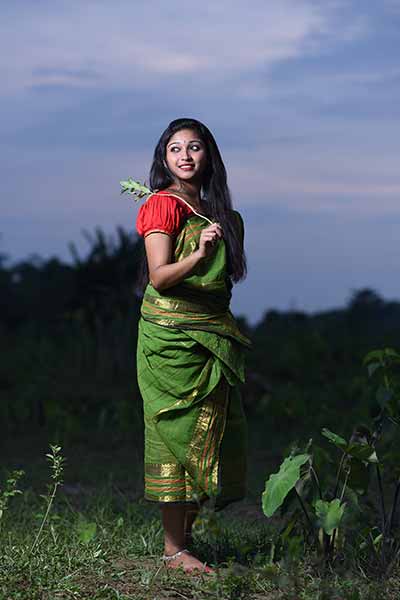 Culture of Tripura
Unakoti
Unakoti is a pilgrimage spot in and around Tripura. You have temples and architectural hubs that store India's distinct cultural heritage. These include gods and goddesses made from rock and woodcarvings. For vacationers and pilgrims, the vista offers the spiritual and religious beauty, the place has to offer. Many rock carvings out here depict the life of Lord Shiva. You can also discover sculptures of Lord Ganesha, Lord Rama, Nandi bull, Lord Hanuman, and the like. The place offers good spots for trekking. This place deserves a visit while you are here at Tripura.
Bison National Park
You call it the Trishna wildlife sanctuary. Also known as, the Rajbari National Park, the wildlife hub extends a whopping 31.63 square kilometers. Here, you can witness Mother Nature at her best. You have the world-famous Indian gaur also known as the Bison. Moreover, you have deer, langurs, pheasants, and other forms of endangered species too. The park receives plenty of water from the surrounding rivulets and water bodies surrounding the area. You can also find plenty of birds and unique varieties of flora out there. Hence, given its rich biodiversity, the haven is a must-visit while you are here at Tripura.
Rudrasagar Lake
Rudrasagar Lake is situated in the Sipahijala district of Tripura. It is one of the most prominent water bodies, the country boasts of. You have three rivers that form the lake, namely, Noacherra, Kemrali Cherra, and Durlavnaraya. The tranquil lake exudes natural charm.
Ambassa
Ambassa is the youngest district added to the state of Tripura. The lovely town is known for its palatial natural surroundings and numerous temples indeed. Initially, this particular area was a hilly terrain covered with dense forests. The forests were cleared recently in 1995. The town has ample natural resources and is known for being a wonderful tourist spot. Tribes who continue living on wooden roofed houses inhabit the place. The local inmates are extremely resourceful in utilizing natural resources.
Neer Mahal
Neer Mahal literally translates as the ' Lake Palace of Tripura'. This is the largest water palace across the entire sub-continent. The Palace receives its name as it is built right across the Rudrasagar Lake. King Bir Bikram Kishore Manikya Bahadur ruled the state of Tripura sitting at the Neer Mahal Palace. To date, this highly ornated architectural beauty deserves its mention as it glorifies our rich cultural heritage. The surrounding lawns and flowerbeds add brownie points to the beautification of the place.
Well, these are some of the well-known tourist spots in and around the state of Tripura.
Best food and shopping
A typical Tripura platter comprises of rice, pulses, vegetables, chutney, fish, and meat. The food of Tripura is mild, unique, and zesty as the food is prepared with the local aroma of herbs and spices. Berma, which is a dry and fermented form of fish, is typical to the Tripura diet. Other distinct delicacies include Chakhwi, Champrai, Gudok, Khalok, Kasoi Mwkhwi, Panch Pooran Tarkari, Wahan Mosdeng, and more. Fish stews and bamboo shoots also find staple's in households of Tripura. Apart from these, you find Indo-Chinese cuisines and North Indian dishes at restaurants for the floating population.
When it comes to shopping, you have ethnic and handicraft ware that is aplenty in Tripura. Some of these include bamboo baskets, cane room dividers, woven fabrics, furniture, tablemats, and other intricate varieties of home-décor products. You also get an artistic array of cane products, clayware, and exquisite varieties of handlooms out here in Tripura.
We have covered end-to-end aspects of the lovely state of Tripura. You may experience landslides or loss of network connectivity especially when you plan a trip to this place during monsoons. However, nature lovers wanting to catch up on hilly terrains and lush greenery can plan their excursions via homestays or well-maintained resorts to help them unveil the freshness of nature. You can also look for deals at hotels or flights to get discounted offers as against the regular prices. A little bit of online shopping and you can have your travel all set. Bon Voyage!