The dry and desert lands here are cooled by the gentle breeze of the Arabian Sea. If you are looking for some visual marvels, you will find aplenty here. You find unique diversity with respect to the State. You have forested hilly tracts and fertile plains in the East. While you discover desert plains along the Runn of Kutch. You also have the tidal marshland jutting across Gujarat's heartland.
So, as a traveler, you can experience all types of weather here at Gujarat. Not only is the diversity of the topography rich, so are its people and culture. You have Hindus, Muslims, Christians, Jains, and other tribal groups that live amicably with one another. You also find religious shrines that depict their lore based on Hindu architecture. Come on, let us discover more intricate aspects covering the state of Gujarat.
The Best way to discover Gujarat
The best way to run through iconic hub spots in and around Gujarat is by taking a road trip ahead. Gandhi Nagar is the capital city of Gujarat. You can opt for 7 nights and 6 days tour to visit some iconic temples, museums, and shrines out here. If you want to discover the adjoining state of Rajasthan, you can opt a luxurious trip via 'Palace on wheels'
You have trains that offer you with palatial cabins. You have lounge areas, restaurants, and a fully stocked up bar as well. You have the lavish Palace on Wheels covering Jaipur, Jodhpur, Udaipur, and Rajasthan. You can have a rich overview of the cultural heritage of India.
The Best time to visit Gujarat
You can ideally visit Gujarat during winter. It spans from November and stays until February. You can find a pleasant climate ranging 17 degrees Celsius until 27 degrees Celsius. You can do your sight-seeing, shopping, and other holidaying activities at this time of the year. Summers are extremely hot, dry, and oppressive. In most of the cities covering Gujarat, you can have day temperatures touching a 45-degree C. While night temperature soars up to 32 degrees Celsius. Monsoons are between July to September. The average temperatures are 30 degrees Celsius. The desert areas of Gujarat like the Rann of Kutch or Saurashtra do not receive much rain.
Places of tourist interest in and around Gujarat
You can discover some of the best places of tourist interest in and around the vibrant state of Gujarat. Here they are for you to glimpse into:
Ahmedabad
Ahmedabad is one of the fastest-growing metropolis cities across the State. You find educational universities and industries of a world-class cadre. The city is fondly known as the 'Manchester of the East'. Ahmedabad, situated on the banks of Sabarmati River, is one of the most important cities in Gujarat. Swami Narayan temple is a UNESCO World Heritage Site owing to the unique architecture with which the shrine has been built. Sabarmati ashram is another iconic hub spot in and around Ahmedabad. Mahatma Gandhi also known as the Father of the Nation, spent most of his life here. You also have museums, designer apparel boutiques, and food outlets here in the city.
Kutch
Kutch is also known as the 'White Desert of India'. This is one of the surreal places in and other the state. Also, this is a locale that is less traveled. The place is known for its vast expanses of the white salt desert. The entire tourist hub comes to life when the Rann festival takes place in November. You have hot air ballooning, cultural activities, and camp tents spread across every inch of the space. Kutch is also known for its hub as the India-Pak border. You have Bhuj as the epicenter of Kutch. The flamingo sanctuary is a go-to location indeed. You have the beautiful Mandavi River covering Bhuj.
Gir National Park
Gir National Park and Wildlife sanctuary is a haven for animal lovers out there. This is the only place in Gujarat that houses 300 rare varieties of Asiatic lions. Located on Talala Gir in Gujarat, you find the place filled with forested trees. You also have birds, insects, and 2000 unique varieties of fauna out here. The best time for wildlife spotting is April and May. Leopards, chausingha, spotted deer, hyena, sambar deer, and chinkara can also be spotted at the wild-life sanctuary.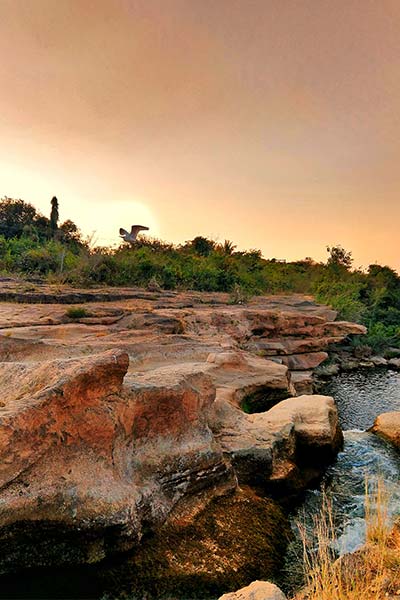 Gir Gujarat
Somnath
Somnath translates to 'Land of the Moon'. It is a pilgrim center and home to 12 jyotirlingas. It has a religious sanctity and has well-developed temple shrines surrounding the locale. You can discover a huge number of temples in and around Somnath in Gujarat. Plus, the city town offers you with beaches, museums and shopping attraction hubs too. Somnath temple and Somnath beach cannot be skipped upon while you tumble, upon this spot.
Vadodara
Vadodara or Baroda is a cosmopolitan city of Gujarat. It is home to some exemplary works on architecture. The Maratha leader Sayaji Rao Gaekwad III had envisioned to make the big city an educational, industrial, and commercial hub indeed. The 9-day Navratri Mela is organized on a very grand scale across the Lakshmi Vilas Palace. The grounds find people in their colorful costumes doing dandiya and perform Garbha dances with sticks for 9 days in a row. You also have shrines that house legendary monuments across the city of Vadodara.
Dwarka
Dwarka is a religious hub spot located on the Saurashtra peninsula in Gujarat. It is an ancient city of India. This was the city in which Lord Krishna was born, and is also a bustling place that connects you to the Char Dham Yatra. While Dwarka is also one of the Sapta Puris (Seven sacred cities) mentioned on the Hindu religion. The Nageshwar Jyotirlinga temple houses one of the 12 jyotirlingas. The temple is situated in Dwarka.
Gandhi Nagar
Gandhi Nagar is situated 23 km from Ahmedabad. This is the capital city of Gujarat. Known for its clean and green outlook, the city boasts you of a wonderful lifestyle indeed. You have the world-famous Akshardham temple located here at Gandhi Nagar. This is one of the most beautiful temples out here. Children's Park, Hanumanji temple, and Brahmani temple are iconic spots worth giving a visit while you are here.
Surat
Surat is also known as the 'Diamond city of India'. You have diamond cutting centers scattered across the city. This is a port city in Gujarat. You also have textile showrooms in huge numbers across Surat. The city is located along the banks of the Tapti River.
You have buildings with attractive flyovers. You have diamond showrooms and apparel stores that can bring crowds in huge numbers. Surat Castle, Science center complex, and Diamond Gallery are spots worth visiting.
Zarwani Waterfalls
Zarwani Waterfalls is a nature lover's paradise indeed. You have a typical setting to that of Tarzan or Jungle Book as seen on television. You can hear the distant hooting of birds out here. The serene waterfalls surrounding a green canopy can help you escape from the hustle/bustle of city life. You can trek, picnic, or indulge in wildlife photography while you are here. You also have a wildlife sanctuary in closer vicinity to the place.
Hathni Waterfalls
Hathni Waterfalls is a magnificent and a nature-filled spot indeed. The water flows 100 meters in length. You have lush greenery, flora, and fauna surrounding the place. You can wet your feet along the streams. Tourists flock together in huge numbers.
Apart from these hub spots, do not forget to view the 'Statue of Unity' typical to the Statue of Liberty out here in Gujarat.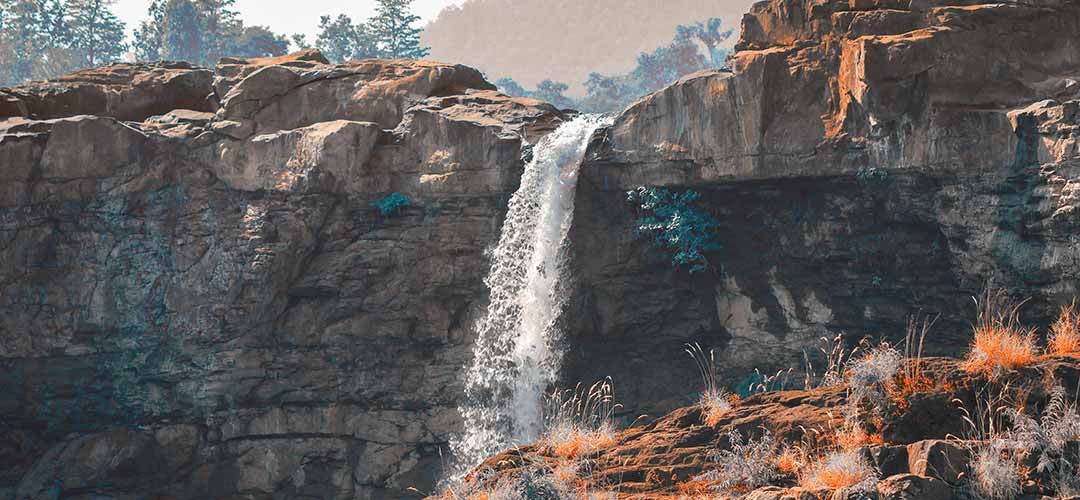 Saputara Gujarat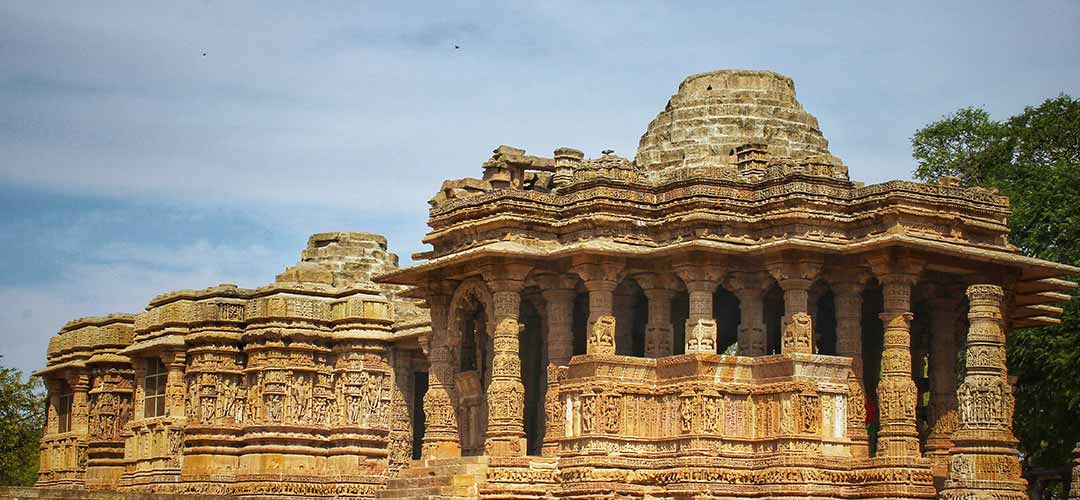 Sun Temple Modhera Gujarat
The Best food, artifacts, and lot more in Gujarat
Gujarati food is a world-famous delicacy indeed. You have Aloo poha and Dhokla that are savored as snacks in most of the households out there. Jalebis with Rabdi is served to guests coming home for lunch or dinner. Samosas and Kachoris are served among street outlets. You can have a proper three-course Gujarati or Rajasthani thali in high dining restaurants. The prices are compatible indeed.
You can shop for Jaipur skirts, Gagra Cholis, trinkets, silver jewelry, and peacock fans. Kurti and salwar suits can be availed at Surat and Ahmedabad. You get them for an Under 300 price range too. Kutchi mirror work Saris are also famous out here.
These are the end to end aspects of the lovely state of Gujarat. July to March mark the peak holiday season where the climate is temperate. Hence, you can pack your bags during this part of the year, as summers can be very oppressive indeed. Hotels and inns can offer you all kinds of facilities to make your travel a delectable one indeed.