Rishikesh is a city that is located at the Dehradun district of Uttarkhand. Located in the foothills of Himalayas in Northern India. Rishikesh is also known as the 'Gateway to Garhwal Himalayas'. And Rishikesh is also known as the Yoga capital of the world. It lies approximately 25 km North of Haridwar.
Rishikesh has a population of 1, 02,500. It is scenic and lies on the banks of River Ganges. You have sheltered cottages for home-stay. You get all modern facilities included. Nature trail walks or night-life safari trips are organized. You can take up nature trails too to explore the city. Plus you have plenty of temples where you can worship and seek solace to your heart's content.
Regions of Rishikesh
Rishikesh is a hill-town city that is situated at an altitude of 1,200 meters above the sea-level. This is the starting point for those wanting to embark on their Char Dham Yatra. Char Dham comprises Gangotri, Yamunotri, Kedarnath, and Badrinath. The Winter months are extremely cold. The maximum temperature measures 17 Degree Celsius while the minimum drops down to 2 degrees Celsius. These are December, January, and February. Summer months are March, April, and May. Maximum temperatures soar up to 39 degrees Celsius or 102 degrees Fahrenheit. While minimum drops down to 25 degrees Celsius. June, July, and August are rainy months at Rishikesh.
The water at the Ganges flowing in at Rishikesh is so pure and placid. You find rafting camps where you can raft across the torrential river currents of the mighty Ganges. Plus you have parachuting, hot air ballooning, and other exciting stuff lined up for you. Evening Ganga Arthi is famous out there at Rishikesh. You can find Sadvis and yogi saints performing meditation in and around the temple-lined streets of Rishikesh. The region is well connected by rail, road, and flights. You have the Rishikesh railway station. On roads, you can find Volvo buses from Delhi, Noida, etc. The nearest airport is the Dehradun airport which is situated at a distance of 15 km from the city center.
Culture of Rishikesh
Rishikesh is a city that mainly thrives on account of tourism. So Rishikesh is a culture friendly tourist locale to name off. Thousands of visitors especially foreigners come to visit the pilgrimage town of India. The serene weather coupled with easy access to River Ganges and plenty of nature spots attracts vacationers to this part of India.
Diwali and Holi are festivals that are celebrated with pomp and vigor. Hindi and Garhwali are languages spoken here. Plus you have this city serving only vegetarian dishes. As this is a holy city-town. Chinese and Continental foods are also served here. Rishikesh has Yoga, adventure and spirituality adding to its multi-faceted angle of culture.Foreign tourists spend a longer duration of time at Rishikesh in order to learn yoga or meditation.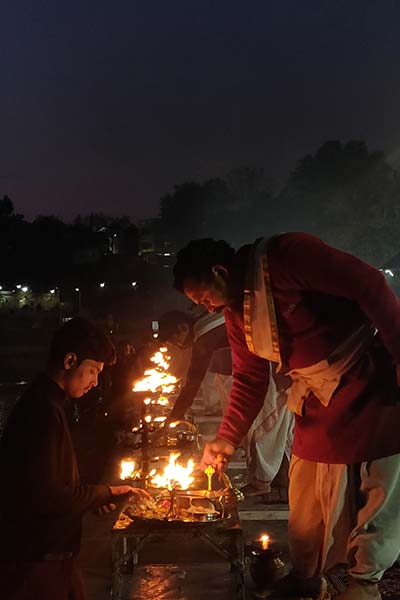 Ganga Aarti Rishikesh
HISTORY OF RISHIKESH
Rishikesh has been a part of the legendary Kedarkhand. This is the legendary mythological story behind discovering Rishikesh. As per Ramayana, Lord Rama was doing penance to kill asura Ravana.
Ravana is the demon king of Lanka. Lakshmana, the younger brother of Sri Rama, discovered the Ganges at a particular vantage point. It was this place that later got discovered as Rishikesh. The place where Lakshmana crossed the Ganges has been named Lakshmana Jhula. This has been built as an overbridge using a rope. The bridge was built in the year 1889. The rope bridge was washed out in the 1924 floods. A similar suspension bridge was then built using an iron. You find one more bridge named Ram Jhula. This was built during the year 1969 near Sivananda Nagar.
The Ganges is one of the most sacred rivers that flow into North India. And this mighty Ganges flows via Rishikesh. It is here that the river leaves the Shivalik Hills of the Himalayas. And then flows into the Northern plains of India. Ancient temples like the Shatrughna temple, Bharat Mandir and Lakshmana Mandir were built by the renowned sage Sri Adi Shankar Acharya. Shatrughna Temple is near the Ram Jhula while Lakshmana Mandir is near the Lakshman Jhula.
Places to visit in Rishikesh
You have quite a lot of must-see hub spots in and around Rishikesh. Lakshman Jhula is a raving hanging bridge that connects two villages. These are Tapovan in Tehri Garhwal district and Jonk in the Pauri Garhwal district.
The entire bridge has been re-engineered using an iron. The rope bridge was washed out in the 1924 floods. The bridge stands 450 feet long and is situated at a height of 70 feet from the river. You also have Ram Jhula which is one of the popular hanging bridges in Rishikesh. You can visit campsites to have a lush feel of nature.
The Neelkantha Mahadeva temple is a must-visit hub spot once again. This is at a distance of 7 km from the city center. You have Geeta Bhavan situated at a distance of 6 km from the city center. The Triveni Ghat is a vantage point where three major rivers meet. These are the Ganges, Yamuna, and Saraswathi. This spot is hardly situated at a distance of 4 km from the city center. The spot is a revered bathing spot as it is located along the banks of the Ganges River. You then have Bharat Mandir, Jadh Ganga Trek, Sivananda Ashram, Kunjapuri Devi temple, Kauri Pass, Tera Manzil temple, and lot many.
You can take a day sightseeing city tour to have a glimpse at some of the major attractions in and around Rishikesh. Covering all the spots at once may not be possible unless you plan to spend 15 days in the vicinity.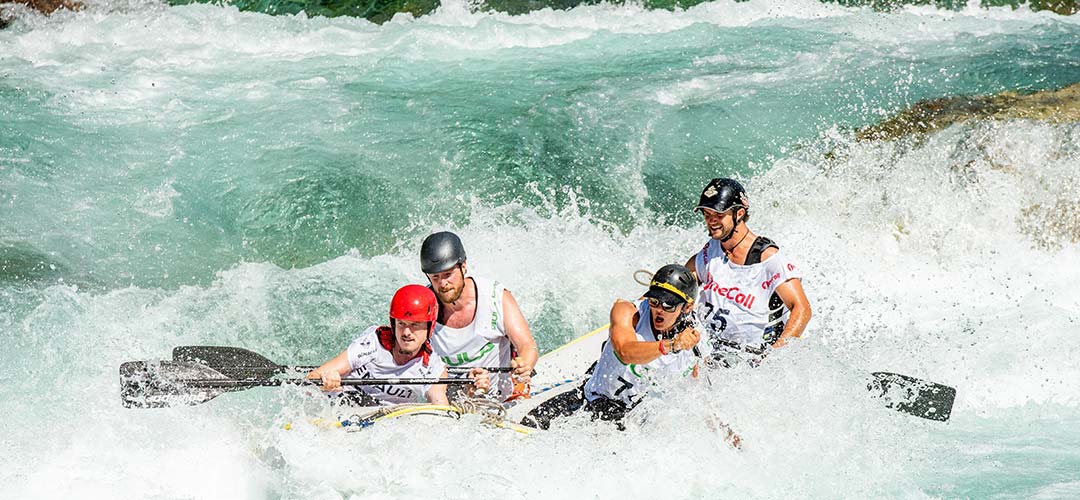 Water Rafting Rishikesh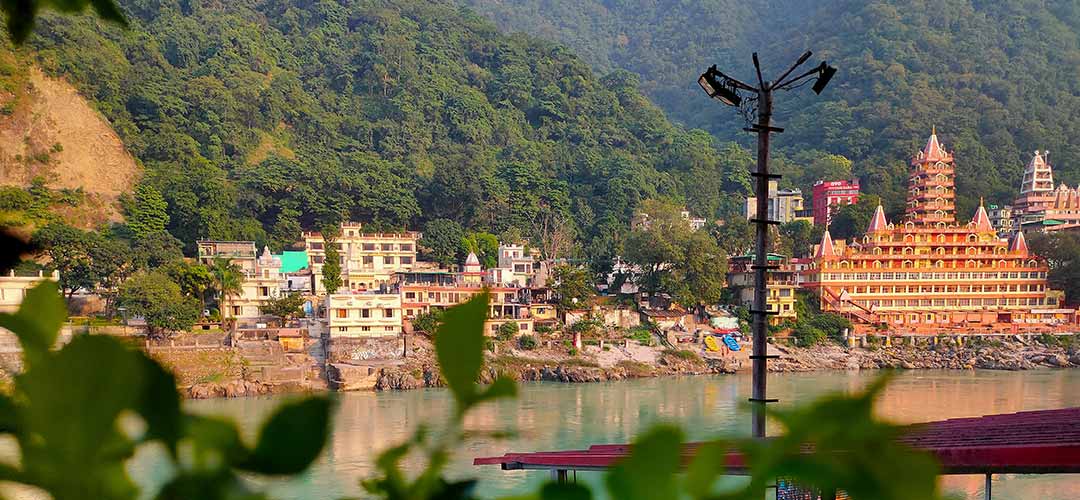 Tapovan Rishikesh Uttarakhand
FOOD IN RISHIKESH
As Rishikesh is a holy-city, you mostly get vegetarian dishes in most hotels and motels that have set up their shop. International or continental delicacies with a vegan flavor can be enjoyed at home-stay locales out there. Street foods like Pani Poori, Chole Bature, Samosa, Masala Dosa, Aloo poori, masala poori and ice-creams are famous in and around the holy city. Popularly available beverages include lassi, masala chai and basundi. Must-have sweets particularly famous in Rishikesh include besan barfi, nariyal barfi and besan laddu. Tourists can get a pack of freshly prepared sweets to satiate their taste-buds.
TOURIST ACTIVITIES IN RISHIKESH
Rishikesh is a strange confluence of serenity and adventure. You have numerous temples, ashrams and yoga centers around the holy city. The elderly get their fresh air by visiting these. Nature lovers can hang on to camping sites set up on vast expanse of nature land. You can view lush greenery from hills or plateaus. You can take nature trails to sniff in a fresh dose of oxygen for your lungs.
Adventure seekers also have their share of fun at the Yoga capital of the world- Rishikesh. As it is a blooming city dotted across the banks of River Ganges. You can do white water rafting across the River Ganges. 6 km rapids are meant for beginners or intermediate level. You can also choose 12 km rapids at the advanced level. The torrential currents of the river add excitement to the adventure sport.
Apart from this, you have bungee jumping, hot-air ballooning or parachuting, camping, mountain biking and lot many. This way, adventure seekers get a fair amount of adrenaline rush into their veins.
A must-visit place for spiritual seekers; Rishikesh is home to a number of ashrams, yoga and meditation centers and has a lot to offer to adventure seekers like white water rafting, Himalayan trekking or backpacking. Visit today to discover an all new you!