Explore the gem of Uttarakhand, Nainital. It is a charming hill-station that located on the Kumaon ranges of the mighty Himalayas. You find attractive landscaping in terms of mighty mountains and peaks in and around this hill destination. You also find attractive lakes and the place also earns its title as the 'City of Lakes'.
As Nainital is situated at an elevation of 2000 meters above the sea level, you find cool and pleasant weather all through the year. It is the surrounding lake named Naini. Tal means Lake. There comes the name of the hill-station as Nainital. As the hill-top destination came into limelight during the colonial era, we find elegant colonial structures and mansion houses. These add beauty to the place. Now letting you understand the intricate aspects behind Nainital.
REGIONS OF NAINITAL
The slopes of the region come to you with an elevation ranging 2000-2200 meters or approximately 6500 to 7000 feet above the sea-level. The highest peak point is Naina Peak. Also known as China Peak. The peak is situated at the height of 8600 feet above sea level. Hence the hill-station experiences a subtropical highland climate. One experiences dry winters but very wet summers. This happens as most of summer-rainfall is brought to the region via the South-Asian monsoons. You experience mighty spells of rain-showers during June, July, August, and September, while winters are cool and dry.
July is the hottest month of the year, where temperatures range between 17 and 25 degree Celsius. A single rain spell can also be 600-700 mm. Such heavy downpours plus hot weather can be experienced throughout July. The coldest month is January, where the lowest temperature drops down to 1.7 degree Celsius. And the maximum temperature during day-time touches 12 degree Celsius. Hence you experience pleasant and enjoyable weather all through the year.
CULTURE OF NAINITAL
The general lifestyle, customs, and traditions followed by residents of Nainital revolve around the Kumaon culture. The local residents still haven't been bitten by the smug of modern day living or Westernized culture. The local population are god-fearing and quite orthodox. The deities worshipped out here include Bholanath, Naina Devi, Nanda Devi, Kali Maa, Sunanda Devi, Golu, Adu, Sam, and Haru. The natives residing near the hilly side strictly adhere to their age-old customs and traditions. Death mourning and rituals are performed only on Tuesdays and Saturdays. While auspicious events happen during the rest of the days. A black dot is put on your ear to ward you off evil eyes. Likewise, you have quite a lot of religious customs that keep people at bay.
The languages spoken here include Kumaoni, Garhwali, Hindi, and English. The traditional clothing attire for women is Ghagra-Pichora. Married women always apply 'Sindur' over their forehead. They wear a golden necklace called Mangal Sutra. And a nose ring too. Music is played using instruments like Dhol, Hurka, and Turturi. Traditional dances are Chholia Nritya, Jhora, and Chhapeli. Chholia Nritya is a traditional war dance that is done using a sword and a shield. Holi, Basant Panchami, Shiv Ratri, Nanda Devi festival, Hariyali Devi fair, Vasant Utsav, Phooldeliare some of them. While the other few are Gheeya Sankaranti and Bikhauti. These are the major festivals that are celebrated with awe and vigor. The nine-day Navaratri festival is celebrated during the month of Chaitra and not during Dussera.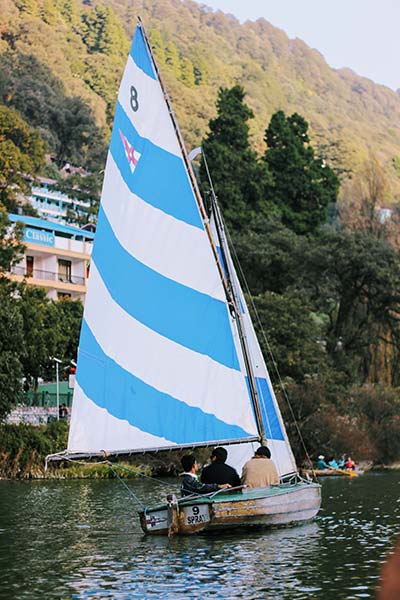 Boating in Nainital
HISTORY OF NAINITAL
The Kumaon hills came under the purview of the British during the year 1841. The first European who discovered this quaint hill-town described his experiences here as one of the most reveling ones. Houses started springing up faster than anticipated within the settlement. Due to the location, the antique houses were woody. There were also dim sun-rays falling in the vicinity. And the houses were built in a region covered with dense forests. Hence the locals started calling the houses- Anyarpatta Ashish. In Kumaoni, this means complete black-out.
The John in the wilderness is the oldest Church belonging to Nainital. It was built during the year 1846. Then you have other buildings carrying British names like Belvedere, the Alma Lodge, Ash dale Cottage and so on. A lot of buildings were constructed on similar lanes. Hence the British soldiers and other personnel thronged to Nainital to escape from the heat of the plains. It thus became a preferred summer destination. A landslide happened in 1882 and this when more than 200 Indians and 50 British officials went missing. Naina Devi temple and quite a lot of ancient Victorian buildings were completely devastated due to the landslide floods. Stormwater drains were then constructed at every house. The Nanda Devi Temple was also reconstructed.
A lot of British high schools for boys and girls were constructed during this era. The high court stands in one of them. St Joseph's College and St Mary's Convent celebrated their 125th anniversaries respectively in the year 2003.
TOURSIT SIGTSEEING IN NAINITAL
These are some of the fascinating must-see locations within Nainital.
The Eco-Cave gardens
The Eco-Cave gardens is home to a mystical set of 6 caves. One has to crawl through, to see what is inside. The caves are shaped like animals. You find musical fountains with audio-visual effects. The main theme behind constructing one is to let viewers have a glimpse into how these animals lived in their natural habitat. Quite interesting, isn't it? The caves are Tiger Cave, Panther Cave, Apes Cave, Bat cave and Flying fox cave.
Naini Tal
Naini Tal is another pristine location you would fall in love with. This is a unique Lake we are speaking about. The crescent-shaped lake is one of the most breathtaking ones, especially across Kumaon region. The Naini Tal is surrounded by Naini Peak on the North-East, Tiffin point to the South-West and snow-capped peaks to the North. You find refreshing and breath-taking views from the lake area. Boating, evening walks, and feeding the ducks are leisure activities you can do at the pretty-looking place.
The Naina Devi temple
The Naina Devi temple is dedicated to the worship of Goddess Parvati. According to Hindu mythology, Parvati Devi fell into the firewood after her dad insulted Lord Shiva. Hence when Shiva's eyes cast upon her charred body, he had taken her out. Hence the temple is also known as Sati Devi temple. In those days, women used to fall into the fire and sacrifice their lives post the demise of their husbands. You also have worship statues dedicated to Lord Shiva and Lord Ganesh.
The Mall Road of Nainital is situated parallel to the Naini Lake. It connects two ends of the hill, namely Mallital and Tallital. You can shop at ease, and you get woolen products and artifacts via the shops. You can have meals at restaurants too.
Snow View Point
Snow View Point stands at a dazzling height of 2,270 meters above the sea-level. It is one of the fascinating tourist spots of Nainital. You discover a panoramic view of the mountains while the peak is draped in milky white snow, most of the year. You can also explore picturesque peaks from the vicinity. These are Nanda Devi, Trishul, and Nanda Kot. You will need a pair of binoculars to view the mighty peaks and the magical range of mountains.
Tiffin Point
Tiffin Point is one of the most famous tourist attractions within Nainital. You get a complete view of the hill point. Plus you get to witness the scenic hills of the Kumaon region. You get vantage points to take picturesque snaps, and hence the locale is a purely ecstatic photographer's delight. The spot is covered with a dense cover of oak and deodar trees. You can also get a view of the Nanda Devi temple on clearer days.
Other sightseeing in Nainital
Zoos, wild-life sanctuaries, Hanuman temple, Bhim Tal and Himalayan peak point are other top-notch must-see attractions, especially while touring Nainital.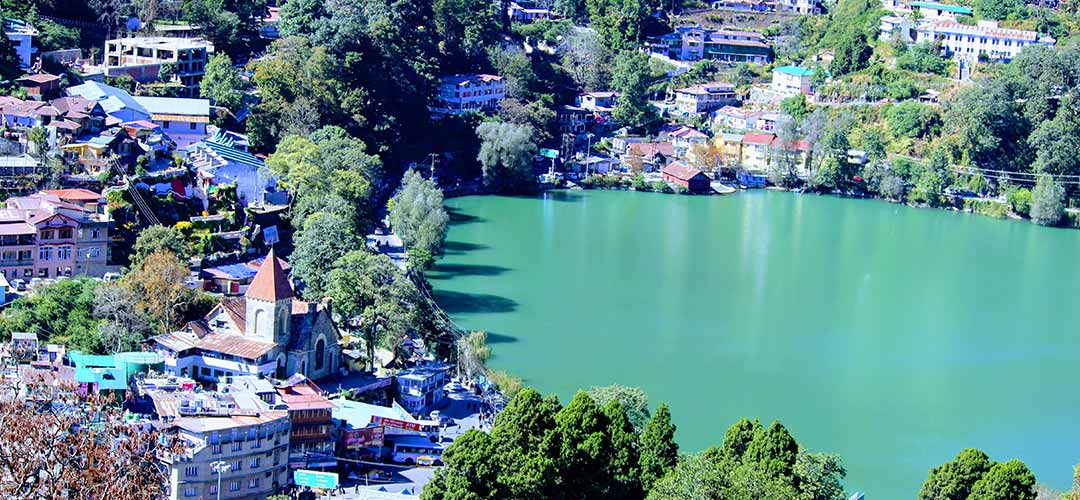 Tourism in Nainital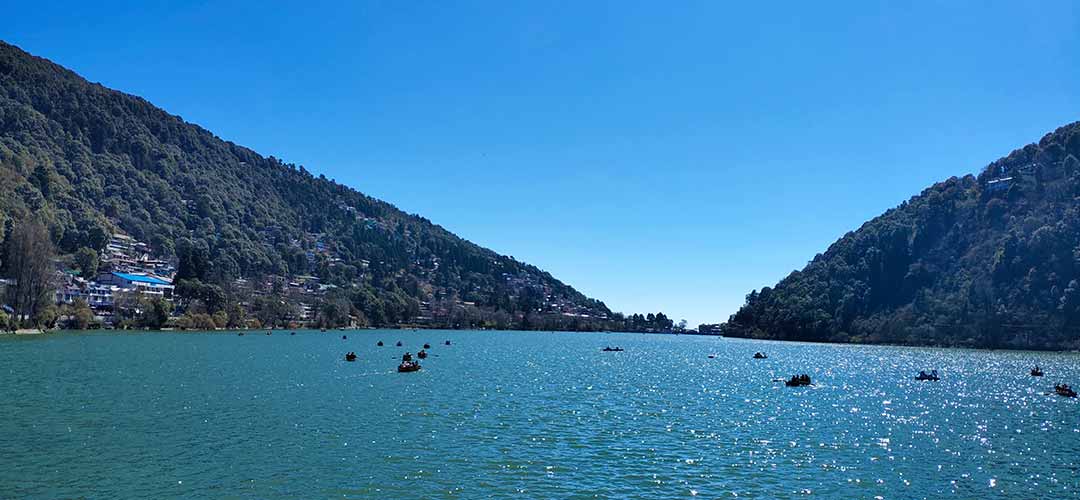 Sightseeing in Nainital
FOOD IN NAINITAL
The 'City of Lakes' can also offer you with a delectable array of street foods. As the region has a tinge of Tibetan culture added to it, you get spicy momos with a tantalizing range of chutneys. Lacchha Parathas, Bal mithai, Bun Tikki, cakes, and pastries are other must-have delicacies you can try via street shops or pâtisserie shops.
You can also have hands-on to the traditionally prepared Nainital cuisine. Some of these include Rus, black and white rotis, Baadi, Bhatt ki Churkani, Aloo ke Gutke, Arsa, and Gulgula. Rus is a Garwal cuisine made from a mix of lentil dals, herbs and spices. Aloo ka Gutke uses a carefully planned mix of the choicest variety of herbs and freshly plucked potatoes. Baadi is a culinary specialty of the Kumaon region. Here, you use toor, moong, and channa dal in the right proportions. Arsa is a sweet dish made from jaggery, rice and mustard oil.
TOURIST ACTIVITIES IN NAINITAL
As you have seen an overall overview of the hilltop destination, you can plan up your vacation in an organized way. View some of the breathtaking lakes like Naina Tal, Bhim Tal, etc. Take photographs from exotic vantage points like Snow Viewpoint and Tiffin Point. This way, you get to see a wonderful range of peaks and mighty mountain ranges without getting there. Wild-life sanctuaries offer safari jeeps. You can witness animals. But make sure you do not cause harm to the poor animals. You can take to hiking, mountain climbing or zorbing. Nature lovers can take up mild nature trail walks or long evening walks. Honeymooners can view the vistas of nature at its very best. Likewise, you have something in store for each one of you.