Auli is a skiing and a hill-top destination situated in the state of Uttarakhand in India. The hilltop is the main hub for tourism. It is situated at 2500 meters or 8000 feet above the sea-level. Hence you find pleasant and cool weather throughout the year. During peak or biting winters, most of the peaks at Auli are covered with snow. Snow skiing is a popular vacationing activity out here. Let us go deeper down the lane about the region, culture cuisines, and must-do aspects at Auli.
REGIONS OF AULI
Auli is a snow-laden province located in Uttarakhand. The hill-station is towards the northern end of the state. The region is therefore bound by mighty mountains and valleys of the Garhwal range. You can locate the region while you travel to one of the four Yatra spots of Char Dham. You find Auli at a distance of 16 km from Joshimath en-route Badrinath.
As the slopes of Auli are situated at 8000-9000 feet above the sea-level, these are covered with dense deodar and oak forests.
The velocity of chilly winds hitting upon Auli is therefore protected, via these forests. The region is added as a new entrant to the list of hill-stations in India. Biting cold winds, snow-capped peaks and Sylvian-mountains make Auli, a skiing paradise. In other words, skiing is an adventure activity, vacationers prefer, while they take a trip to Auli. You can call Auli as the cradle of snow-capped mountains. As you find high-end mountains and peaks surrounding the hill-resort, you can explore some of the panoramic views of summit points covering the Himalayan range. These are Nanda Devi, Kamet, Mana Parvat and Dunagiri. The best time to visit Auli is late November to early March. Skiing crowds can have fun and entertainment while they visit the snow-laden valley, at this time of the year.
March, April, and May are the summer months in Auli. As it is 10,000 feet up the sea, the climate is pleasant and cool. The maximum day temperatures in summer barely cross 22 degree Celsius. The minimum summer temperatures range between 10 and 15 degree Celsius. Winter months are November, December, January, and February. Temperatures run to 5 degree Celsius during the day and touch minus 2 degree Celsius at nights. As it is a heavily forested zone, Auli receives an average rainfall of 1600 mm per year. The monsoon months are June, July, and August.
HISTORY OF AULI
It was Sri Adi Sankara Charya who had discovered the significance of Auli during 8th Century AD. He had treaded his holy feet on the fields of Auli. In significance of his visit uphill, he had also built a Joshimath temple. The temple still exists. Although the temples run into thousands of years from today, the grandeur of the premises hasn't lost its charm yet. Running into hundreds of years, there is this semi-nomadic tribe, namely Bhotiyas who originated from Mongolia. They are said to have lived in this territory over a longer duration of time. Another local tribe called Thatauli is also said to have inhabited Auli.
The nomadic tribes were often seen with long-haired yaks and an assortment of goods to carry on their trade activities with the neighboring province, namely Tibet. Much before Auli was introduced to India as a hill station or a skiing resort; this was used as a training ground. The soldiers or men with valor or courage had to conquer snowy provinces to protect the Indo-Tibetan border area. These people were named the Indo-Tibetan Border Police Force.
For some of the avid mountain explorers back then, the legendary peaks of Auli offered great vistas indeed. The Trishul Peak meaning, strident of Lord Shiva, showcases one of the most ancient temples revered to the worship of Lord Shiva. This was a unique pilgrim expedition leading one into Auli way back in 1958. These aspects denote the historical significance or background into which the destination came into being. As a preferred tourist spot indeed!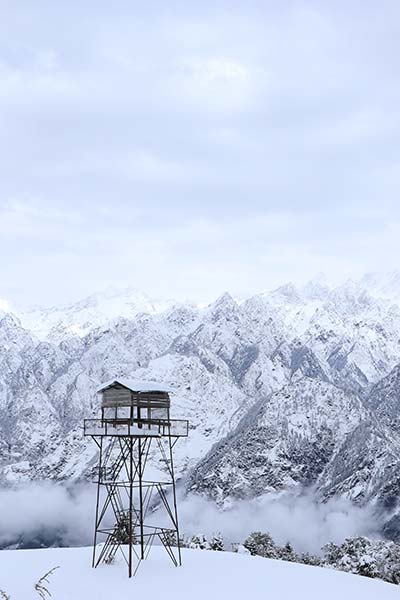 Sightseeing in Auli
CULTURE OF AULI
Auli is one of the fascinating tourist hubs the entire nation can boast off. Hence you find a floating population out here. As it is one of the hilltops in Uttarakhand, you find that the town emulates the state in terms of culture and religious traditions. Hindi and English are languages spoken in this part of India. Hindus, Muslims, and Christians celebrate Indian festivals in unanimous harmony with one another. The residents of the town respect tourists and foreign visitors who come here for enjoying their holiday. Homestays and accommodating resorts add to the warmth of tourist culture out here.
TOURSIT SIGTSEEING IN AULI
Auli is a recently developed tourist destination. The serene snow-capped peaks, tranquil greenery and glaciers provide ample vistas for nature lovers and newly-wed couples to spend time out here. Adventure seekers can locate 10-20 km of snow-covered mountain slopes. These are clean stretches of snow that can be visually pleasing to the eye. Besides, you can explore a descent of a 500 meter from the ridge over a stretch of 3 km. This can be the most exciting holidaying havens indeed.
At Auli, you can also witness the National Winter Games. The events happen during February and March. You can look at huts where the internal heating of the resorts is done using wooden stoves. Around the Garhwal region of Auli, you can blaze up a fire-wood and have a bonfire styled evening done.
Valley of Flowers, Nanda Devi Peak, Trishul peak, Artificial Lake, Chattarkund, Chenab Lake, Gurso Bugyal, Nanda Devi national park, Vishnu Prayag, Joshimath, and Badrinath are some of the best excursion spots worth exploring in/around Auli.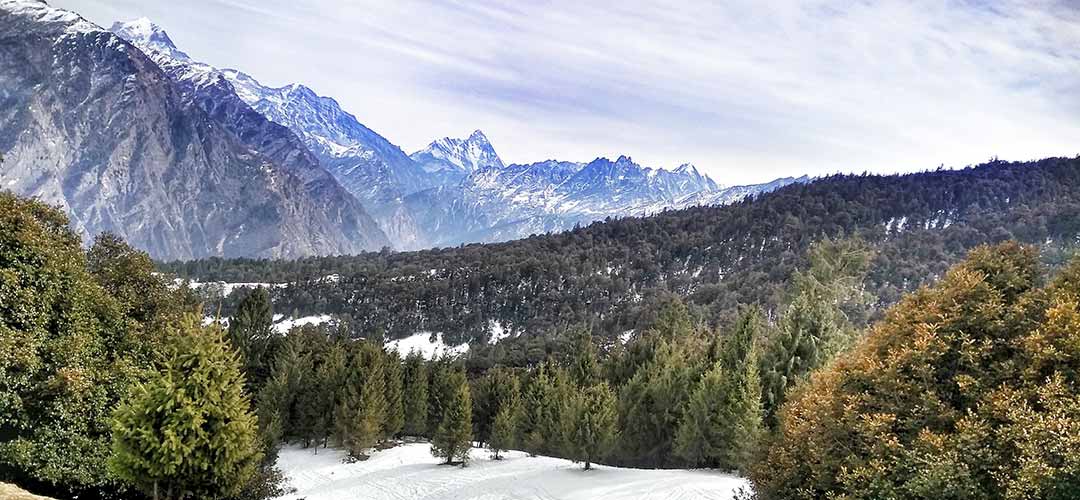 Tourism in Auli
Auli Tourism
FOOD IN AULI
You find Garhwali cuisines within Auli. The local delicacies include a variety of dals, lentils, leafy vegetables and rice. But you do find unique food varieties to add a distinct flavor to the entire region of Auli. Some of these are Kachmauli. It is a stuffed gravy made from goat. You have oil and spices added to the same. You have BalMithai. It is a locally made sweet. And then, you have Singhori. This is a cone-shaped sweet stuffed inside a Malu leaf. Hotels serve Indian, Chinese, and Continental food.
TOURIST ACTIVITIES IN AULI
You have a variety of holidaying activities lined up for you as such. The snowy slopes of Auli offer picture-perfect vistas to pursue snow-skiing and trekking.
You have fun-filled trekking bases all through Auli. The popular trekking trails are Auli- Gorson (7km), Gorson-Tali (6km), Tali- Kuari Pass (11 km), Kuari Pass- Khulara (12km) and Khulara- Tapovan (9km). Nature lovers and newly-weds can take up nature trails to enjoy nature at its very best. Those breath-taking views of butter clouds, misty mountains, chirruping sounds of birds, and panoramic views of elevated peaks can rev up your spirits to a mind-blowing high. Adventure seekers can snow-ski across the snow-laden mountains of the entire Garhwal range.
You can enjoy the breathtaking views of the valley and explore mountains, peaks, and meadows. While on the other hand, you can take beautiful pictures of snow-clad mountains too. This happens when you take up exciting cable car rides offered to you via varied spots in Auli. You can go for shopping too. Woolen caps, shawls, and blankets are available in a variety of designs and shades. You have shopping spots at Joshimath which is at a distance of 15 km from the hill-town area. You can also keep yourselves warm and cuddled up, at hotels, resorts and beautifully constructed home-stay cottages within Auli.