Places to visit in Mussoorie
As Mussoorie is at an altitude of 2000 meters or 7000 feet above sea level, the region is named one of the most fascinating hill stations in India. The top hill destination lies in Uttarakhand state in northern India. You discover Himalayan snow ranges to its northeast. By the south, the hill region is flanked by the 'Doon' Valley and Shivalik fields.
The region experiences a subtropical highland climate. The summers are during March, April, and May. The summers are warm or very warm. The season is frequented with a few spells of pre-monsoon showers. You then have the monsoon season starting by June or mid-June. As Mussoorie is a mountainous region, you experience heavy to very heavy rainfalls. Sometimes, you can experience rainfall of 600 mm per session. June, July, and August are the peak rainfall or monsoonal months. September and October experience dry, gloomy, and windy weather. Occasional rains or hail storms can also be felt during this time.
November, December, January, and February are the winter months in the region. You experience frequent snowing at this time of the year. You discover snow-peaked mountains too. Sub-zero or frigid temperatures are easily achieved at this time of the year.
History and Culture of Mussoorie
As you have already seen in the last two paragraphs, Mussoorie is one of the most picturesque hill towns covering the Garhwal Himalayas. You find a mix of Garwal, Tibetan, and other religious followers. It was the British officers who had brought this part of India under the limelight. Colonial mansion houses and warm cottages depict the influence of British rule too. Garhwali is the official language of the native people of Mussoorie. Apart from this, languages like Hindi, Punjabi, Kumaoni, and English are also spoken in a widespread manner.
The popular festivals celebrated with pomp and splendor include Basant Panchami, Uttarani, Phooldeli, Samvaster Pareva, Hariyali Bikhauti, Gheeya Sankaranti, Summer festival, Shravan Mela, Surkhanda Devi Mela, Tapkeshwar fair, etc. Some of these are religious festivals, and fairs celebrated amidst grandeur. Some of the local or regional forms of music include Chhopati, Bajuband, Jaggar, and Basanti music. Mangal songs are sung while doing pujas. Chounphula and Jhumelia are folk music forms sung to celebrate Basant Panchami. Three dance forms that are popular out here are Langvir Nritya, Barada Nati, and Pandav Nritya.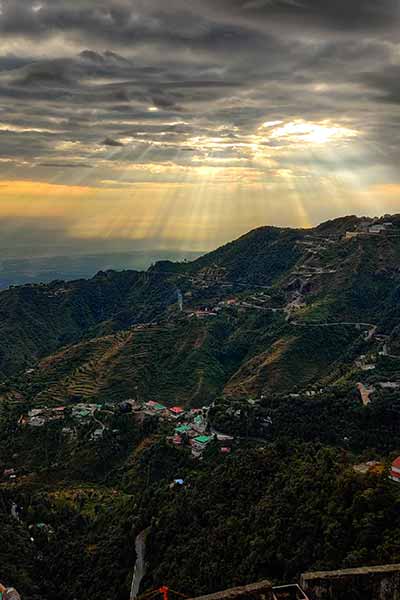 Valley of Mussoorie
History of Mussoorie
Do you know of some of the surprising facts connected with the historical significance behind Mussoorie? Well, the fascinating hill station, we see now, was first discovered by Lt. Frederick Young of the British East India Company. He wanted to discover a shooting place as he was an emerging hunter. He then landed up at Mussoorie. Enamored by its pristine and natural beauty, he fell in love with the place. He was the one who planted potatoes in the Valley. This hill station has easier access via Dehradun Road. Mussoorie also dedicates its name to a shrub named 'Mansoor.' The shrub is indigenous to this particular area. Mall road was the connecting hub between Picture Palace at the eastern end and the Public library at its western. Jawaharlal Nehru, Indira Gandhi, and their family were frequent visitors to Mussoorie. Way back in the '20s, '30s, and '40s. The Tibetan school was also established in Mussoorie way back in 1950.
Today Mussoorie is a leading tourist destination among adventure seekers, nature lovers, and honeymooners.
Places to visit in Mussoorie in one day
Lal Tibba
Lal Tibba is the first tourist attraction in Mussoorie you can think of. It is located at a distance of hardly 6km from the city center! Lal Tibba means 'Red Hill'. You get stunning viewpoints as it is set amid an elevation of 3000 feet or 7,200 feet above sea level. You can see a panoramic view of mountain ranges, valleys, and peaks.
Lake Mist
Lake Mist is the next tourist attraction in Mussoorie. Lake Mist is a must-visit haven for nature lovers indeed. The pristine waters are covered with an emerald green forest cover. You can have picnic excursions at this place too. The Lake Mist is on its way to Kempty Falls in Mussoorie.
Kempty Falls
Kempty Falls is on the Dehradun-Mussoorie Road. Known for its cascading silver gleaming waters, this is a great vacationing spot indeed. The waterfalls to the ground from a fabulous elevation of 40 feet. You have attractive mountain cliffs surrounding the vicinity. As you have the waterfalls at an elevation of 4,500 feet above sea level, you can get awesome vantage points in terms of scenic views.
Cloud's End
Cloud's End is a great vacationing spot located at the end of Library Road. Scenic mountain views and the virgin greenery of nature can make your heart skip a beat. You have Cloud's End surrounded by a thick cover of oak and deodar forests. You thus sit on the lap of nature at Cloud's End. You can embark on hiking, and mountain climbing or arrange nature trail walks via hotels you plan to stay in. You also have Jwala Devi Temple and Benong Wildlife sanctuary near the vicinity.
Gun Hill
Gun Hill is the 2nd highest peak point throughout Mussoorie. It stands at a tall elevation of 2500 meters above the sea-level. Cable car drives can be arranged to view nature at its best. The panoramic views surrounding the vicinity can be a photographer's delight indeed. You have Gun Hill located 400 feet above Mall Road in Mussoorie.
Mall Hill
Mall Hill is a colonial relic. The spot is a bustling street with a resplendent replica of the colonial era camouflaged with today's modern world. You have benches and lamp posts across the entire stretch of Mall Road. You also find shops, video-gaming parlors, and skating rinks.
Things to do in Mussoorie
Dhanaulti, Camel's Back Road, Bhatta Falls, Jharipani Falls, Happy Valley, and Mossy Falls are other scenic attractions within Mussoorie.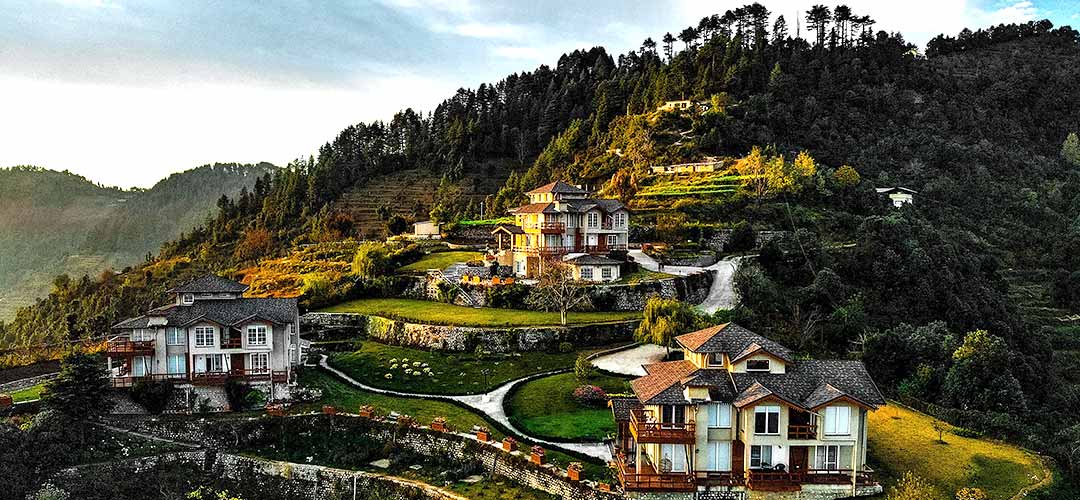 Mussoorie City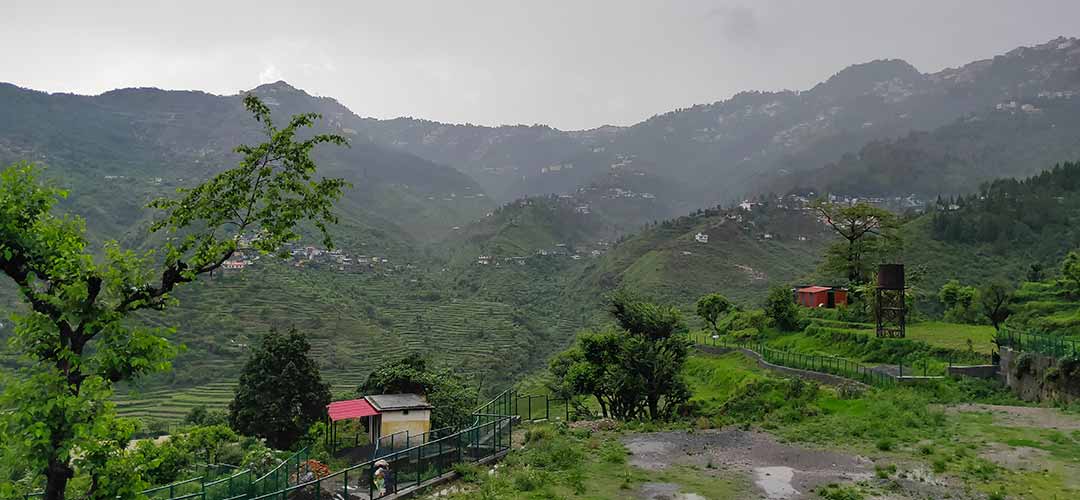 Mussoorie Valley
Places to eat in Mussoorie
You have numerous varieties of cuisines to choose from while you tour the fabulous hill station of Mussoorie. It has a mix of Indian, Chinese, Tibetan, Italian, and Thai delicacies to satiate your taste buds. The local cuisines are Garhwali specialties.
These include Bhaang ki Khatai, Kappa (a green curry), Rus (a lot of dals and lentils are added while preparing the same), Aloo ke Gutke (A specialty Kumaon dish made from potatoes), Sisunak Saag (a gravy prepared with green leafy veggies and locally available herbs). The heart-throb of Tibet, momos are available in street vendor outlets. They give you spicy chutneys complimenting the same.
Tourist Attractions in Mussoorie
Paragliding and mountain hiking are the topmost activities that can line up your vacation timetable. Parachuting can also be organized at camp spots near Mussoorie. Plus you can indulge yourself by putting up camp tents or having nature trail walks organized. You have numerous points where trails can be arranged.
Swimming spots can be organized near the Kempty Falls area. You can have a trip with the adorable animals out there by taking a jeep safari via the Belong Wildlife sanctuary. Meet the animal world with lions, elephants, pythons, leopards, and birds. You can taste satiating dishes by getting into a local hotel. You can shop for shawls, jewelry, glass items, and artifacts too.