Bihar is the land where Lord Gautama Buddha had spent a few years of his life in. Hence, this land is famous for its share of monasteries indeed. Bihar is therefore known as the land where Buddhism and Jainism flourished. You have pilgrims and peace-seekers who would love visiting the place. You can also come here to witness a tribal culture and have a glimpse of rural parts of India. The state of Bihar is strategically located on the Eastern side of India. It is situated on the Gangetic plains indeed. The state shares its borders with UP, Jharkhand, and West Bengal. It is mythologically believed that Lod Buddha attained his spiritual aspirations under the Bodhi tree, right here in Bihar. You also have other places of cultural interest like Bodh Gaya, Patna, Nalanda, and a few others. Come on, let us explore the more intricate aspects of Bihar on a detailed note.
The best time to visit the place
You can have a look at the weather chart and then decide what is the best time of the year to plan a trip to Bihar.
Summers- March to June, Temperature belt: 30 degrees Celsius up until 48 degrees Celsius. Summers can be dry and oppressive. It is better tourists or vacationers do not plan a trip to Bihar. You can witness moderate heat during March and April. The hottest temperatures of the state are witnessed during May and June. The temperatures can reach a staggering 50 degrees Celsius. Dust loo is experienced at parts of the state during peak summers.
Monsoonal weather- July- September; Temperature belt: 25 degrees Celsius to 32 degrees Celsius. Monsoon season finds the state of Bihar getting ample rains. These are months of the year that are the wettest indeed. Most parts of Bihar get an ample amount of rains because of the Himalayas to the North. The South-West monsoon breaks from the Himalayan region and pours out on the windward side, and this happens to be Bihar. Though monsoons end in September, the state receives bountiful retreating rains through October. Hence, the season between September mid and October is named the retreating monsoon season.
Winters- November- March, Temperature belt: 10 degrees Celsius to 20 degrees Celsius. You can experience cold winters in parts of the state. Some areas of Bihar reach zero or sub-zero temperatures too. Day temperatures are pleasant as the temperatures are between 10 and 20 degrees Celsius, while nights can get biting cold indeed. December and January are the peak winter months across the state of Bihar where post-sunset temperatures dip to 0 or even sub-zero.
Based on this weather report, the best time to visit the state of Bihar is between October and March. You can visit places of spiritual interest like the Bodh Gaya, Patna, Nalanda, etc. to your heart's content.
Best places of tourist interest
We are going to have a look at some top-notch places of tourist interest in and around Bihar. Here they are, for you to glimpse into:
Patna
This is the capital city of Bihar indeed. The city is situated on the southern banks of River Ganges. The city has set its foothold to being one of the oldest civilizations in the world. The capital city of Bihar also holds the gateway for pilgrims to visit spiritual and pilgrimage sites for Hindus, Sikhs, Jains, and Buddhists. You also find the city bustling with cosmopolitan culture. You have wide roads and swanky buildings that mark the epicenter of the city hub. Patna Gurudwara, planetarium, Secretariat building, the high court building, and Padre kihaweli mark some top-notch attractions in and around the city. You also have restaurants and road-side eateries churning out typical North-Indian sweets and savories. Litte chokka is a palatable dish definitely worth giving a try!
Bodh Gaya
Bodh Gaya is the world's most popular Buddhist pilgrimage site that is situated in the Gaya district of Bihar. It is famous for its Mahabodhi temple. It is believed that Lord Gautama Buddha attained his enlightenment under the Bodhi tree. The spot is one of the UNESCO's world heritage sites indeed. Quite a lot of countries like China and Japan have helped the Indian Govt construct the monastery with proper facilities for Buddhist pilgrims who visit India from abroad too. They come here to pay their respectful homage amid the monasteries, temples and other remnants resent under the Bodhi tree. Bodh Gaya has its ghat situated near the River Niranjana. Pilgrims do their papa visargan near the River and pay their tributes too.
Nalanda
Nalanda is also referred to as the Ancient seat of knowledge. You have a typical Buddhist styled University that is situated here in Nalanda. The University promotes academic excellence of a high cadre indeed. You also have the city of Nalanda wrapped under the blanket of spirituality. You have a Buddhist styled spiritual and a meditation center wherein Buddhist devotees and other pilgrims' throng in huge numbers. The city houses the world's oldest and finest residential universities, and that was an architectural masterpiece indeed. Monasteries, temples Buddhist stupas, and museums mark popular and iconic hubs in and around the ancient city of Nalanda.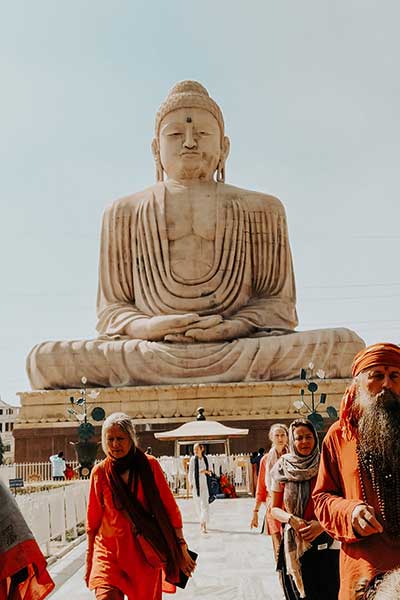 Mahabodhi Temple in Bodh Gaya
Vaishali
Vaishali is a small district that is located in the interiors of Bihar. It has sites that house temples and religious centers dedicated to the worship of Hindus, Buddhists, and Jains. Vaishali is the city where Lord Mahavir was born. He is considered to be the deity of Jains. You have a place filled with mango groves, banana trees, and an extended land of rice field cultivation. It is mythologically believed that Lord Buddha gave his last spiritual sermon right here. The site is an extensive site for Buddhism. King Ashoka, who was a staunch Buddhist himself, has erected several pillars in the name of Lord Buddha. As Vaishali is also the birthplace of Lord Mahavira, the place is a renowned pilgrim site for Jains too. The Ashoka pillar and the Buddhist stupas are top-notch tourist locales in and around Vaishali.
Madhubani
Madhubani is an ancient city in Bihar that is known for its richness in art and culture. Madhubani paintings have been mentioned descriptively even in the world's oldest Hindu epic, Ramayana. Madhubani paintings can, therefore, be famous souvenirs for tourists to carry home. The district-town houses smaller temples too, that are beautifully made.
Muzaffarpur
Muzaffarpur is a city that is located towards the north of Bihar. This is a city that lies on the banks of the BurhiGandak River. The city also shares its geographical position with two other rivers namely the Bagmati and Lakhandayee. This city is a hub for educational and commercial establishments indeed. Muzaffarpur is situated at the distance of hardly 75 kilometers from the capital city of Bihar, I.e. Patna. The city experiences a cultural confluence of Buddhists, Islam, and Nepali. Historical and political buildings also act as standpoint hubs for tourists visiting here.
Rajgir
Rajgir is a town that whisks a fresh aura of breeze and scented aroma indeed. You have beautiful sceneries surrounding this scenic town of Bihar. Moreover, you have religious and spiritual hub spots dedicated to Buddhism and Jainism. Rajgir is a town that can leave nature lovers on a spellbound note too. You have dense forests, caves, and mysterious springs in and around vacation spots from Rajgir.
These are some of the best places for tourist attraction in and around the bustling North-Indian state named Bihar.
The Best food and shopping
Bihari cuisine is more of a vegetarian staple as followers of Buddhism and Jainism mainly influence the region. Buddhists and Jains embrace the idea of non-violence and hence never consumed fish, chicken, eggs, or other forms of meat. Ghee, lassi, dahi, yoghurt are dairy products that are popularly used as staples or accompaniments to cuisines forming a part of Bihar. Litti, malpua, sattu paratha, golgappa, motichoor laddu, and pakodas are other popularly known Bihari dishes that are world-famous indeed.
Brass earthenware, terracotta artifacts, Madhubani paintings are attractive souvenirs you can carry back home. Zari embroidery and Kashida work on fabric add colorful hues to apparel wear here in Bihar. Lacquer bangles and ethnic silver jewelry are other products that please shoppers.
Bihar offers tourists more than what pleases the eye. The only way to experience the same is to plan a holiday to one of the best tourist destinations in the country. Contact us to book your holiday to handpicked destinations in Bihar today!