New Delhi is the capital city of India. It is also a Union Territory of India. NCT also known as the National Capital Territory of India is surrounded by Haryana on three sides and Uttar Pradesh to its east. Delhi also extends beyond the urban part of Delhi called New Delhi. The belt extends across Faridabad, Ghaziabad, Noida, Gurgaon and Sonipat. We also have Old Delhi covering a part of Delhi. Delhi enjoys a population of 30 million becoming one of the thickly populated city-states. Around the world!
REGIONS OF DELHI
As New Delhi is the capital city of India, the administrative legislature of the entire nation is carried out at this place. You have the Prime Minister's office at Delhi. Plus you have the Independence Day and Republic day parades happening at New Delhi. The pomp and show with which these two national days are celebrated, lends a retreat to the eyes. Delhi as a region was introduced during the 6th Century BC. The age-old scriptures, kingdoms and empires add to its renowned historical significance. Hindi is the national language of India. Hence Delhi population speaks and writes connotations using Hindi. English and Haryanvi are also considered as the official languages of the region.
Delhi experiences extreme summers and biting cold winters. Summer temperatures follow suit from March to July. The temperatures can soar up to 46 degree Celsius. Winters are experienced during the months of November, December, January and February. During this time of the year, the temperature dips down to 4 degree Celsius. Torrential rains are experienced by the city from July mid until September.
CULTURE OF DELHI
The cultural vibrancy of the place is euphoric. You have festivals celebrated with pomp and show. The Prime Minister of the Nation addresses the gathering from Red Fort. This is done when we celebrate Independence Day on the 15th of August every year. After all, the country received its independence on the 15th of August 1947 from the British rule.
Republic Day is celebrated on the 26th of January every year. Republic day parades follow suit. Schools from across the country participate in the parade. Other regional festivals that are celebrated include the following. These are Diwali, Mahavir Jayanti, Raksha Bandhan, Durga puja, Holi, Lohri, Karva Chauth, Janmashtami, Maha Shivrathri, Ram Navami, Dussera, Eid, Muharram and Buddha Jayanti. New Delhi hosts its International Book fair year after year. The fair is usually held at Pragati Maidan. You can visualize an amazing collection of books, magazines and literary works of notable authors. Indian International Trade Fair is the biggest exposium covering the cultural and shopping spree of Delhi. The fair is attended by more than 15 lakh visitors. The notable kingdoms and temples again add to the cultural vista of the place.
HISTORY OF DELHI
You can recognize the history of Delhi by dividing it into four major sections. These are:
Late medieval period
Early modern period
Colonial period and
Post-independence period
Let us look into each of them briefly.
Late Medieval period
This era characterized the rise and fall of certain Muslim leaders. Notable names include Qutd- ud- din Aibak, Muhammad Ghori and Razia Sultan. The UNESCO world-heritage monument named Qutb Minar was built during this period. The late medieval period was between 1192 and 1526.
Early modern period
The early modern period saw the rule of the mighty Mughal emperors. Akbar, Sher Shah Suri and Akbar. During 1553, Hindu emperor Hemu won the battle fought with Akbar and took over the Mughal Empire. The throne was given to the Hindu Emperor Hemu after he won battles at Delhi and Agra respectively.
The early modern period also saw the birth of old Delhi. It was Shah Jahan, who had built the 7th City of Delhi named Shahjanabad. Today it is named Old City or Old Delhi. This was during the year 1638. Akbar's army had defeated the Hemu king and regained prominence. We also saw the up rise of Maratha Empire during the early modern period. The Mughal Empire starts during 1526 and ended during the 17th Century AD. Red Fort was also built during this period.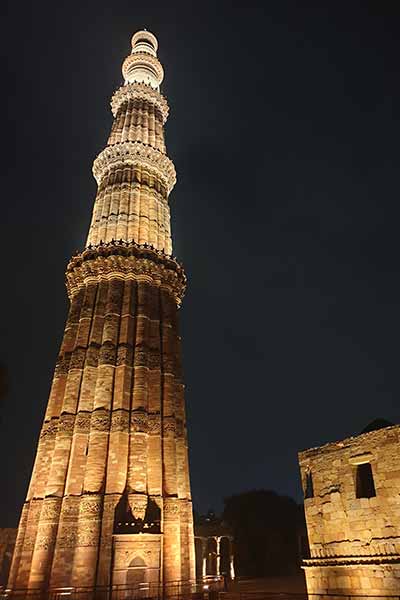 Qutub Minar, Delhi
Colonial Era
Colonial period saw the rise of the British Empire. We all know how the British adopted the policy of 'Divide and Rule'. The British nearly ruled India for 200 years. Then New Delhi was finally declared as the capital of Free India as on 15th August 1947. The start of 18th Century marks the commencement of the British Raj era.
Post-Independence Era
Post-Independence Era starts from 15th August 1947 until present. This era sees New Delhi developing infra structure and developing MNC companies. Today it has become more like a cosmopolitan hub. We see sophisticated fleet of restaurants, pubs, open theaters, malls and lot many. Old Delhi still retains its old-world charm with its narrow roads, bustling street vendors and people flocking everywhere.
TOURIST PLACES IN DELHI
You have quite a lot of must-see hub spots while you tour the capital city of India. Delhi as you must have seen is divided into New Delhi and Old Delhi. You can explore Old Delhi when you embark a trip to Mathura or Vrindavan where Lord Krishna had spent his years growing up.
At New Delhi, you can try visiting places like Lal Mandir, Laxmi Narayan Mandir, Gurudwara Bangla Sahib, ISKON temple, Jama Masjid, Lotus temple, etc. For shopping enthusiasts you can head towards Connaught place, Sarojini Nagar, Khan Market, Dilli Haat. You get local artifacts, imitation jewelry, clothes, curtains, dry fruits and so on.
Shopping malls or ultra-modern plazas include City Walk, DLF Promenade, Metro Walk and Ansal Plaza. Foreigners and corporate professionals can get a glimpse of shopping, dining and theater viewing, all under one roof.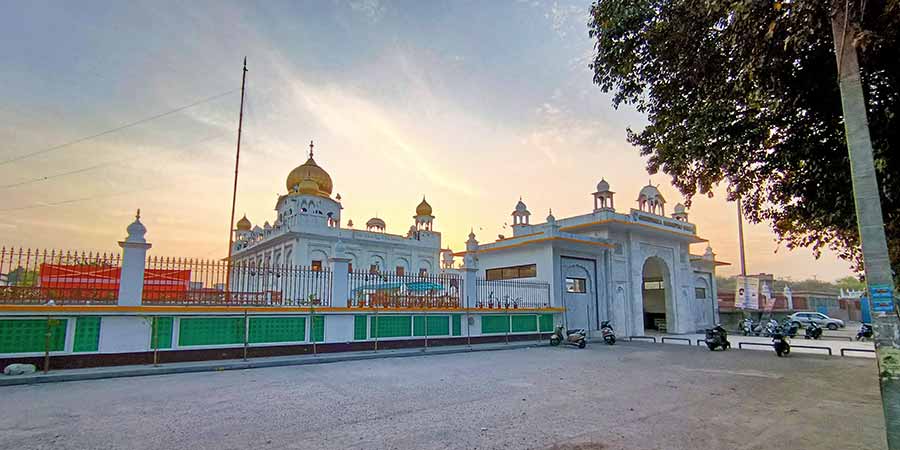 Gurudwara Sahib, Delhi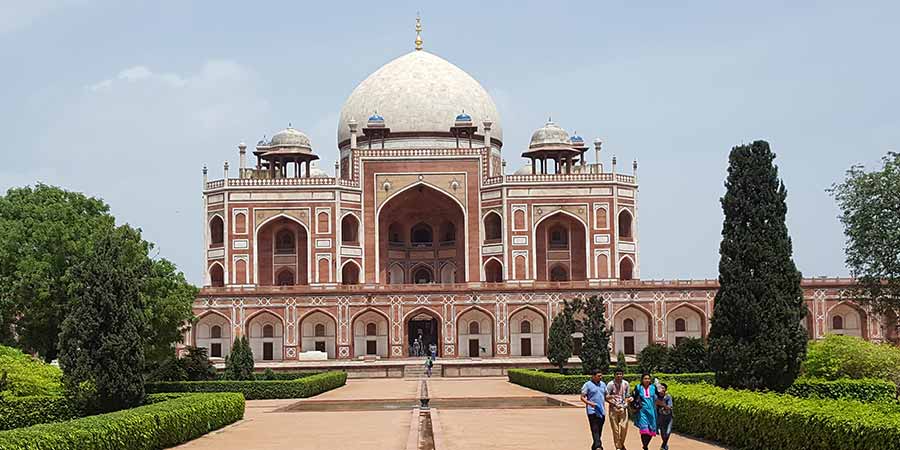 Humayun's Tomb, Delhi
FOOD IN DELHI
As Delhi was ruled by Mughal emperors for almost three centuries in a row, you find authentic Mughlai dishes. Coming your way! Kebab, biriyani and tandoori dishes flood city markets and dhabas. Butter chicken, dal makhni, shahi paneer, aloo chaat, kachori, golgappe, samosa, cholebature, gulabjamun, jalebi and lassi are famous among urbanities and foodies.
The Gali Parantha Wali alias Street of Fried Bread is particularly located at Chandini Chowk. Foodies can have party-time out there. A trend of dining at local dhabas is also noticeable among residents.
Street vendors flood their stalls with chat items like paanipoori, Bhel and pavbhaji. High profile restaurants or dining hubs are usually found at shopping malls or urban areas dotting numerous spots across the city. Some of the notable ones include those of Karim Hotel, the Punjab Grill and the Bukhara.
TOURIST ACTIVITIES IN DELHI
There are several must-do activities at Delhi. You can explore the rugged and rustic side of Delhi. This happens while you are at Old Delhi. The narrow lane roads with bustling shops and people flocking everywhere around add to the old-world charm. You have Asia's largest spice market particularly at Old Delhi Road. You find this place on Khari Baoli Road, next to Fatehpuri Masjid.
You can marvel over the painted houses at Naughara. If you love shopping with the cosmopolitan crowd, you can visit shopping malls like Metro Walk or City Skyline Walk. For a religious person, there are numerous temples dotting both Old and New Delhi. The rustic style of masjids can also take you by a pleasant surprise. You can plan visiting Taj Mahal or Nainital. These are places within a 300 km drive from the capital city. You can plan visiting Barista Café, Hard Rock or Star bucks if you love dining at posh locales in New Delhi. Likewise, sky is the limit when you want to explore the bustling City called Delhi.
The culturally vibrant city has a lot to offer to every tourist. Come visit the national capital, Delhi to experience a holiday like never before.