Sikkim is a tiny but beautiful state in India that lies to the south of Tibet. The state is sandwiched between Nepal to the west and Bhutan to the east. The state hardly measures 65 km by 115 KM. Yet you can view top mountain ranges of Himalayas and explore the bountiful hub spots nature has to offer. You can view deep valleys that are barely 300 meters above the sea level. At the same time, you can view the highest point of Himalayas, i.e. the Kanchenjunga peak.
This is a lofty snow-peak of the Himalayas that is at an astounding 8586 meters above the sea level. In fact, Kanchenjunga is the third highest mountain peak in the world. You can discover small yet rugged roads that form into a network for you to delve into this Himalayan wilderness. Come on, let's discover more intricate aspects of our very own Sikkim.
The Best time to visit Sikkim
Before we deduce the best time to visit Sikkim, let us have a deeper look at the overall weather conditions in Sikkim.
Summers- April to mid-June- Temperature belt: 20 degrees Celsius to 28 degrees Celsius. You have a warm-weather characterized by clear skies. The temperature is pleasant and not hot or humid weather. Tourists can get a clear view of mountain peaks including that of Kanchenjunga. Hence, summers are the best time to plan weekend getaways to Sikkim.
Monsoons- June- September- Temperature belt: 18 degrees Celsius to 25 degrees Celsius. The region receives heavy to very heavy downpours indeed. Landslides are common in most parts of the state. This is not the ideal time to visit Sikkim as such.
Autumn- From late September to November- Temperature belt: 15 degrees Celsius to 20 degrees Celsius. You have warm and pleasant weather with clear skies. You can witness cherry blossoms in parts of the state. Tourists and vacationers throng to the state of Sikkim at this point in time.
Biting cold season- December- February- Temperature belt: 5 degrees Celsius to minus 2 degrees Celsius. You find most of the spots covered in thick blankets of snow. Fog also completely covers the cities of Sikkim during the early mornings.
September to November is therefore the best time to visit the state of Sikkim. Tourists can experience clear skies, cherry blossom views plus take up their hiking treks to their heart's content indeed. Summers can also be an ideal time to escape from the bolstering heat experienced in most parts of the country.
Best places of tourist interest in Sikkim
These are some of the best traveling spots in and around Sikkim. Let us move on to explore each one of them:
Yuksom
Yuksom is an old historic town in Sikkim that is worth exploring. This is one of the best places for you to visit West Sikkim. You have an uninterrupted trail for trekkers and adventure seekers. You can also spend quieter moments from hectic city life. Some of the key tourist attractions include a trek down Norbugang Park. You can view the oldest monastery namely the Dubdi Gompa. You have a lovely trekking spot namely the Goechala trek. You also have the Khangchendzonga national park where you can view wild animals at play.
Tsomgo Lake
Tsomgo Lake is hardly situated 38 km from the capital city of Sikkim, which is Gangtok. You have a snaky road that takes you through the top of the mountain. You discover hilly mountain peaks and discover the perfect mountainous topography. Reaching the place is therefore an adventure in itself.
You can discover the beautiful Tsomgo Lake surrounded by snow-clad mountains. The untouched or virgin nature at its best can elevate your senses to an all-new high. You can view migratory ducks inside the lake. You can view pretty-looking yellow and blue poppies, Irish Primulas, and a lot many flower blossoms. Added to the resplendent beauty of nature, you can organize trekking trips or nature trail walks too. For those of you who cannot explore the destination spot via barefoot, you have yaks or ponies that can do the ride for you.
Nathula Pass
Nathula Pass is located at a strategic point in the Himalayas. Surrounded by snow-clad mountains and narrow roads, this is one of the best tourist spots in Sikkim. Nathula Pass in fact connects India with Tibet. You have the hub-spot situated at an astounding 4,310 meters above the sea level. You can do a Yak safari to discover the attractive areas of the place.
You can then witness border gates between India and China. You have an exquisitely built war-memorial that can invoke feelings of patriotism in every Indian. You can then visit the Exhibition center of the Indian army. For rave and vantage hilltop views, a trek all the way to Mt. Chomolhari is the right choice. You can view mountain peaks and the beautiful overviews of nature. You can feel mesmerized at the end of the trip.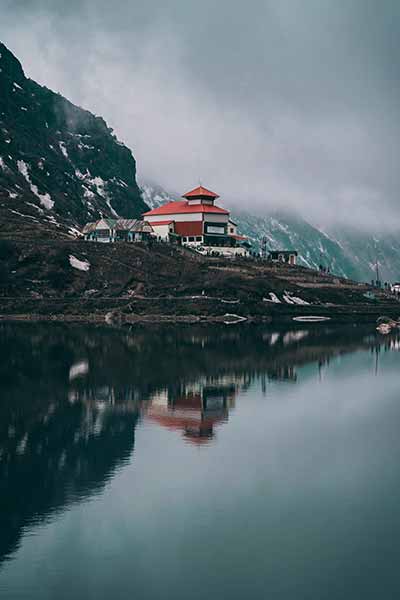 Tsomgo Lake Gangtok
Gangtok
Gangtok is the capital city of the state of Sikkim. You can be awestruck by the welcoming hospitality of locals out here. Moreover, you also discover never-ending walking trails where you find gorgeous silver-fir trees everywhere. You can aim for paragliding in the valley. This way, you can take beautiful photos of nature. You then have the Jhakri Falls that is worth exploring. The silver cascades can leave you spellbound. Via a yak ride, you can feel all excited. You can trek to Mt Kachendzonga. You get a bird's eye view of the city via a ropeway cable car. You can explore the beautiful nightlife plus hit out at a monastery too.
Teesta River
Teesta River is a beautiful River that can offer you with stunning background views indeed. This is a place in Sikkim that cannot be skipped out on. The river shimmers in sunrays and displays a perfect habitat for blooming flowers while it remains frozen during winters. You can aim for a perfect river rafting and kayaking across the backwaters of the River during summers. You can indulge in bird spotting and get lovely vistas of flora and fauna surrounding the vicinity as such. You also have the meeting point or the Sangam of River Teesta with its tributary namely the River Rangeet. You can travel via the Dikchu Bridge to reach Lachung.
Namchi
You have a fresh and breezy aura surrounding the place. Namchi is known for its lovely blossom of yellow orchids especially during the spring season. You can also get a beautiful view of snow-capped mountains coupled with woodland valleys. The scenic view of the place is stunning and is alluring to your senses.
You can view the Khangchendzonga mountain range from the spot. You have an old Buddhist monastery where you experience peace and tranquility to the inner soul in you. This is the Sherdup Choeling Monastery. You can view beautiful tea gardens enroute hiking trips or nature trail walks. In addition, you have a beautiful rock garden to mesmerize with. To view festivities and the cultural extravaganza of Sikkim, the Namchi Mahotsav is held in October every year.
Lachung
Lachen is a distant village in North Sikkim that is also home to Tibetan nomadic tribes. Lachung is the top-most peak situated in Lachen. You also discover a beautiful valley named Yumthang that offers you with a stunning backdrop of snow-capped peaks. Lachen, Lachung, and Yumthang are beautiful tourist locales worth exploring to their fullest. Lachung is one of the most popular tourist hubs in Northern Sikkim as you can view snowfall at its best. The picturesque journey from Lachen to Gurudongmar lake can be a great adventure for tourists. The lake remains frozen during peak winters.
During spring, you can witness the rhododendron bloom indeed. It can be a visual treat to your senses. The Lachung Gompa is another tourist hub wherein a Buddhist monastery is situated in. Mt. Pandim, Mt. Kabru, Mt. Simvo, Mt. Jopuno, Mt Khangchendzonga, and Mt. Siniolchu are beautiful snow-capped peaks you can witness within the Lachung peak itself. You also have a famous wildlife sanctuary namely the Gangtok Rhododendron Sanctuary. This spot is meant for nature-lovers who want to view flora and fauna at its absolute best.
Zuluk
This is one of the tourist locations in Sikkim that is less traveled. But you can have natural and scenic views that are stunningly beautiful. Zuluk is a hill-town that is located Enroute Silk Pass. You have the hub spot surrounded by snow-capped mountains during peak winters. You can also witness the snowfall of Sikkim. The Enroute is between Sikkim and Darjeeling. Hence, this is a lovely stopover for those of you wanting to go to Darjeeling. You have the Nag temple wherein Hindu pilgrims visit in huge numbers. You can get lovely views of Mt Kanchenjunga from here. Moreover, you have the Thambi viewpoint atop the hilly peak.
These are some of the most beautiful and resplendent tourist spots you can cover in and around the lovely state namely the Sikkim.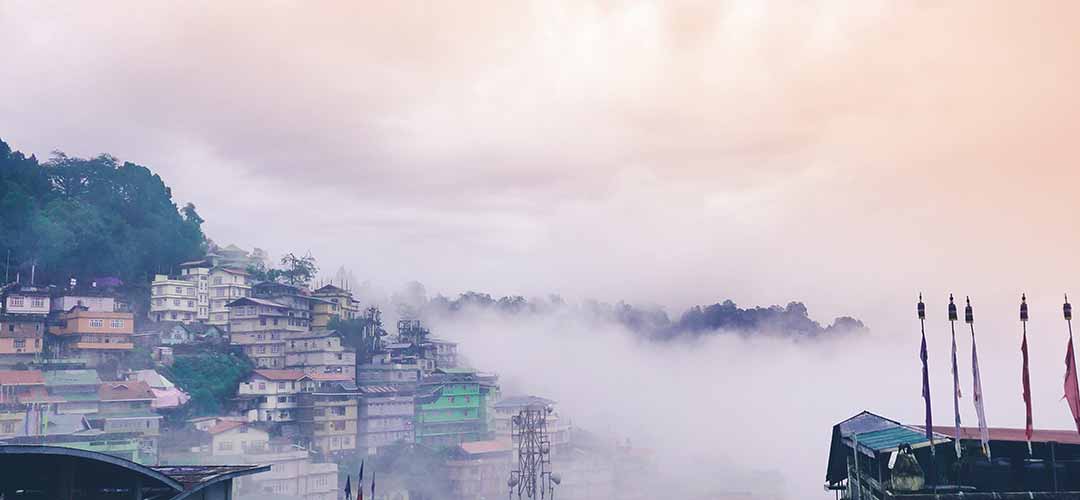 Gangtok Sikkim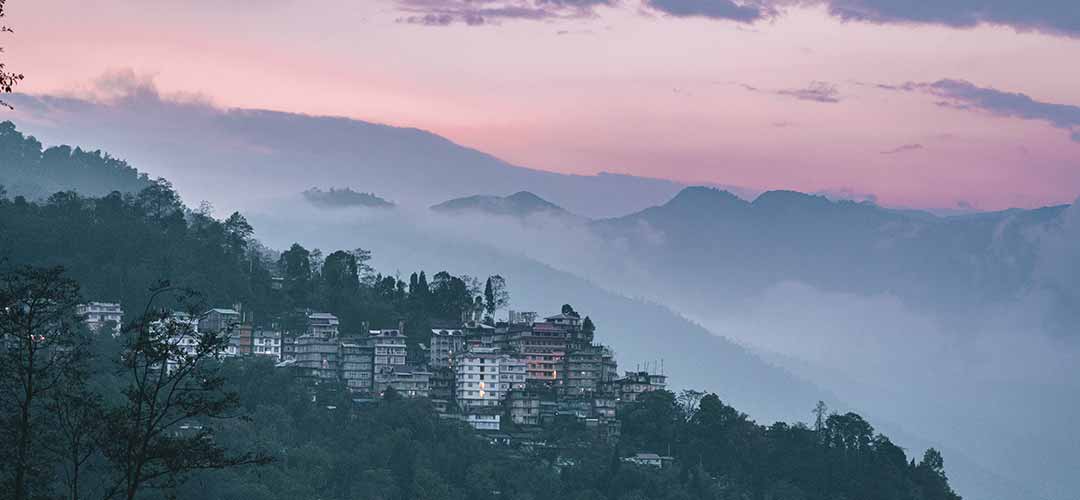 Pelling Sikkim
The Best food and shopping experience in Sikkim
Sikkim food is a perfect confluence of Nepal, Tibet, and Indian cuisines. Rice and dhal are the staple food products out here. You get forest fresh vegetables that are cooked, and spices too are made from the freshly grown herbs out here. Red-hot chilly pickles go well with a snowy weather most part of the year.
Churpi is a cow-based milk cheese that is dairy fresh and is a thick accompaniment to pasta, home-made pizzas, etc. Phing (glass noodles), chisnu (nettle soup), Gyakho-a chimney stewed soup, gyathuk a hand-made soup with macaroni, and locally seasoned herbs, along with chicken, pork and beef dishes are typical Sikkim delicacies. Khodo is a millet-based pancake and fafar rotis can be had with dal or sabji. Momos and thupka are roadside eateries. High-end dining restaurants can be easily located at Gangtok. You have bamboo straws and mugs serving you hot water or milk. Chaang is a locally brewed millet beer. This is fermented and milky based served to guests residing in homestays.
Handicraft items made from bamboo, cane, or beautiful rosewood can be availed from stores in Lachung. You can avail silk shawls; exotic variants of tea and kurta set from stores in Gangtok and Pellong. Ivory jewelry can also be availed at exquisite stores selling hand-made jewelry.
We have therefore covered end-to-end aspects on the travel trip to Sikkim. You have lower oxygen levels at certain high-altitude places. Sub-zero temperatures can also be experienced at parts of the state during peak winters. Travelers are requested to make the necessary arrangements while planning travel to this beautiful place.