Haryana is the state that brings the best of two worlds for you to drool over. On one hand, you have the ancient culture brimming via green fields, rustic museums, narrow-tucked street line towns, and so on. On the other hand, you have cities filled with wide roads, posh highways, and swanky buildings tucked to every corner you come across. The state reminisces itself with art and culture. Festivals are celebrated with pomp and splendor as witnessed in other parts of India.
Haryana is praised for its cultural diversity while maintaining calm and poise amongst people of varied religious beliefs. You can witness acres and acres of green fields, vibrant sunsets, and a rich culture that radiates through the nook and cranny of the place. Come on; let us unveil more delightful aspects of Haryana. This is the land of milk and butter indeed!
The best time to visit Haryana
You must have an overview of the weather conditions out here. You can then understand the right time to visit the state of Haryana, as such. Let us have a look at the climatic scenario right here:
Summers- March-June; Temperature belt: 30 degrees Celsius- 47-degree Celsius Summers can be warm, humid, and extremely oppressive out here in Haryana. People get heat strokes when venturing out during the peak of summers. Tourists and vacationers, therefore, give it a skip to visit Haryana at this point in time.
Monsoons- July- October; Temperature belt: 26 degrees Celsius- 35-degree Celsius. The spells of rainfall received by the state of Haryana is quite inconsistent indeed. Some parts of the state receive an annual rainfall of 256 cm while in few areas, the annual rainfall is as low as 26 cm. Water logging is an issue in certain low-lying cities or towns of the state. However, local inmates look forward to rains as a welcome respite from scorching summers.
Winters- November- February; Temperature belt: 5 degree Celsius- 20 degree Celsius. Day temperatures are pleasant and nice. You can explore cities, and places of religious interest in and around Haryana. The nighttime temperatures can drop to 5 or 7 degrees Celsius. You may require sweaters and warm blankets to keep your bodies warm.
Looking at the overall weather chart, the months between November- February is the best time for you to plan a vacation to this state of India. You can explore monuments, havelis, have fun relishing roadside eateries, and a lot more.
The best Places for tourist interest in Haryana
These are some of the best places of tourist interest in and around Haryana. Let us have a glimpse into each of them:
Kurukshetra
Kurukshetra is a land in the Haryana state of India. This is also known as the 'Land of Bhagwat Gita'. This is one of the oldest cities known to Indian civilization. Kurukshetra is roughly situated at 170 km from Delhi. This is the famous place where the battle took place between the Kauravas and Pandavas. This is the famous Mahabharata yudha. Kurukshetra is also the place wherein Lord Krishna chanted Bhagavad Gita to Arjuna.
The place is therefore known for its Vedic and religious sanctity indeed. Lord Gautama Buddha and several Sikh saints have preached and given their sermons right here. Asoka the great was a Mauryan king who made Kurukshetra a hub for learning. The place is famous for its share of temples, museums, lakes, and archeological wonders too. Brahma Samovar, Bhishma Kund, Krishna's museum, and Lord Abhimanyu's fort are places of iconic interest here.
Gurgaon
Gurgaon was once a relatively unknown suburb of the National Capital Region or NCR. But today, it is one of the most urbanized cities in the world. You have skyline buildings comparable to the ones you find in Hong Kong and Singapore. Gurgaon is a bustling city that is easily accessible from Delhi/Noida. Hence you have posh hotels and travel inns to accommodate travelers who come here on business visits too. Not only do you have a flourishing lifestyle here, but you also have a nightlife that is comparable to none other.
Gurgaon is also power-packed with nature-lover spots indeed. The Sultanpur National park and bird sanctuary is a wonderful place where you can discover unique varieties of flora and fauna. You have unique varieties of bird species too. You can visit the place to be one with nature. Again, you have another beautiful spot named the 'Sohna Lake'. The lake received its name, as it is believed that sand particles surrounding the lake contain granules of gold dust. From Sohna Lake, you can also get a magnificent view of the Aravalli Mountains. This is the largest natural lake in the city. You can experience adventure activities like kayaking, boat paddling, rock climbing, and valley crossing too. The sunsets from Sohna Lake portrays hues of red and orange. This can be a visual treat for your senses.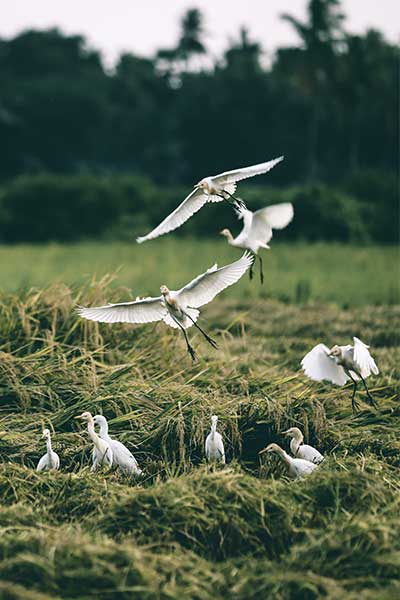 Sultanpur National Park
Panchkula
Panchkula is a pretty-looking scenic town in the state of Haryana. You have this lovely spot EnRoute Shimla. For those of you looking for a lovely stopover, this is the spot indeed. Panchkula, the land of five canals, is famous for peacock spotting too. Families can spend their lovely quality moments by planning for picnics or excursion trips right here. This place makes a great point for weekend getaways too. Panchkula also happens to be the satellite town connecting Haryana with Chandigarh and Mohali. Hardly 5 km from the place, you find a variety of eating options and an open-air amphitheater too. Movies are screened out from time to time.
Faridabad
Faridabad is one of the bustling cities out here in Haryana. The city shares its borders with UP, Gurgaon and New Delhi. You have city-based hangouts and nature-driven spots too here in Faridabad.
Panipat
Panipat is a town in Haryana that has a magnificent historical significance indeed. It was here almost three battles were fought. We fought the British to get independence for our country. The place is situated at a distance of 90 km from Delhi. You have an innumerable number of forts, museums, forts, and temples to mark iconic hubs for tourists. Also known as the 'city of Textiles, you have apparel producing hubs in parts of the town.
Damdama Lake
Damdama Lake is situated at a distance of 24 km south of Gurgaon. The spot offers scenic viewpoints in a ravishing manner indeed. This scenic point has awesome weather and is surrounded by the famous Aravalli hills through the sides. This lake was commissioned by the British Govt back then to utilize as a source-hub for rainwater harvesting. Now, this scenic locale is home to around 190 varieties of migratory birds. Bird lovers and nature dwellers will find this place a real haven to be in. The spot also offers boating and excursion facilities for tourists. With mountain views, lakes and birds, the spot is the ideal getaway for inmates of Delhi and Gurgaon.
Chandigarh
Chandigarh is the capital city of both Punjab and Haryana, while the bustling city is also a Union territory as recognized by the Central Government of India. The city is known for its clean and green atmosphere. You get great food too here in Chandigarh. You have Chandigarh situated at a distance of 265 km from New Delhi, the country's capital city. This can be a favorite hangout spot for eateries or sports activities. Weekend road-based bikers also love traveling from Delhi to Chandigarh.
You have the Sukhna Lake, rock garden, Leisure Valley, and the Rose Garden as popular tourist hubs in and around the bustling city. Chandigarh's Rock Garden deserves a special mention indeed. Its rock-cut design has been hand-sculpted indeed. The flowers, trees, and shrubs fit into rock-caves in a perfectly poised manner. One of the must-see spots in Chandigarh. Well, these are some of the popular tourist locales in and around the state of Haryana.
The best food and shopping
The food in Haryana is known for its rich color, aroma, and a delicious flavor. A liberal dose of ghee is added while preparing culinary dishes here. Milk, ghee, and buttermilk find their way through every meal prepared at households. Wheat and Bajre Ki rotis can be had with Rajma masala. Aloo tikki, Saag Ghosht, Bajre Ki khichri, Bathua ka raita, Singri ki sabji, Methi paranthas, Bathua Raita, Kadai hara cholia, Rabdi, and Gajar ki halwa are other popular Haryana cuisines you can taste in a delectable manner. Full dining restaurants serving Gujarati or Rajasthani thalis can be found aplenty in Gurgaon and Chandigarh. Elaborate cooking with distinct colors or flavors is known among households in Haryana.
Exclusive varieties of designer apparel can be bought at malls and plazas situated in Gurgaon. Earthen artifacts and religious products can be availed at stores in Kurukshetra. You can avail kurtas, pajamas and kurti wear at apparel stores in Faridabad. Lucknow chikankari kurti sets for women can also be availed at local stores or bazaars in Chandigarh.
We have covered end-to-end aspects of the lovely state of Haryana. Known for its greenery and extended paddy fields, you can get an aura of living in the countryside. While this aspect remains intact, you can visit palatial plazas and skyscraper buildings of Gurgaon. Hence, the state of Haryana meets both the worlds.