Uttar Pradesh is home to one of the Seven Wonders of the World indeed. Yes, the Taj Mahal in Agra belongs to the state of Uttar Pradesh. UP is known for its exquisite art forms like hand painting and creations on hand made jewelry too. You can witness some of the exquisitely designed monuments and cultural extravaganza out here in the state. With massive influences of powerful kings who ruled the state, dance and art forms have flourished well.
Kathak is one of the finest forms of classical dances that was originated here in UP. The Nawab cuisines dominate the culinary domain. With every street outlet selling kebabs or sheik rolls, you also have samosa and kachoris that are equally famous. You have the Taj Mahal in Agra while you find the birthplace of Rama in Ayodhya. With a beautiful religious and cultural conglomeration, let us move on to discover intricate aspects of the magnanimous Uttar Pradesh.
Best time to visit Uttar Pradesh
You must analyze the weather chart of Uttar Pradesh to decide the best time to visit the place. You have summers, monsoons, and winters forming a comprehensive weather belt of Uttar Pradesh. Helping you with the details:
Summers- March to June- Temperature zone: 32 degrees Celsius until 47 degrees Celsius in peak summers. The summers in most states of the north India are swelteringly hot and humid. The temperature can hit on a mercury high ranging 45-47 degrees Celsius. People who venture out in the hot sun in Delhi or Allahabad are more likely prone to sunburns or heat strokes.
Monsoons- July to September Average temperature: 33- 35 degrees Celsius. Most parts of Uttar Pradesh start getting their first rainfall spells during mid-July. Most states in Uttar Pradesh receive moderate rainfall indeed. However, the people look forward to rains as they get an immediate escape from scorching summers.
Winters- November- February, Temperature zone: 20 degrees Celsius- day temperature, Night temperature- 5-7 degree Celsius. Winters can be extremely cold here in most parts of Uttar Pradesh. During mornings, most of the cities out there are covered in thicker blankets of fog or mist.
Looking at the overall weather chart of Uttar Pradesh, October to March is the best time to visit the state. The weather is cool and pleasant for you to explore authentic cities. Rains do not come your way when you must do comprehensive shopping. You can taste foodie delicacies to your heart's content. And do so much more.
Best places of tourist attraction in Uttar Pradesh
As already said before, Uttar Pradesh comprises cities that are rich in culture, heritage, and shares a unique diversity too. This is the place where you find the majestic Taj Mahal. This is one of the Seven Wonders of the World. Let us look more into the iconic tourist hub spots, Uttar Pradesh offers:
Agra
Located on the banks of River Yamuna, Agra is a city that is home to museums, forts, and the iconic Taj Mahal. Taj Mahal is regarded as one of the Seven Wonders of the World. The tomb represents an immemorial essence of love as Emperor Shah Jahan built it in the memoir of his wife Mumtaz. It was built using the purest form of marble and ivory. You can witness the architectural splendor of the Mughal Empire. Apart from the Taj, you also have the Agra Fort and Fatehpur Sikri that are considered as UNESCO world heritage sites indeed. You can visit Agra, Delhi, and Jaipur as a part of the Golden Triangle circuit in Uttar Pradesh.
Varanasi
Varanasi is the oldest city in the world. Also known as Kashi or Banaras, this is a holy pilgrimage spot for the Hindus. Kashi represents one of the seven holy cities as depicted in the Vedas. The city is located on the western banks of River Ganges. You also find the Kashi Vishwanath temple in Banaras. Pilgrims throng to the temple in huge numbers indeed. Banaras is the abode for Lord Shiva.
Varanasi is also considered as an auspicious place for a person to die. A person who dies in Varanasi is granted moksha or helps the soul get a permanent liberation from the cycle of births and deaths. You can view Ganga Arthi in most of the temples out here in Varanasi. This divine city is also an auspicious one for Buddhists. Gautam Buddha performs his first sermon in Varanasi now known as Sarnath.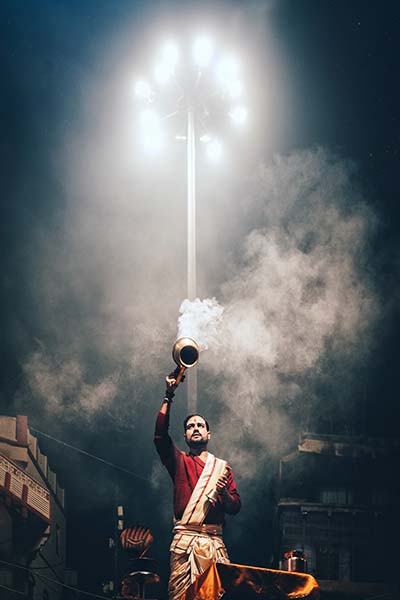 Ganga Aarti Varanasi Uttar Pradesh
Vrindavan
Vrindavan is one of the oldest cities situated on the banks of River Yamuna. Vrindavan is famous for pilgrims who are staunch followers of Lord Krishna. This is the city where Lord Krishna had spent his beautiful childhood days. The name of the city has been derived from two words. Vrinda- means Basil and Van means grove. These are the two groves namely Nidhivan and Seva Kunj.
Vrindavan houses hundreds of Radha-Krishna temples that are scattered throughout the city. The world-famous ISKCON temple has been built using the unique artifacts that were used by the Lord himself. The surroundings represent the playful and benevolent character of Lord Krishna. As the city is located on the banks of River Yamuna, you have numerous temples dotting alongside. These are temples set up against the backdrop of thick woods and lush greenery of Vrindavan, marking the hub as a popular tourist destination.
Lucknow
Lucknow is the capital city and the largest metropolis covering Uttar Pradesh. This is a glistening city wherein Mughal emperors had ruled our country. The city, therefore, is a rich conglomerate of art, literature, and architecture indeed. The city of Lucknow is divided into Old Lucknow and New Lucknow. Old Lucknow is more crowded and comprises of architectural remains of the Mughal Empire. You have century-old mosques, museums, fortresses, architectural monuments, and the like. You also find narrow lined streets bustling with kebabs, chaat items, and other North Indian delicacies. Moreover, you have stores selling Lucknowi chikankari saris and salwar suits along with imitation jewelry.
New Lucknow on the other hand is more urbane and well planned. You have wide roads, malls, shopping centers, pubs, and vital elements a cosmopolitan lifestyle can accommodate.
Allahabad
Allahabad is a bustling city located in the state of Uttar Pradesh. Here, you find the meeting point of three important Rivers, also known as the Triveni Sangam. These rivers are Ganga, Yamuna, and Saraswathi. Allahabad is also a sacred city for Hindu pilgrims. The world-famous Kumbh Mela is held here at the Sangam City. Allahabad is equally a favored city for Hindus and Muslims who maintain their religious unity intact. The Allahabad Fort is a UNESCO world heritage site that recognizes historical significance. The spot also sanctifies the rich cultural heritage of the country. Anand Bhawan, The Saint Cathedral Church, the Chandrashekhar Azad Park, and Allahabad Museum are other hub spots tourists can visit while planning a visit to the city of Allahabad.
Mathura
Mathura is the holy city located in Uttar Pradesh. This city is regarded as the hometown of Lord Krishna. Mathura and Vrindavan are twin cities that signify the birthplace and childhood memoirs of Lord Krishna. Hence, pilgrims and tourists around the world are attracted to these two places. One side of Mathura is stretched across River Yamuna and is lined up with almost 25 Ghats. You can take holy dips at pre-dawn.
Hundreds of diyas are lighted during evenings. Janmashtami, the birthday of Lord Krishna is celebrated with great fervor across Mathura-Vrindavan. Mathura is the exact spot where Lord Krishna was born. The prison where he was born in is still available for tourists to have a glimpse into. Dwarkadheesh temple and Gita Mandir are other famous touring hub spots in Mathura. You can, therefore, discover an old-world charm here. The streets are lined with a mouth-watering array of jalebis, samosas, and kachoris you can have.
Ayodhya
Ayodhya is situated on the banks of the River Sarayu in Uttar Pradesh. This was the city where Lord Rama was born in. Henceforth, Ayodhya is also regarded as one of the seven sacred cities for the Hindus. The religious town is also a popular one for Buddhists and Jains. You have the Babri Masjid that was built here in Ayodhya during 1992. Ramlalla temple, Babri Masjid, and Jain temples are hub spots for tourists to visit while they tour the city.
Jhansi
Jhansi is a city that can invoke feelings of heroism for every Indian. This is the city wherein lady freedom fighter Rani Laxmi Bhai single-handedly fought against the mighty British. The city is located on the southern end of the Bundelkhand district. The Jhansi Fort built by Raja Bir Singh Deo is the palace where Rani Laxmi Bhai reigned. The throne, therefore, amplifies feelings of patriotism among Indians. She fought against the British army. She was fearless and bold while she had faced the army. The Jhansi Rani fort is an iconic tourist hub indeed. You can also visit Gwalior, which is about 90 km from the city of Jhansi. This is the 3rd cleanest city in Uttar Pradesh.
Kanpur and Meerut are other bustling cities covering the state of Uttar Pradesh. You also have wildlife sanctuaries and hill stations that are in easier proximity from the state as such.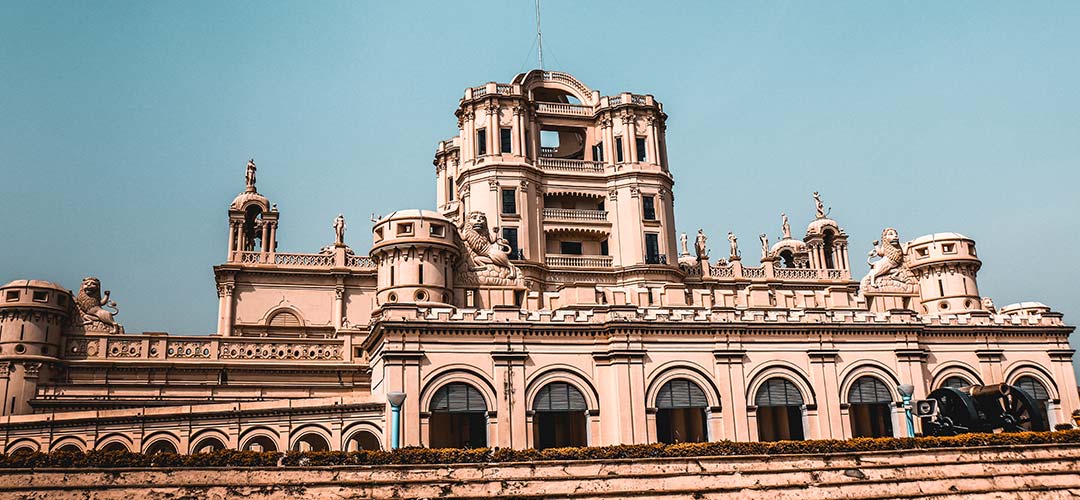 La Martiniere College Lucknow Uttar Pradesh India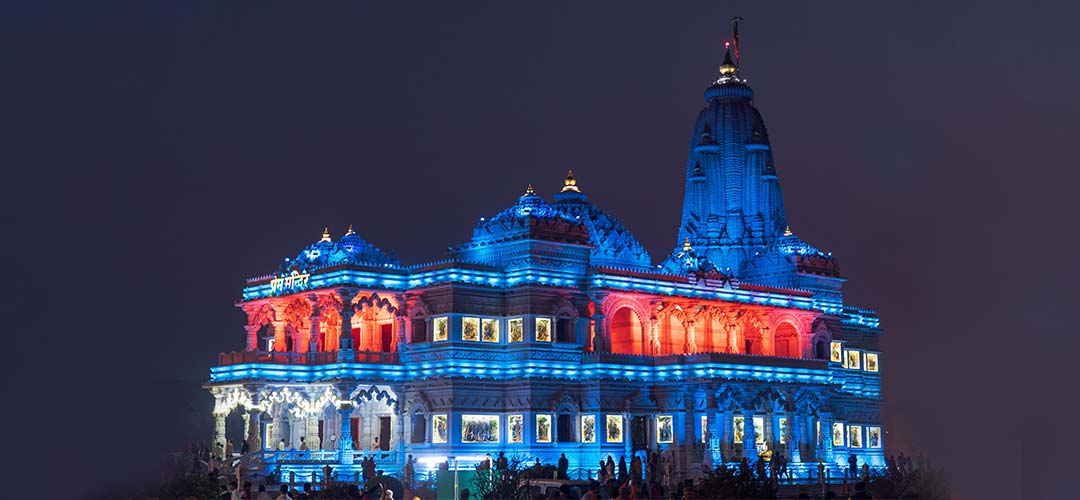 Vrindavan Uttar Pradesh India
The Best food and shopping experience in Uttar Pradesh
You find a mouth-watering array of dishes and culinary delicacies surrounding the state of Uttar Pradesh. The state of Uttar Pradesh is a melting pot of cultures. Hence, you find all types of foods here. Samosas, Kachoris, Parathas, Chole Bathure, Rajasthani thali, Kofta, Chaat, and Kebabs are famous in road-side eateries and stylish high dining restaurants. Rabdi, Jalebi, Kulfi, and Ras Malai are sweets that can be savored at every street outlet or restaurant out here. Kebabs, Mughlai dishes, and Nawabi kormas are also equally famous here. Thanks to the impact the Mughal Emperors have left on Uttar Pradesh.
Banaras Silk saris are lightweight and posh. You can shop for them across handloom stores. You find Lucknowi Chikankari saris and salwar suits in street shops and high-end stores too. You can get them at compatible prices. Embroidery work shawls, kurtas, and designer saris are equally famous out here. Terracotta paintings and traditional diyas can be availed at high-end stores in Mathura and Vrindavan. You can get religious artifacts from Varanasi. Zardozi saris and imitation jewelry including colorful glass bangles are products of shopping interest for tourists and vacationers who plan for their vacation to Uttar Pradesh.
The online travel guide covers some of the most beautiful and intricate aspects covering Uttar Pradesh. As this is a land with a buzzing cultural heritage, you find the people out here as warm and hospitable. Have not you packed your travel bags yet?