West Bengal boasts of a beautiful culture indeed. You have rich ethnicities, cultures, religions, and people that make the place warm. Natural beauty lends its touch via surrounding landscapes, forests, coastal lines, and hilly tracts. The state of West Bengal is a jeweled one indeed. You can view pretty-looking landscapes along with snow-clad mountains. You discover the gushing sea. You have enormous tea gardens overlooking the clouds. Plus, you have wide-spread deltas, natural forests, plentiful wildlife, lush greenery, ancient temples, and historic monuments. The state calls for a glorified and rich heritage too. Come on; let us unveil some of the beautiful features surrounding the state of West Bengal.
The Best time to visit West Bengal
Let us have a look at the weather-chart. This way, you can deduce when the best time to plan a holiday at the place is.
Summer- The summer at West Bengal can be hot and oppressive indeed. The temperatures start at 20-degree Celsius early mornings. While mid-afternoons and peak evenings touch a staggering 40 degree Celsius. This is surely not the ideal time for tourists to venture into the place or do sightseeing. Summers are between March and June.
Monsoon- July to September are months that mark the monsoon weather in West Bengal. The average rainfall varies from state to state. The spells range from 120 cm to 250 cm. Hilly regions or mountain tracts receive very heavy rainfall. The western plateau comparatively receives lesser rainfall. Districts of Puralia and Bankura experience draughts too. Coastal areas receive heavy rains, but they become humid during the evenings.
Winters- Winters in West Bengal start by mid-October and lasts until February. Winters can be cool and pleasant. Average day temperatures fall at 15 degrees Celsius. While at nights, the temperature dips to 5 degrees Celsius. January is the coldest month of the year. As some regions in West Bengal fall at the eastern Himalayan belt, hilly tracts like Darjeeling can experience snowfall too.
Hence, October to March is the best time of the year for tourists to unravel the place. They can view Howrah Bridge, travel by trams, visit historic monuments, watches tiger reserve, etc. This way, they can indulge themselves in all kinds of colorful holidaying activities the state has to offer.
Best places of tourist interest in West Bengal
You have resplendent locations when it comes to touring in West Bengal. You can enjoy the spectacular view of the Howrah Bridge at Kolkata, travel by trams just like the ones you find in London and also rejoice at the idea of sipping tea at Darjeeling. This is one of the finest hill stations in West Bengal. WB also houses a tiger reserve that is one of its kind.
Kolkata
Kolkata is one of the bustling metros of India, apart from Chennai, Delhi, and Mumbai. Apparently, this city is the capital of West Bengal indeed. You can experience a laid back and happy going life out here. Kolkata is in fact the 'City of joy'. The streets of Kolkata are chaotic and hectic. Yet there is brimming energy amongst the people residing here. You can sit by the banks of Hooghly River doing your early-morning prayers. You can visit the iconic Howrah Bridge that is just 2 km away from the city center.
You can visit Rabindranath's ancestral property, which has now been converted, into a museum. From the Prinsep Ghat, you can view stunning views of the city. You have beautiful parks and pubs dotting the city-center too. You can try local chaat items like Jhalmuri or Ghungni Chaat. Millennium Park is another major attraction where you experience waterfalls, night light fountains, etc. You can also avail boat rides and cruises out here.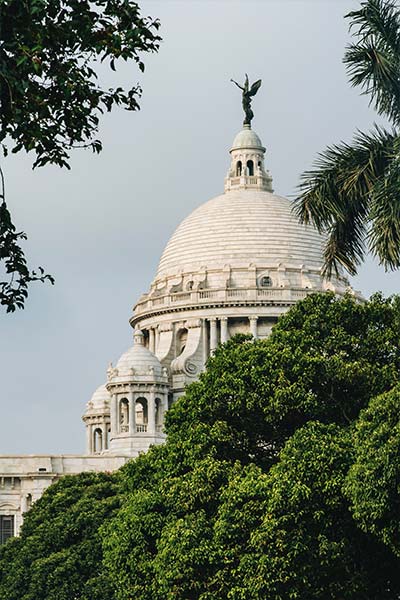 Victoria Memorial Kolkata West Bengal
Darjeeling
Darjeeling is ideally located at 2500 meters above sea level. Hence, you can experience cool and pleasant weather throughout the year. You can open your vistas to witnessing some of the most mesmerizing sunrises atop the hilly tracts. Moreover, you can discover the untouched tranquility of nature coupled with old-world charm. These are aspects that make Darjeeling, one of the sought-after destinations across the Eastern part of India.
You can find lush greenery wherever you go. Those exotic tea plantations can be a treat to your visionary senses. The toy train that was established by the colonial rulers, back in 1881 is a UNESCO world heritage icon indeed. Plus, Darjeeling as fondly known as the 'Queen of Himalayas' also boasts of monasteries, botanical gardens, wildlife zoo, and rope-way cable cars.
Sundarbans
This is a typical forest area that is in West Bengal. WB preserves it in the form of a tiger reserve. You can find rare varieties of Bengal tigers housed at the Sundarbans National Park, WB. Sundarbans National Park is located on the banks of the Sundarbans delta. You find a mangrove forest that is home to unique varieties of flora and fauna. The site is preserved as a UNESCO world heritage one as it also contains unique varieties of birds and reptiles including salt-water crocodiles. The wildlife sanctuary is estimated to house around 400 Bengal tigers and 30,000 spotted deer till date.
Siliguri
Siliguri is situated at 560 km from Kolkata. This is the third-largest city in West Bengal. The holiday town serves as a trekking base for tourists who come to surrounding hill stations like Darjeeling, Gangtok, Kalimpong, and Bhutan. The holiday town is known for its lush greenery. Plus, the place exports tea and timber products to the major parts of the globe. The Jaldapara National Park situated across the banks of the Torsa River is one of the major attractions of Siliguri. You can see impressive varieties of fauna including Bengal tigers, rhinoceros, deer, elephants, and one-horned antelopes. You can take elephant rides or arrange for jeep safari rides to view animals in closer vicinity.
Nature lovers can also trek their way down to North Bengal Wild Animals Park. One can witness an astounding variety of flora and fauna out here, just 50 km away from the town of Siliguri in Mirik. This is a holiday destination that is resplendent enough to attract tourists in huge numbers. You have a palatial lake named Sumendu Lake. Lush greenery and trees surround the breathtaking lake. You can have a fabulous view of the lake by opting for a boating ride.
Kalimpong
Kalimpong is a famous tourist destination in West Bengal. It calls for its virgin beauty in terms of elevated hilly tracts, meadows, and valleys, and lush greenery all around the place. The place is famous for its Buddhist monasteries. You also find churches and shops selling Tibetan handicrafts. This hill station is situated at the foothills of the Shivalik ranges. The hill station overlooks Teesta Valley. Kalimpong is located at an altitude of 1250 meters above sea level. Overlooking the east of Darjeeling, this is a beautiful hill station indeed.
Kurseong
Kurseong is also known as the 'Land of White Orchids'. This is a beautiful hill station located in closer proximity to Darjeeling. You can view beautifully designed temples from the top of the hill. Situated on the Darjeeling-Siliguri highway, Kurseong is a quieter hill station indeed. The hill town destination enjoys a milder or pleasant climate all around the year. Plus, during the monsoon season, the place receives bountiful rain spells as it can rain non-stop for days. The place is known as the 'Land of White Orchids' owing to the huge number of orchids growing on the hill slopes. You can also get mesmerized looking at lush green tea estates, forests, and snow-clad mountains. This is a small stopover En route your visit to Darjeeling.
Durgapur
Durgapur is a city that is located at 170 km from Kolkata. The city is often referred to as the 'Steel Capital of India'. You can view the city for its old-world charm indeed. The local markets or bazaars are filled with people who can offer you with their warm hospitality.
Durgapur is situated in the Burdwan district of West Bengal. In other words, it is located on the banks of the Damodar River.
Shantiniketan
Shantiniketan is the city where Rabindranath Tagore was born and brought up in. It is a small town located in the Birbhum district of WB. Now, the city boasts of India's finest educational institutions called the Viswa Bharati. Rabindranath Tagore's father had set up the institute to radicalize the education set up in our country.
You have so many other beautiful places, museums, wildlife canopies, and laid back cities covering West Bengal.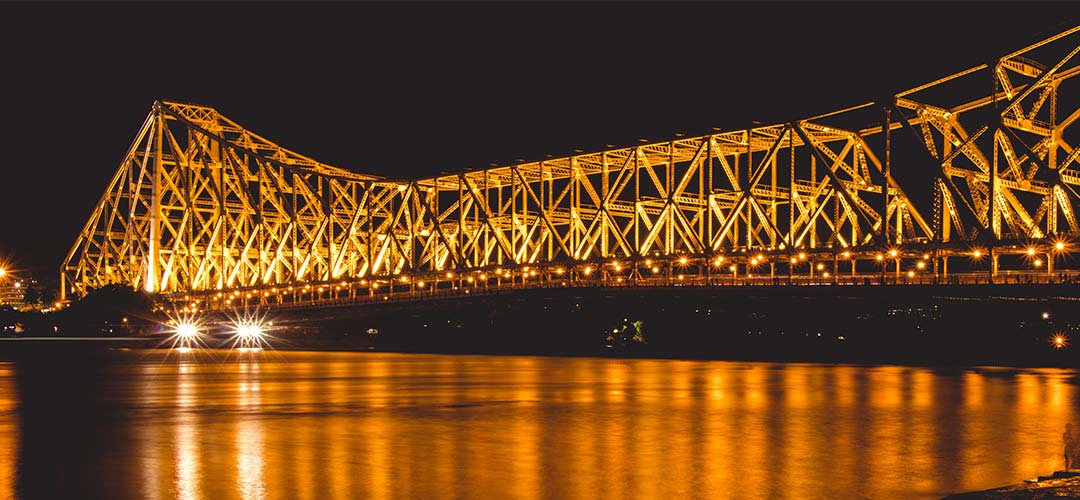 Howrah Bridge Kolkata West Bengal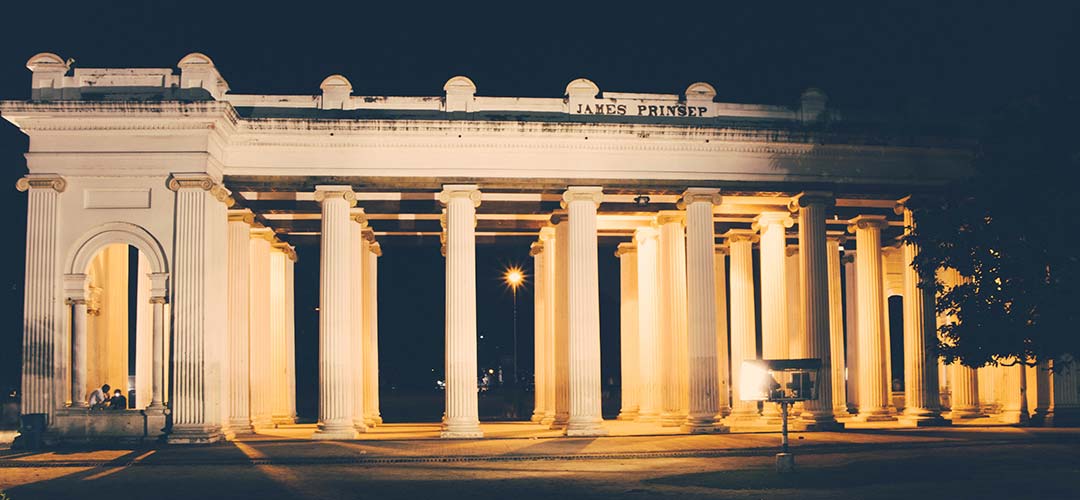 Princep Ghat Kolkata West Bengal
The Best food and shopping experience in West Bengal
Bengali food is rich in cuisine, taste, color, and texture indeed. Those mouth-watering dips of rasgulla, mishiti doi, Gulab jamuns, Chum-Chum, and other Bengali sweets can be great ones for tourists or vacationers to savor into. Fish, rice, and lentils form the staple food out here. Sukto, Ambole, Pitha, Chingiri Machar Malai curry, Machher Jhol, and Begun Bhaja are Bengal culinary that are famous at restaurants, eateries, and households.
Shopping products offer no dearth while you are here at West Bengal. Bengali silk saris and Batik work saris are famous across shopping outlets in WB. You can choose embroidery or zari work for your salwar suit materials too. You can shop for tea, jewelry, artifacts, and ethnic shawls while you are here.
We have covered end-to-end aspects covering the state of West Bengal. You have a mix of hill stations, wildlife sanctuaries, shopping centers, foodie outlets, and everything you want from a perfect holiday. So, have not you packed your bags yet?