Jim Corbett National Park is a mystical tiger reserve situated at Nainital in Uttarakhand district of India. You discover that the entire terrain of the tiger reserve has been designed in such a way that the ambiance promotes pure tiger richness. Royal tigers, elephants, four to five varieties of deer and a myriad variety of migratory birds make space unique biodiversity.
You can view the intriguing behavior of these enormous animals via a jeep safari tour. Come on, let us begin our wild expedition right away.
TOURISM IN JIM CORBETT NATIONAL PARK
Area-wise, Jim Corbett National Park occupies almost 520 square kilometers of the vast area. The entire terrain is filled with hills, marshy depressions, grasslands, riverine belts, and a huge lake. The land-area is, therefore, a blissful ambiance for these royal beauties to roam at free-will. Do you want to enjoy the entire landscaping of India's biggest Tiger Reserve? Then you will have to book for a jeep/safari drive.
Nature watching/ wildlife viewing can be a fascinating experience for animal lovers. You, therefore, have open four wheeler jeeps where you find these magnificent creatures at play. Some of you can sit on elephant's back to have a magnanimous view of these Royal Tigers. In order to view the finest National Park, the zone has been divided into five main regions:
Bijrani Safari Zone
This is a beautified zone that has an abundant deal of grasslands. You get captivated by the natural beauty surrounding the place. The entry gate of this place is situated at a distance of 1 km from Ram Nagar City.
Jhirna Gate
Jhirna Gate is another tourist hub within the expansive Jim Corbett National Park. The zone is kept open for tourists all through the year and situated at a distance of 16 km from Ram Nagar.
Dhela Safari Zone
Here you find exclusive varieties of fauna at their best. This is an eco-tourism zone that was just opened during the year 2014. The Dhela safari zone within Jim Corbett is situated at a distance of 13 km from Ram Nagar.
Dhikala Zone
This is the largest. And can wonder you with myriad varieties of exclusive flora and fauna within the Jim Corbett premises. You also discover the abundant natural beauty surrounding the same. Overnight stays are highly recommended for wildlife enthusiasts and situated at the distance of 18 km from Ram Nagar.
Durga-Devi Zone
This ecotourism spot is mainly meant for the avid bird lovers out there and located on the North-Eastern boundary of Jim Corbett National Park. Entry gates for this bio-diversity park are situated at a distance of 36 km from Ram Nagar.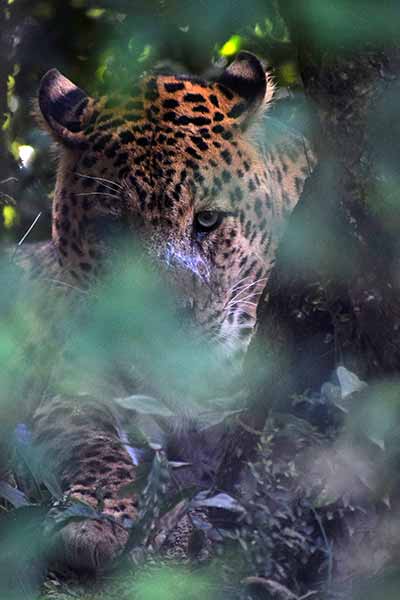 Jim Corbett National Park Safari
HISTORY AND CULTURE OF JIM CORBETT NATIONAL PARK
You find Jim Corbett National Park that tells you about the unique history and culture of tiger fables indeed. This tiger reserve was opened during the year 1936. It was named the Hailey National Park. It has the glory and prestige of being India's oldest tiger reserve. Not only that, you have other historical attributes about the same.
Project Tiger was launched here at the Jim Corbett. This was done during the year 1973. Royal tigers and even highly endangered otters seek shelter at this wild-spread reserve. You have a culture interspersed with the wild-beings at play. You can organize open jeep safaris even during the wee hours of the night. You can find tigers crossing the roads from your open jeep safaris. This way, you can discover the enchanting wilderness at its best. Elephants offer safari rides too. This can be one of its kind experiences. So the historical and cultural significance, this place has, is indeed a mind-boggling one.
TOURIST ACTIVITIES IN JIM CORBETT NATIONAL PARK
In order to have fun at the Jim Corbett sight-seeing park, these are the three exclusive ways to do so:
Arranging hotels
You have accommodation resorts and hotels that are built in the midst of Jim Corbett National Park. These have architectural beauty and settings that have a unique appeal. In a sense, these are built in such a way that you can have a beautiful view of tigers roaming for their prey or elephants taking a bath near the waters of the lake. Taking resorts near the Dhikola zone can be a heart-warming experience for bird lovers.
Corbett tour packages
You can opt for touring packages offered via Jim Corbett National Park. The destination takes you to some of the most exciting and upbeat locales where wild animals and elephants are at their best. The touring packages include safari drives, overnight stays, food packages, and a lot more.
Jeep Safari in Corbett
These are open four wheeler jeeps where you can catch a glimpse of Royal tigers at their best. You can see them crossing marsh hill-lanes, etc. You are taken to natural habitats where you can discover the richest concentration of animals. Game drives in open jeep safaris are therefore the best way to experience wildlife fascinatingly.
Note: Poachers and game hunters, please don't kill these poor creatures for your selfish needs. Kindly preserve them for our future generations too. And these add richness to our bio-diversity too.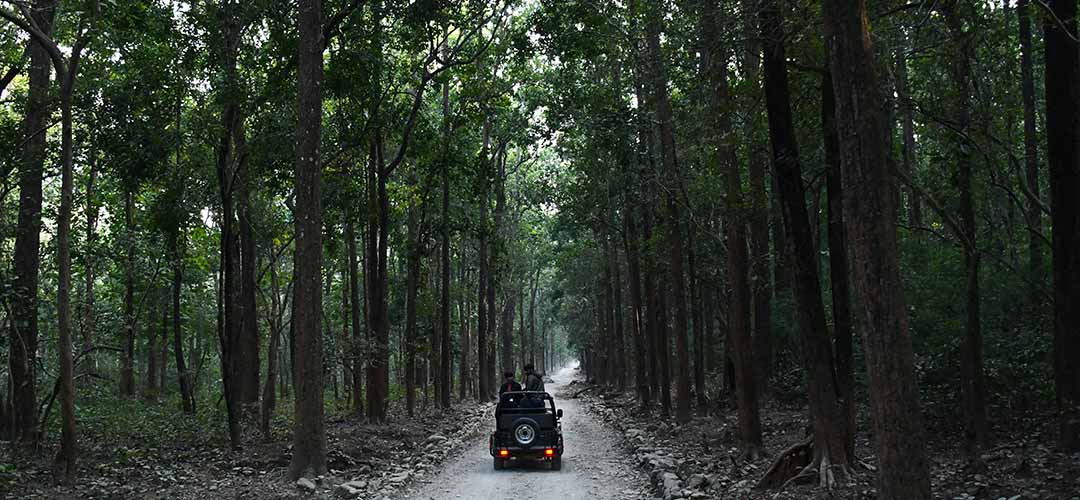 Jim Corbett National Park Safari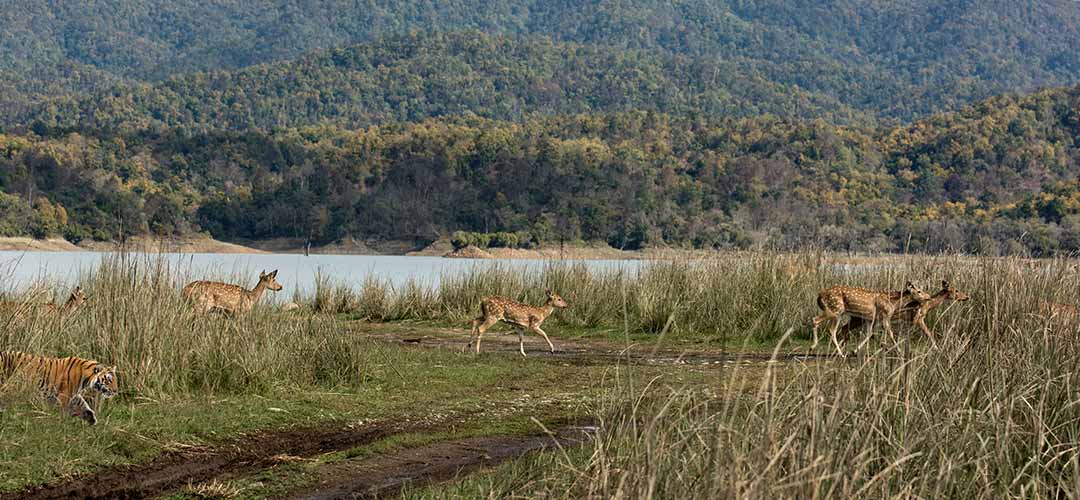 Jim Corbett National Park Safari
TOURIST ADVICE FOR JIM CORBETT NATIONAL PARK
Do not try feeding these animals with biscuits, chocolates, fruits, etc. The forest authorities serve them with the food they need.
Do not try to view these animals from a closer distance. The babies or toddlers can be kept slightly away from windows. The sharp claws of a tiger can scratch the skin or bruise you badly.
Take ample water to keep yourself hydrated.
Take precautionary steps, especially while you walk across marshy terrains or water-logged areas. This rule holds good while you enter the tiger reserve during the monsoon season.
Night-watching of animals can be done under the strict supervision of forest officials. Please do not try hurting the animals with stones or sharp objects. These mean no harm to humans.
You can visit the Jim Corbett National Park using rail, road or air. You can arrange for a cab driver once you reach the nearest railway station or airport out there. From Delhi, Nainital or Bareilly, you have to reach a small city named Ram Nagar. The park is situated at a minuscule distance of 15 km from Ram Nagar.
You can book for the Dhikala forest lodge online too. You have accommodation resorts that can offer you with a snug living experience. The ambiance can offer you with breathtaking vistas of flora and fauna.
Due to the constant human-animal conflict, many of these animals housed here are highly endangered species. Illegal hunting or poaching and habitat loss are two main factors which wipe out these lovely animals from our planet. Hence tourists and vacationers can enjoy the beauty and ambiance of the wilder zone without impacting the poor animals.