Dharamshala is one of the bustling pilgrim cities situated at Himachal Pradesh in India. You have cedar forests covering the edge of the hill-side. While you find popular Tibetan land-marks etching the landscape of the city as such. It is believed that this hillside town is home to Dalai Lama. You find a palatial library of Tibetan works and archives. You can find thousands of age-old manuscripts once you visit the library. You also find natural scenery filled with hills. Trekking you all the way to the top!
You find blissful mountains and valleys leading you to Upper Ravi Valley, Triund and so on. You also have lower Dharamshala where you find Tibetan caves and much more. Let us have a glimpse into other aspects of this beautiful city in Himachal Pradesh.
REGIONS OF DHARAMSHALA
Dharamshala is a city that is strategically located in the Kangra district of Himachal Pradesh. It is situated at a whopping elevation of 4,780 meters above the sea-level. It covers an area of 8.51 km square or 3.29 square meters. As stated in the introductory paragraph, the region is divided into two sections. These are Upper Dharamshala or just Dharamshala and Lower Dharamshala
Upper Dharamshala comprises narrow or steep roads leading you into the McLeod Ganj. This particular stretch consists of a narrow pathway only accessible to smaller cars or taxis. You also have longer roads surrounding the Valley to accommodate buses or trucks.
Again, the lower Dharamshala is filled with markets, bazaars, etc. We call it the Kotwali Bazaar. McLeod Ganj resembles a hill-station kind of terrain. You find Himalayan oak, Rhododendron and pine trees. Wheat, rice, and tea are the major crops that are cultivated in valleys surrounding Dharamshala of HP.
Dharamshala enjoys a monsoon-based sub-tropical humid climate. Summer starts off in early April and ends during June. Staggering temperatures of 37 degree Celsius can be reached at this point in time. July, August, and September are the peak monsoonal months. A massive rainfall of 3000 mm or 120 inches of rain is received during the rainy season. Therefore, Dharamshala is also regarded as one of the wettest places of the state. October and November are autumn months. Temperatures range between 16 and 17 degree Celsius, goes to 7 degree Celsius at nights. Snow and sleet are commonly felt at the Upper Dharamshala region. These include McLeod Ganj, Bhagsunag, and Naddi. Lower Dharamshala receives hail storms but not snow.
CULTURE OF DHARAMSHALA
The Culture of Dharamshala is rich and vibrant in its own way. It was the Tibetan leader Dalai Lama and the coming of Tibetan Govt. in exile that settled in Dharamshala of Himachal Pradesh. Hence, you find a thriving Tibetan culture in most parts of the hillside town. From a cultural point of view, the hill-station of Dharamshala resembles the culture followed at Lhasa. Lhasa is the capital city of Tibet.
Hinduism, Nomadic Gaddis, and Buddhism are the most prevalent religions, followed by the people of Dharamshala. Hand-made garments and handicrafts are made in abundance by the artisans belonging to Dharamshala. Traditional folk-dances and music forms related to Hinduism are preserved here. You also find authentic Tibetan cuisines here. People celebrate Haldi Festival, Lohri, Agricultural festival, Losar, International Himalayan festival and lot more.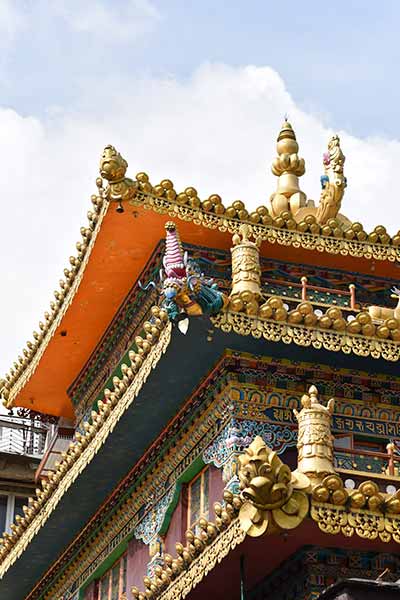 Buddhist Monastery in Dharmashala
HISTORY OF DHARAMSHALA
Here comes the historical significance of Dharamshala. An old Hindu rest-house stood upon a waste plot of land. There was a need to develop a site to accommodate a cantonment of a Native Regiment. In order to develop army troops amid Dhauladhar range, at the Kangra district, this city was developed. On a full-fledged note. As there was an old Hindu rest-house, the name of the site became Dharamshala. Before the upsurge of the British Empire, this particular province was ruled by the Katoch Dynasty of Kangra. Almost for two millennia, the province was ruled by this particular community. You also have a royal empire in the name of this dynasty. It is named as 'Clouds End Villa.' The governors of un-divided Punjab and Lahore then overtook the rule of this station.
During the year 1855, the British East India Company fought against the Gurkha rule and had therefore acquired this particular hill-station. On account of its scenic background and Himalayan forests, the British started building houses and thatched-roof cottages. The army soldiers and cantonment officers were staying here. There was a constant tug of war between the Gurkha community of Nepal and the British. They fought fiercely during both the world-wars to acquire ownership of the place. Post-Independence on 15th August 1947, the city-town cum hill-station, named Dharamshala, became one with the Himachal Pradesh Govt.
TOURIST SIGHTSEEING IN DHARAMSHALA
These are some must-visit tourist hubs while you are here at Dharamshala:
Library of Tibetan Works and Archives
You find more than 80,000 Buddhist manuscripts and age-old scrips that date back to as early as the 12th Century AD. You also find several artifacts related to Buddhist and Tibetan culture. The library is just situated 1 km away from the city center.
Tsuglagkhang Complex
This is one of the most iconic landmarks of Dharamshala. You find a palatial Tibetan monastery dedicated to the Buddhist leader Dalai Lama. You have an in-house bookstore, library, and a café too. Tibetan dance and music forms are also performed here.
Namgyal Monastery
You almost discover around 200 Buddhist monks performing their prayers at this particular monastery. This is one of the biggest monasteries outside the geographical boundaries of Tibet. Prayer wheels, décor, Tibetan architecture, and color schema add to the visual treat.
Kareri Dal Lake
This particular lake in Dharamshala is known for its breath-taking beauty. The Kareri Dal Lake in Dharamshala is bound by lush greenery and snow-capped mountains. As the lake is situated over 1775 meters above the sea-level, you find a cool and pleasant climate at the vicinity. Trekkers can have their camps organized via base-camps situated. This way, you can perform those thrilling expeditions to nearby hills or cascading valleys. Nature lovers can enthrall themselves via boating. And organize picnic camps too.
Bhagsunag temple
This is a beautiful temple dedicated to the worship of Lord Shiva. Built with an architectural splendor comparable with none other, this temple is a hub of pilgrim tourists. As the temple is situated amid lofty hills and winding trails, the mesmerizing beauty of the place has been the wire-puller of tourists and vacationers. They throng to the temple year after year.
Bhagsunag Waterfalls
Hardly Situated a few yards away from the Bhagsunag temple, the waterfall has a scenic beauty of its own. The waterfalls from an elevation of 20 meters. It is surrounded by pristine natural beauty. During monsoons, the cascading waters turn milky-white, which is visually pleasing to the eye.
Kangra Fort
This is one of the most popular historical touring spots across Dharamshala. Kangra Fort houses an ancient structure dating back to as early as the 4th Century BC. The Kangra dynasty ruled the province of Dharamshala for a very long time. You also have Kangra Art Center, Museum and Gallery which historical enthusiasts can have a look at.
St John's Wilderness Church
This was an ancient and a palatial church that has been built by the British. During the year 1852! The Church finds its way en-route Dharamshala. On the way to you reaching McLeod Ganj. The Belgium stained-glass windows and the Neo-Gothic architecture of the Church flaunt itself of its beauty.
Other sightseeing in Dharamshala
You have the Dharamshala Cricket Stadium and quite a lot of hub-spots dedicated to the Tibetan culture. Out here in Dharamshala!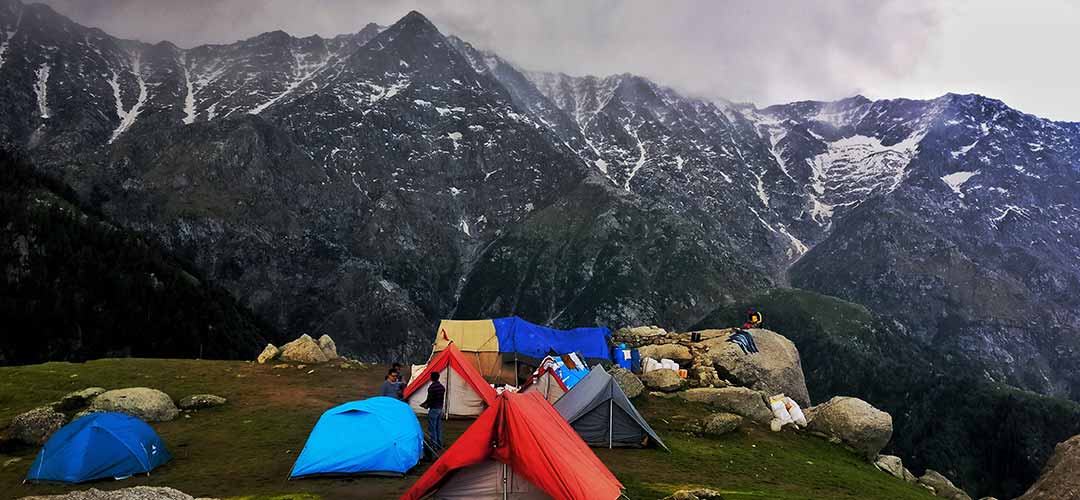 Camping in Dharamshala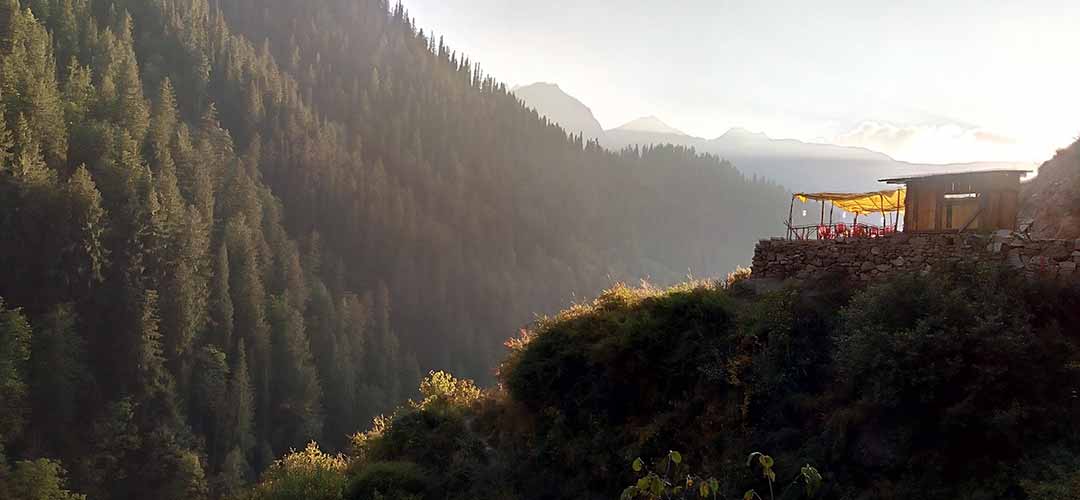 Dharamshala Valley
FOOD IN DHARAMSHALA
Dharamshala is a hill-station that is largely influenced by Tibetan culture. Hence, you find quite a lot of culinary delicacies matching the lifestyle of the Tibetans.
You get mouth-watering vegan and chicken momos, across every street outlet, here in Dharamshala.
Thupka is a mouth-watering soup. You get out here. This is a noodle soup with vegetables like onions, turnips, carrots, cabbage and radishes garnished to the same.
Lang Phing is a Chinese delicacy indeed. It is a turmeric pan-cake made from steamed gluten. Tapioca is its base. You can have these yummy pancakes accompanied by chilly and spicy garlic sauce or mayonnaise.
Bulgogi is a Korean dish. You have tender pork marinated with soy or chilly-sauce. The rice flour is the base. You also have a mixed aroma of vegetables like cabbage, capsicum, carrots, onions, ginger, and garlic added to the same.
Belgian waffles are made from butter, egg yolks, milk, sugar, and Maida. The waffle batter is prepared and preheated on a waffle iron. You get mouth-watering Belgian waffles that can savor your taste-buds for years to come.
TOURIST ACTIVITIES IN DHARAMSHALA
You can have a resplendent visit to the Bhagsunag Shiva temple. You can also visit the Tibetan meditation center in Dharamshala for its ultimately peaceful experience. Trekking camps are organized near Kareri Dal Lake or Bhagsunag Water Falls. Adventure seekers or nature lovers