Shimla is the capital city of Himachal Pradesh. It is one of the biggest cities in Himachal Pradesh. It is one of the most picturesque hill-towns covering the state of Uttarakhand. Shimla apples are world-famous. And are exported to countries like the US, Australia, and parts of Europe. It is bound by Uttarakhand to its south-east. Towards districts named Mandi and Kullu in the north. Kinnaur to the East and Solan to the west. The salubrious weather and greenery of Shimla made this place a hub for important British meetings. In fact, they regarded Shimla as the prominent summer capital. The Kalka-Shimla railway line built by the British Empire is regarded as a UNESCO world-heritage site indeed.
Taking you through other beautiful aspects of Shimla as a city.
REGIONS OF SHIMLA
Shimla is typically situated on the south-western ridge of the mighty Himalayas. It is situated at an astounding height of 7,238 feet or 2,206 meters above the sea-level. You find a completely hill-based terrain near the vicinity. It is a city that was built on seven hills. Namely Inverarm Hill, Observatory Hill, Prospect Hill, Summer Hill, Bantony Hill, Elysium hill and the Jakhoo Hill. The highest summit point of Shimla is across the Jakhoo hill. This particular hill is situated at a massive elevation of 2,454 meters or 8,051 feet above the sea-level.
You have forests situated in and around the area. These are pine, deodar, oak, and Rhododendron. You find typical land-slides, especially during the rainy season. Shimla features a subtropical highland climate. The temperatures vary between minus 4 degree Celsius and 31 degree Celsius. Maximum temperatures during the summer season range between 28 and 31 degree Celsius. These months are April, May, and June. June is a month where the monsoons kick-start as well. You find a humid and a moist climate during this month. While June, July, August, and September are peak monsoon months. October is a cool and dry month. November, December, January, and February are the coldest months of the year. Temperatures vary between 10 degree Celsius and minus 4. Snow-fall can be experienced during December and January.
CULTURE OF SHIMLA
The people of Shimla are warm-hearted and friendly by nature. This is a city untouched by the surge of competitive globalization. The local residents still keep up their old-world charm. They stick to religious traditions and customs. Agriculture and cattle rearing are the mainstay occupations followed by local tribes of Shimla. Rug weaving and carpet weaving also takes the momentum out here.
Music, dance, and active participation in religious fairs or festivals is something that keeps people alive. Music is usually accompanied by instruments like flute, ghunguroo, Ektara Chimta, Ghariyal, etc. Some of the major dance forms include Kayang, Bakayang, Jataru Kayang, Bnayangchu, Shand, Shabu, and Rasa. These are dances exclusively performed at Shimla alone. Hinduism and Buddhism are the major religions of almost 85% of the population. You find quite a number of churches, temples and Buddhist monasteries too in and around Shimla. Maha Shiv Ratri, Dussera, Navratri, Ram Navami, Buddha Purnima, and Christmas are festivals celebrated throughout Shimla with pomp and vigor.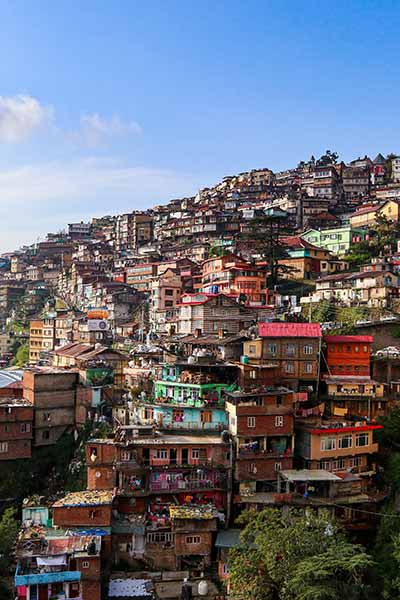 Shimla Hill Station
HISTORY OF SHIMLA
Most areas of Shimla were covered with dense forests during the 18th Century. You could only find the Jakhoo temple along with a few scattered houses. Do you know how the name 'Shimla' came into existence? It is the name of Goddess Shyamala Devi, an incarnation of Goddess Kali. That the town received its name as Shimla.
The British East India Company took over the state of Shimla after fighting the Gurkha community at the Anglo-Nepalese War. This happened during the year 1816. The chill weather, torrential rains, and mild summers at Shimla depicted a typical English weather. So the Britishers made Shimla as their prominent summer capital. The Shimla Accord of 1914, the Shimla Conference of 1945 and other important cabinet meetings of the colonial rule took place here. The Mall road, the Ridge and the famous library were mansion buildings built during the colonial era. The Kalka-Shimla railway line was introduced during the year 1903. Today, it is regarded as one of the UNESCO heritage sites. With more than 800 bridges and 100 plus tunnels, it is the jewel piece, the colonial rulers gave to us.
Post-Independence, the city named Shimla, was introduced as the capital city of Himachal Pradesh.
TOURIST SIGHTSEEING IN SHIMLA
These are some of the most breath-taking and invigorating locales of modern-day Shimla.
The Summer hill
The Summer hill is one of the most breath-taking locales of Shimla. Situated at a distance of just 5 km from the famous Ridge. You can discover that this is one of the seven hills where the city of Shimla was originally constructed. The hill is covered with greenery.
Annandale
Annandale is a spectacular golfing course. Again you can witness lush greenery and experience the enchanting view of nature. The race course also converts itself into a mini-golf course surrounded by green meadows. It serves as a helipad too.
Jakhoo hill
Jakhoo hill is situated at a massive height of 8000 feet from the sea-level. You, therefore, can witness spectacular vantage points of nature. This is one of the hot hubs of Shimla's tourist attractions. You also find a 108 feet Hanuman statue at the Jakhoo temple. You can trek, take nature trail walks, and enjoy the panoramic views of nature.
The Ridge
The Ridge is a flattened platform where you can find spectacular views of the valley and the snow-capped mountains surrounding Shimla. Photographers are delighted to take their photographs that capture the juicy moments, nature offers. The sun rises, and sunsets can also be viewed at their natural best.
Chadwick Falls
Chadwick Falls is a beautiful waterfall, located at a massive height of 1700 meters. With lush greenery comprising of deodar and pine trees, the view is enthralling indeed. Nature lovers, trekkers, and hikers would love to vacation this tourist spot. The monsoons can add to the volume of water. It is, therefore, a retreat to one's eye. The captivating beauty of the ambiance surrounding the waterfalls is therefore truly mind-blowing.
Mall Road
Mall Road is a haven for shopaholics. You find warm woolen clothes and other types of artifacts like gems or jewelry. These are products available to you at reasonable prices. You find rickety streets filled with cottage roofed shops. The Mall Road is the iconic hub of Shimla.
Other sightseeing in Shimla
The State Museum, Kufri, Wax studio, Christ Church and Himalayan Bird Park are other attractive tourist attractions in and around Shimla.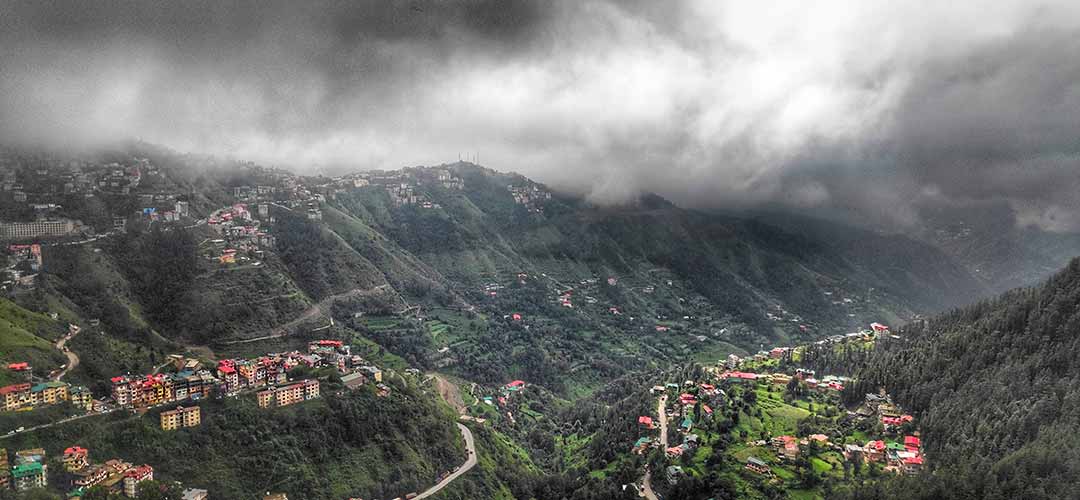 Shimla Valley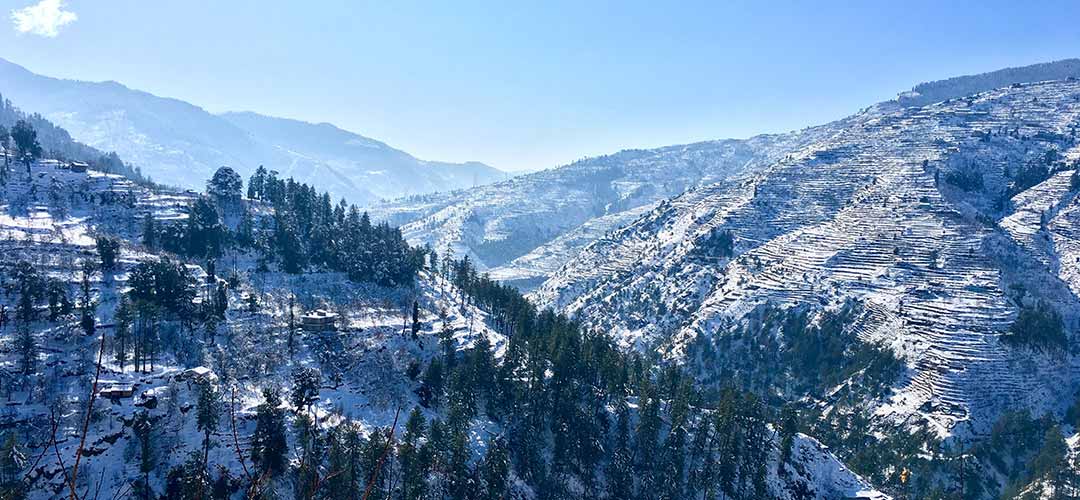 Shimla in Winters
FOOD IN SHIMLA
Madra is the culinary specialty of Himachal Pradesh you simply cannot miss out on. With a combination of spices like cardamom, cloves, cinnamon, cumin powder, and other seasonings, the gravy is made from soaked chickpeas. Known for its rich taste, this is a delicacy served out to you in hotels and restaurants in Shimla.
You then have Dhaam. It is the traditional thali of Shimla. You get a plate filled with rice, rajma, dal, curds, bhoor ki kadi, and jaggery. The sumptuous meals are usually served during fairs or festivals in Shimla.
You find Thupka, which is the third culinary specialty dish of the hill resort. You find onions, tomatoes, spring onions and chopped cabbage added to noodle soup. The Tibetan delicacy can be savored at street outlets in Shimla.
Babru is the Himachali version of the popular kachoris. From soaked black gram dal paste. The dough is then kneaded, and patties are made. These are deep-friend and soaked into tamarind paste.
Mashed dal, lamb curry, and chicken gravy are other specialty items of Shimla.
TOURIST ACTIVITIES IN SHIMLA
Trekking, mountain climbing, and hill cruising are activities you can pursue with full-on vigor and excitement. You have guided nature trail walks organized by home-stay resorts. You can pluck fresh apples from the orchards and taste them to your heart's content. You can have long morning walks on Ridge Road. Snow-skiing can be done during December or January. Pilgrim visitors can visit the temples surrounding Jakhoo hill. You have something for everyone out here.