REGIONS OF SPITI VALLEY
Spiti valley is situated towards the north-eastern edge of Himachal Pradesh. You have the Rohtang Pass situated at Manali in Himachal Pradesh. This stands at an upper elevation of a massive 13,054 feet or 4000 meters above the sea-level. You find cold, snowy weather for the most part of the year. Temperatures during summers barely cross 15 to 20 degree Celsius. While biting cold temperatures reach minus 20 degree Celsius in remotest places of Spiti. It is the Rohtang Pass that separates Lahaul and Spiti from one another. Rohtang Pass is located on the Kullu Valley. You also have the Kunzum Pass that stands at an elevation of 15,059 feet or 5000 meters above the sea-level. Heavy snowfall and thick icy weather make Spiti Valley one of the least inhabitable regions of India.
Spiti Valley also has the palatial Spiti River. Again this locale stands at an outstanding elevation of 12,500 feet above the sea-level. Though you have a road traversing from Kunzum Pass to reach Lahaul or Spiti, it remains blocked most of the year. When the mountains, roads, and peaks are covered with a thick blanket of snow. Especially during the winter months and spring season. After which the roads get restored to normalcy.
CULTURE OF SPITI VALLEY
Spiti Valley is a region where the Tibetan culture mostly prevails through. You have research and a cultural center for the Buddhists. Key Monastery and Tabo Monastery are two of the oldest monasteries in the world. These are the foundation or building block epic-centers of the world-famous Buddhist leader, Dalai Lama. Quite a lot of Indian movies have been made featuring the Spiti Valley. Some of the notable ones include Paap, Highway, and Milarepa.
There was also a documentary film which focused on how Tibetan culture thrived through the years. The film also threw light on how Nomads and Tibetan monks of the Spiti Valley led their lives. You have the famous Pin Valley too surrounding the Spiti. Semi-nomadic Gaddi sheep and goat grazers enter the Valley during the summer season. This is the time when the snow typically melts. They leave the valley before the start of the snow season. Tibetan, Hindi, and English are languages spoken in and around Lahaul-Spiti zone.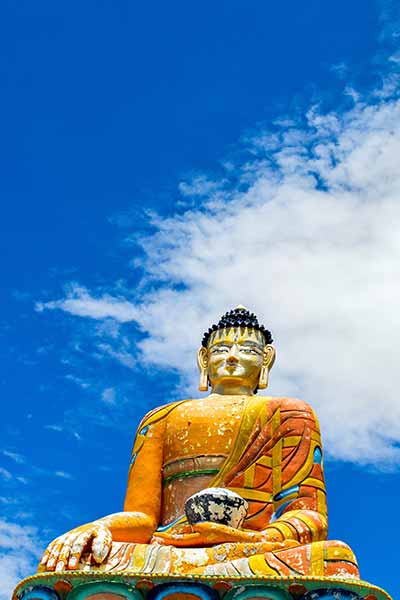 Buddhism in Spiti Valley
HISTORY OF SPITI VALLEY
For centuries the Spiti has lived by its introversive culture which defines its history too. It was ruled by hereditary warriors and self-styled Nanos for years put together. The Valley was eventually attacked by people from neighboring kingdoms too.
Warriors from Kullu and Ladakh wanted to bid control over the area. There was also this army general from Jammu and Kashmir. Led by general Ghulam Kham and Rahim Khan, Spiti Valley was invaded during the year 1841 AD. But after a couple of years, say 1846, a Sikh army had raided the Valley. Finally the British took over the Spiti Valley after a long overhauling fight with the Sikhs. Post the Anglo-Sikh war; the Spiti came under British rule. The Nano of Kyuling continues to dominate the habitat until today. Post-Independence, the Spiti Valley became an independent tourist destination of Himachal Pradesh in India.
TOURIST SIGHTSEEING IN SPITI VALLEY
These are some must-see destination hubs across the Spiti Valley. Let us have an overall overview relating to the same.
Tabo
Tabo is one of the oldest villages surrounding the Spiti Valley. You have a monastery in Tabo that is also thousands of years old. This monastery is indeed the largest one at Spiti. You have round 9 temples, 23 chortens, a monk chamber, and a nun's chamber too. Amidst the monastery, you find sprawling apple orchards too. Across the other side of the mountain, you discover conclave caves.
Dhankar
This is a vicinity that surrounds the left-side banks of River Spiti. You have a 7 km stretch from Tabo to Kaza. This is a fort cum monastery mainly built across a cliff to prevent outside invasions into the Spiti Valley. A must-visit haven indeed. You have Dhankar Lake, orchards and excursion spots surrounding this exotic place in Spiti.
Kaza
Kaza is basically the commercial hub of Spiti Valley. You find a fleet of ATM's diesel cum petrol pumps, General Post Office or GPO, supermarkets or restaurants. If you want to shop for authentic pairs of woolen shawls, sweaters, etc., these are sold to you at affordable prices.
Kee Monastery
Kee Monastery is actually situated upon a volcanic hill-top. You find dimly lit up rooms and corridors adding to the posh extravaganza. Wooden columns, stone steps, and heavily carved wooden doors add to the architectural splendor of this particular age-old monastery. The prayer chambers house rare artifacts that were being used during the yesteryear era. Some of these exquisite inclusive collection of murals, musical instruments, and rare varieties of thangkas. You also find ancient manuscripts having texts of Buddhist literature. This monastery is just situated at the distance of 12 km from Kaza.
Kibber
Kibber is hardly 6 km from the Kee Village. You find this exotic locale at a fascinating elevation of 4,025 meters above the sea level. The climate is so chill and cold all through the year. Kibber is one of the highest summit points across Spiti Valley. You also find quaint cottage inhabitants occupying the place as such. You have marvel bases for you to have those high-altitude treks too. You have Kibber sanctuary spread over an area of 1400 square km. The sanctuary is home to snow-leopards, blue sheep, ibex and rarer species of fauna. During summers, this eerie village transforms itself into a beautiful meadow filled with flowers and green fields and coupled with a mystical backdrop of lofty mountain ranges.
Pin Valley
This is another haven and a great tourist spot for vacationers of Spiti. The Valley is a confluence of the Pin River and the Spiti River. The magnificent merging of both rivers happens at a place named Atargoo. The Kungri glacier feeds the Rivers. You have scenic valleys, greenery, and gentle breeze nature offer. From the Pin Valley, you have several trekking routes. Most of them follow the Pin Parbati Pass trailing you into the Kullu Valley. You also find several Buddhist and Tibetan monasteries en-route. You also find a palatial National park at the Pin Valley. Rarer species of fauna include Ibex, Snow Leopards, Weasel, Red Foxes, Marten, Bearded Vulture, Golden Eagles, and Himalayan Chough Weasel.
Chandra Taal
Chandra Taal means 'Lake of the moon.' Interspersed with blue crystal clear waters amid a crescent-shaped valley zone, this place is a superb travel spot indeed. The Lake is located north of Kunzum Pass. This resplendent locale paves the gateway to Lahaul-Spiti. You also find the Lake enchanted with green grass meadows to add to the splendor.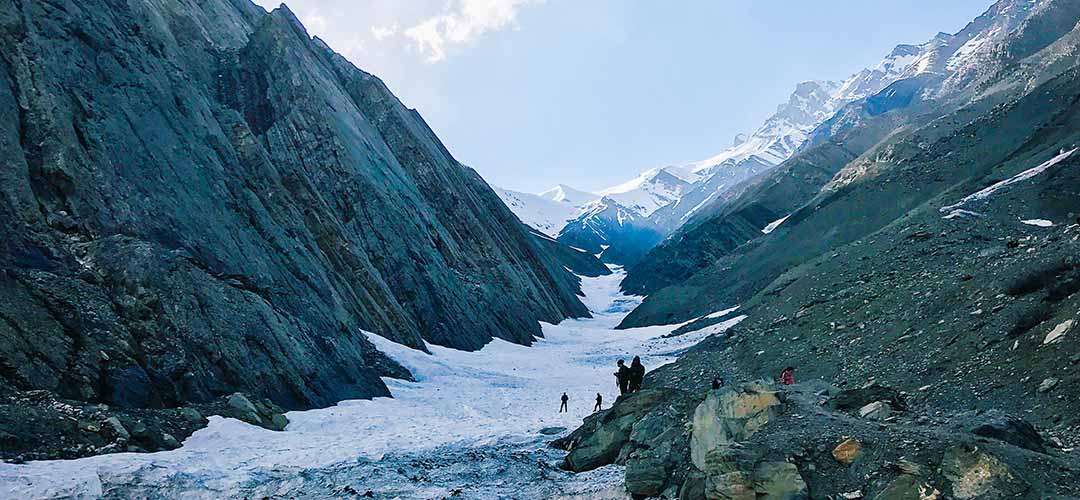 Spiti Valley Trekking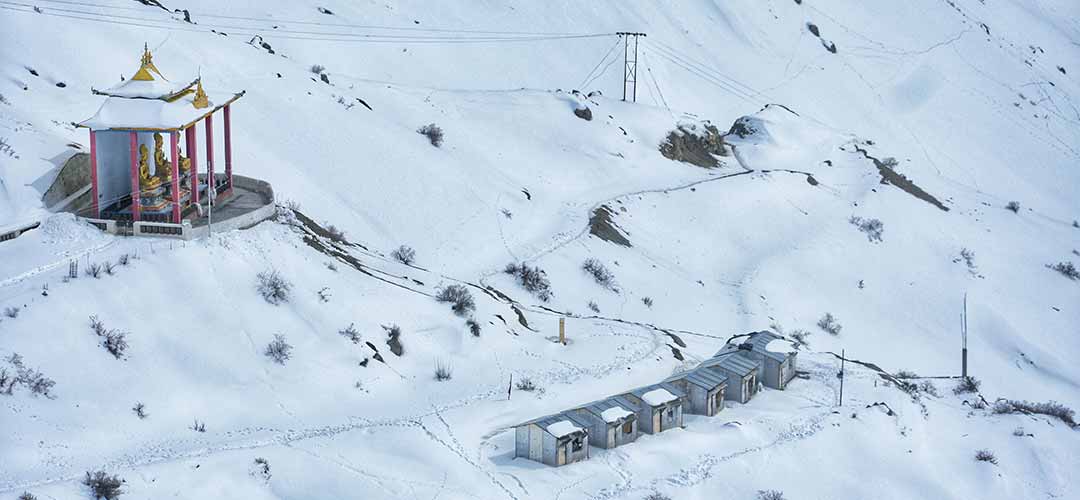 Spiti Valley in Winters
FOOD IN SPITI VALLEY
For foodies, the Spiti Valley will surely be a great one to satiate your taste-buds. The tingling Indo-Tibetan delicacies will be sure-shot recipes to great taste. You have non-veg delicacies with chicken, mutton, lamb, etc. The Tibetan delicacies like Thupka, Momos, Kyu, Tsampa, Churpe, steamed dumplings, and Chiltas are must-try at the Lahaul-Spiti Valley. Roti, Sabzi, dal and rice and available too at local restaurants and hotels.
In particular Madra, Dhaam, Thenktuk, Bhey, Siddu, Babru, Trout curry, Thupka, Mittha (sweet dish, Channe ka Khatta, Pahadi Chicken, Aloo Palda, Teemo and Shunali (another sweet dish) are exotic delicacies, Spiti inmates prepare for their day to day living. You can have hands-on to one of these while you are here on holiday.
TOURIST ACTIVITIES IN SPITI VALLEY
You can go with snow-skiing, especially at the Pin Valley during February or March. You can take trekking trips too via the Kunzum Pass. Visit meditation halls or monasteries of Buddhist. You can take to a local dhabba to have authentic Spiti food. Dip your feet across the Chandra Taal or Suraj Taal. You can go shopping in the Kaza Market. Likewise, there are endless must-do activities here at the Spiti Valley.